This post is an excerpt from the e-book, Listen: 5 Social Audiences Brands Can't Afford to Ignore. 
A brand is made up of the people who represent it. Whether it's a United Airlines employee following an archaic policy to "reaccommodate passengers" or a worker reaching out to go above and beyond, a brand is burned into our psyche by the story we experience at the hands of the employees. 
In the age of social media, brands are quick to try to distance themselves from employees on social media. Numerous companies, in conjunction with PR and HR, make it mandatory that if you are to have a social media profile, it needs to be clear that you are not an official spokesperson of the company. The statement "All tweets are my own and not a reflection of my employer" has become the default go-to in policies. This is dangerous in two ways. First, it can make an employee feel they have a false sense of freedom of brand speech. That nothing they say will hurt their and the brand's reputation. Secondly, it's telling them that they aren't really a part of the company. If you don't trust someone to have a Twitter account, that's not a social media problem, that's a hiring problem.
Empowering employees to speak and share on social channels can greatly benefit your company in numerous ways. Even just listening for your brand mentions can dig up surprises.
1. Catch Them in the Act of Doing Good
This first example is actually of a customer sharing a good deed by employees. Beki Hall Scarbrough needed to build a ramp for her dog to help with a future hip replacement rehabilitation. After choosing Home Depot over Lowe's (because they're dog-friendly), she was amazed by what happened next.
"I made it all of 20 feet in the door and there were five employees, including the store manager Michael Kline, all discussing how to help my dog—while handing the dog treat after treat from their apron pockets. Ramp specifications, the pitch, materials, width, weight. Every detail. After about 10 minutes the assistant manager asks if I'll be home next Thursday and gets my phone number. 
Fully expecting to be called with an estimate for materials and labor, the phone rings to confirm we will be home. Thursday morning bright and early three HD employees show up, materials in hand, and proceed to build a ramp for my dog. No charge at all."
She quickly shared this amazing experience on Instagram and Facebook, including posting it on our UnMarketing page. We immediately shared it and then talked about it on our show. 
Employees are doing good things for your brand right now, and they need to know it makes a difference. As Beki says:
"There's no email, tweet, logo, or half off sale that any company can do that could trump my experience with the people at this Home Depot. Now if I could figure out how to thank them."
2. Listen for Opportunities to Go Above & Beyond
Quality customer service builds brand loyalty, but what about service that goes above and beyond?
Devan Dannelly saw the snow day coming. Like most people, he had no urge to shovel his driveway so he could get to his soon-to-be cancelled classes at Eastern Kentucky University. 
As a joke, he tweeted to EKU president, Michael Benson:

And President Benson replied:

Lo and behold, here was the result: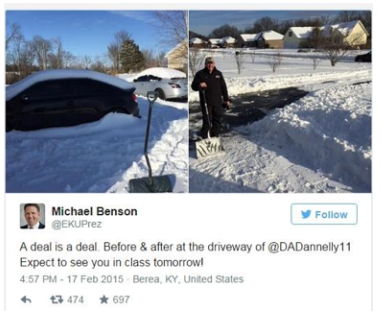 To the best reply of them all:

Students are customers. They interact on social media channels more than any other group of people. The university could have, like many, had a policy in place that all tweets need to be vetted, which would have prevented this wonderful real-time exchange. Now, do you think this is a tweet that is "his own and not a reflection of his employer"? When was the last time you saw an academic tweet retweeted and favorited hundreds of times?
Other reasons to listen to your employees on social media:
Birthdays
Anniversaries
New baby
Children milestones
Personal milestones
Job satisfaction
All of those things can be "Liked" or commented/replied to by their manager or colleagues. Encouraging your employees is a nice way to build up spirits or acknowledge a big change worth noting.
People will always talk; social media didn't invent that. Sure, with social media, the talk is both public and permanent, but that doesn't mean a brand should lock down their employees and monitor them for infractions.
Let them talk. Educate them on the ins and outs, the good and bad of social media accounts, and let the world look at your brand in a better light.
Want to learn more about how listening to the right audiences will boost your brand? Then, download our free ebook, Listen: 5 Social Audiences Brands Can't Afford to Ignore. 
Scott Stratten is the President of UnMarketing. He is one of the leading speakers/ authors in the world when it comes to helping audiences embrace the age of disruption. He has written four best-selling business books and was formerly a music industry marketer, national sales training manager, and a Professor at the Sheridan College School of Business. He ran one of the most successful viral video agencies in the world for nearly a decade before solely focusing on speaking at events for companies like PepsiCo, Adobe, IBM, Microsoft, Hard Rock Cafe, Cirque du Soleil, Saks Fifth Avenue, Deloitte, and Fidelity Investments when they need help navigating their way through the landscape of business disruption.