Known as a progressive communications strategist, Ben Wyskida recently joined the ranks of Fenton PR as the new CEO. With 20 years of experience in communications and social change spaces, Ben took the helm on May 15, 2017. His background includes expertise in criminal justice reform, sustainability, human rights and public interest law. He has also led "media for media" communications for investigative journalism non-profits. Most recently Ben worked as an Executive Vice President at BerlinRosen Public Affairs, where he built the firm's Philanthropy and Cultural Activism practice.
I sat down with Ben to discuss the importance of going the extra mile, the growing popularity of social change communications, and the growing opportunities from the digital communications space.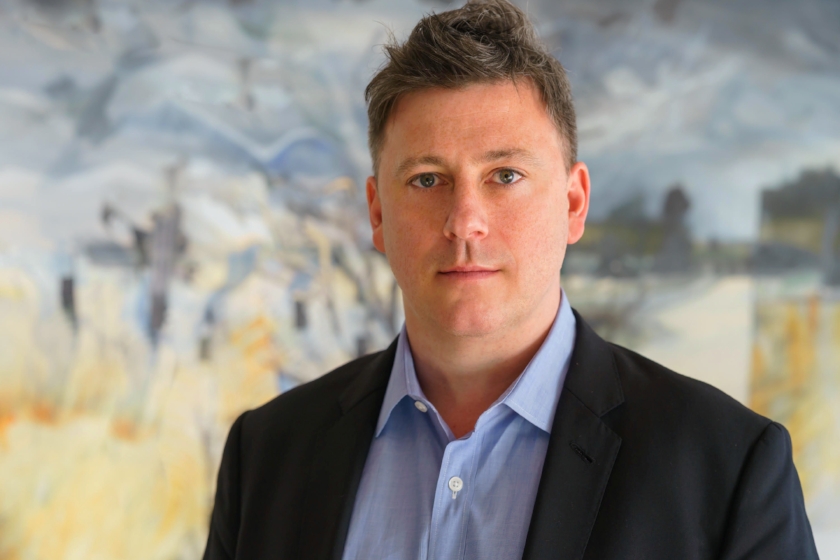 Congratulations on your new role as CEO of Fenton PR. What are you most looking forward to in this new position? What goals are you hoping to accomplish?
Thank you! I'm looking forward to introducing people to Fenton's team. This is a young, passionate, talented group that is doing great work. I think people will be surprised by how much Fenton has to offer.
In terms of goals, there's a lot I want to accomplish. I want Fenton to be the go-to agency for advocacy organizations, non-profits, foundations and sustainable brands. I want us to be a progressive company that's an incredible place to work. And I want to grow what we're doing in video, digital and creative. Honestly, though, nothing is more important right now than helping our clients win. Our clients are trying to make change in a moment of real crisis. If we are a strong partner, the rest will take care of itself.
What is the most important lesson you've learned throughout your career?
This will sound hopelessly earnest, but just don't give up. Send the extra couple of pitches. Make the followup call. Go to the party. The most effective campaigns and projects I've been a part of have succeeded because of hustle and hard work.
What drew you to the field of PR—specifically using communications for advocacy, social change, and work with nonprofits?
I didn't start in PR – I started out as an organizer for the Sierra Club, and it turned out I was pretty good at communications. "PR" and communications have been the approach to change that I love, but for me it has always been about the cause. It's only recently I stopped being embarrassed to say I was a publicist.
The field is really exploding right now. People want to be useful, engaged, and find ways to do good. And, it's an incredible challenge to adapt communications tools to really difficult issues and social change.
How do you envision the future of the communication industry, and how are you working to keep Fenton ahead?
My fear is that like in a lot of industries, all the good guys in the communications industry eventually get bought up or drift from their values. I don't think the formula is that hard for Fenton: we are offering issue expertise, a campaign mindset and a commitment to social change. I want us to be the most progressive company in the space and the team with the most expertise on the issues and the sector. If we can do that, we'll be just fine.
How do you help brands create communication that inspires action?
It's cliché, but you have to be genuine. You can't inspire action with gimmicks or by pretending to be something you're not. I always want to help brands find the place where they are a real protagonist in their sector, and where they are doing something that is unique and meaningful to their audience.
Digital has transformed the way we communicate. What opportunities does digital present for Fenton? Is there a downside?
The opportunities are huge! We're doing amazing work with video and trying to re-imagine the TV ad as well as the non-profit gala sizzle reel for a new era. We just hired a fantastic new Chief Digital Officer, Zain Habboo, from the UN Foundation. She's a social good juggernaut and so enthusiastic about what can be accomplished with digital. We're growing this work at Fenton and really excited about it.
If there is a downside, I think its that so-called "traditional media" is seen as being less valuable, and there is less enthusiasm for it. To me, PR and earned media are critical to succeeding online. The New York Times and the Washington Post are two of the most trafficked websites in the world. We shouldn't lose the art of the pitch or an appreciation for great writing.
What advice do you have for those looking to begin a career in PR, or communications targeted towards activism and social change?
Become a Fenton Fellow!  Or go work in-house first at an organization doing work you care about.
Rapid Fire Round
If I was president of my own country I would … put high-speed rail everywhere.
My ideal day off would include … coffee and the New York Times.
If I could bring one fictional character to life, it would be … Hayduke from the Monkey Wrench Gang because we really need him right now.
When I was young I wanted to be … President or the Orioles third baseman.
My favorite family tradition is … pizza here on Friday nights.
Some items on my bucket list are … train across Canada. Westfjords of Iceland. This burger. CEO of a social change communications firm.
Julia Rabin is a former Media Researcher for Cision. With a background in organizational communications, public speaking and international relations, she has a passion for social justice advocacy and loves keeping up to date with the latest global news. In her free time, you will find Julia traveling, playing with puppies, baking dairy free treats or reading.