Advances in technology will revolutionize your business, but what if your job is more than just a business to you? What if you paint pictures with words and tell tales around something as seemingly boring as a brand?
While technology continues changing every industry I can think of, many communications and public relations professionals hold tight to the more poetic side of storytelling. There's nothing wrong with holding on to the art of storytelling. I don't want to read content generated by algorithms any more than the next person. What I want to do is explore the industry's aversion to change and argue that technology has always changed the art of storytelling without abandoning the art itself.
There's no doubt the way we consume stories has changed. So why should we argue that the way we tell them shouldn't? From the start of the Cision World Tour Toronto, Cision CEO, Kevin Akeroyd set the tone by saying "the art and craft of communications won't go away but it needs to adapt."
The truth is PR and communications professionals are more tech-savvy than ever. Managing Partner & Chief Digital Strategist at NATIONAL Public Relations, Rick Murray was quick to point out that you would be hard pressed to land a story without some data behind it these days.
"Data is an imperative in our industry. Every story/piece of content is backed with #data insights." @lisakimmel
The Earned Media Data Disconnect
So where is the disconnect coming from? The marketing department can be split into three types of media — paid, owned and earned. While they all report to the same CMO or CEO, they all care about different metrics. When it comes to metrics, that's where you'll find communications professionals lagging.
Owned media is easy to report on, you own the channels and that data should easily be available to you.
Paid media will make that data easily available otherwise you will take your advertising dollars elsewhere.
But, if the Wall Street Journal mentions your brand, what is that worth? Who saw it? How much time did they spend on the story? What did they do after they read it? Earned media has not had access to tech and data at the same level as their counterparts and that is where the disconnect comes from.
Connecting Data and Storytelling
One of the major issues behind this disconnect is that the industry has been slow to adopt the tools that are already available. Chris Lynch, Cision CMO, talked about how that three core pillars of storytelling are supported by data we already have access to.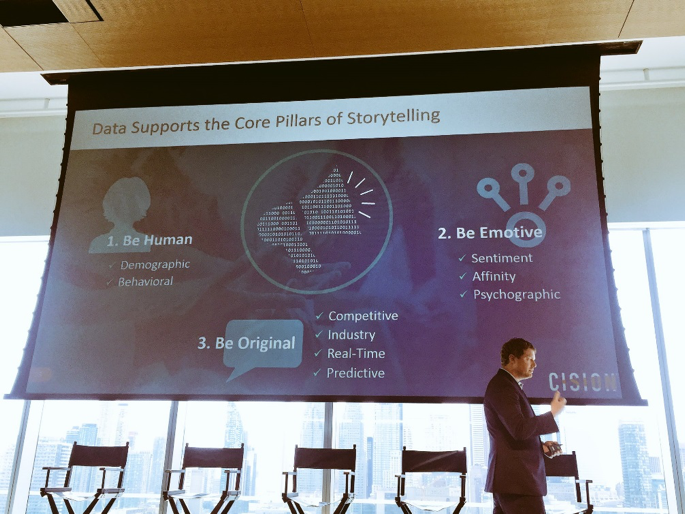 Be human. Be emotive. Be original.
You can be more human in your writing by leveraging the behavioral and demographic information you already have about your target audience.
Being emotive can be based on how people respond to your messaging. Is the sentiment positive? Is there an emotional response it invites on social media? Use this information to power your story.
Originality is hard but if you want to be in the business of telling unique stories then this is your bread and butter. Start by looking at what your competition is doing. Is there anything they are not doing that you could? Or, do you have a conflicting point-of-view worth writing about? You also need to keep up with your industry. What's the next big thing? Lastly, you should monitor what people are talking about on social media and jump on trends you can predict before anyone else sees it coming.
The Importance of Understanding Data
As a storyteller, you need to have your hands deep in all aspects of your company's data because you have to ensure that the data actually tells the story you think it does. Too often, marketers present metrics that look good instead of metrics that matter. We call these vanity metrics and no matter how chastised they are in the industry, they persist. The Cision World Tour Toronto keynote speaker, Scott Stratten, made an excellent point about this problem while discussing a viral video he created on Facebook. While his video had more than 30 million views, only 1.3 million of those lasted beyond three seconds and had the sound on. Just seeing the number 30 million could cause you to invest all your time, budget and effort into replicating that video, but the reality is that it was only a fraction of the success you thought it was. Scott's message was to dig deeper into your analytics and find out the truth so that you can go and tell that story.
The art of storytelling isn't in any danger but communicators who refuse to recognize the shift in technology and adapt to the new tools available may just find that their career is.
Bruce Kennedy is a social media manager at Cision, where he manages Cision's global brands. Previously, he worked in public relations in tech and entertainment, helping brands from early stage startups to household names like Red Bull, Disney on Ice, Ringling Bros. and Barnum Bailey, Techweek and more.Connect with him on LinkedIn and follow him on Twitter.