You spent hours constructing the most amazing piece of content. It's ready to go and reel in your audience — and a whole new group of readers. The final step is to include a captivating title and push it out, right?
Well, sort of.
Titles and article headlines are arguably one of the most important elements of any piece of content because it's what your readers and potential audience will see first — they'll use their impression from the title to decide whether to click on the article and read it.
That said, they aren't the only thing you should focus on.
Believe it or not, there are a variety of digital branding and engagement tactics you can use other than a post's headline.
By incorporating these five tips into your regular content strategy, you can leave a better impression on those readers trying to decide to click or not to click.
1. Appropriately Descriptive and Branded Meta Descriptions
Meta descriptions are the little snippets of words that show up below your page links in search engines. Though the information is meant to describe the copy or content on a particular page, you can also use it to draw in visitors. Furthermore, the meta description automatically appears when people share your page and content across the web and social networks, so you might as well make it interesting.
A simple and easy way to control your web pages' meta descriptions is to use the Yoast SEO plugin for WordPress. You don't need much technical knowledge to use it. Just type what you want to appear in the meta description field and save.
Look at the meta description for organization and collaboration tool Slack. It perfectly describes the app and includes just enough information to be useful, informative and scannable.

It's important to remember that meta descriptions and site details like this aren't only visible on computers, but on mobile devices, as well. For your mobile users, you want to be concise yet thorough, which is exactly what Slack has done with their meta content.
2. Descriptive Image Titles
One often overlooked way that many people can find your website is image search results. Especially since search engines may automatically pull top image results into any web search, you should take advantage of this opportunity by including descriptive image titles in your photo and image uploads.
For example, check out Chicago Closets' photo gallery. Their images are labeled with the name of the room in the photograph in order to be more descriptive.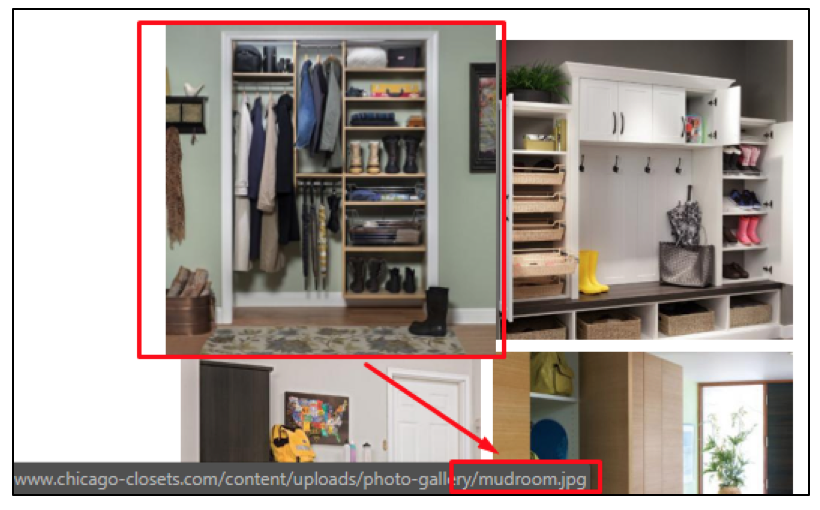 3. Schema Markup
Schema markup is often misconstrued as unnecessary or useless to the reader even though it's quite the opposite.
Schema markup is unique code or semantic vocabulary you use on the back end of your site to help search engines provide more useful results to potential visitors.
For example, markup can be used to display an events schedule or movie times in a neatly organized table right in the search results. These extra results are called rich snippets, and they don't happen without schema.
In a way, it allows your visitors to find exactly what they're looking for before they even land on your site. It's more about what your data can be used for as opposed to what it says.
You can use a simple Schema plugin for WordPress to quickly and easily ensure that search engines have access to your schema, improving your chances to getting those neat little rich snippets to show up.
For example, check out all the information Google is able to pull up about IBM.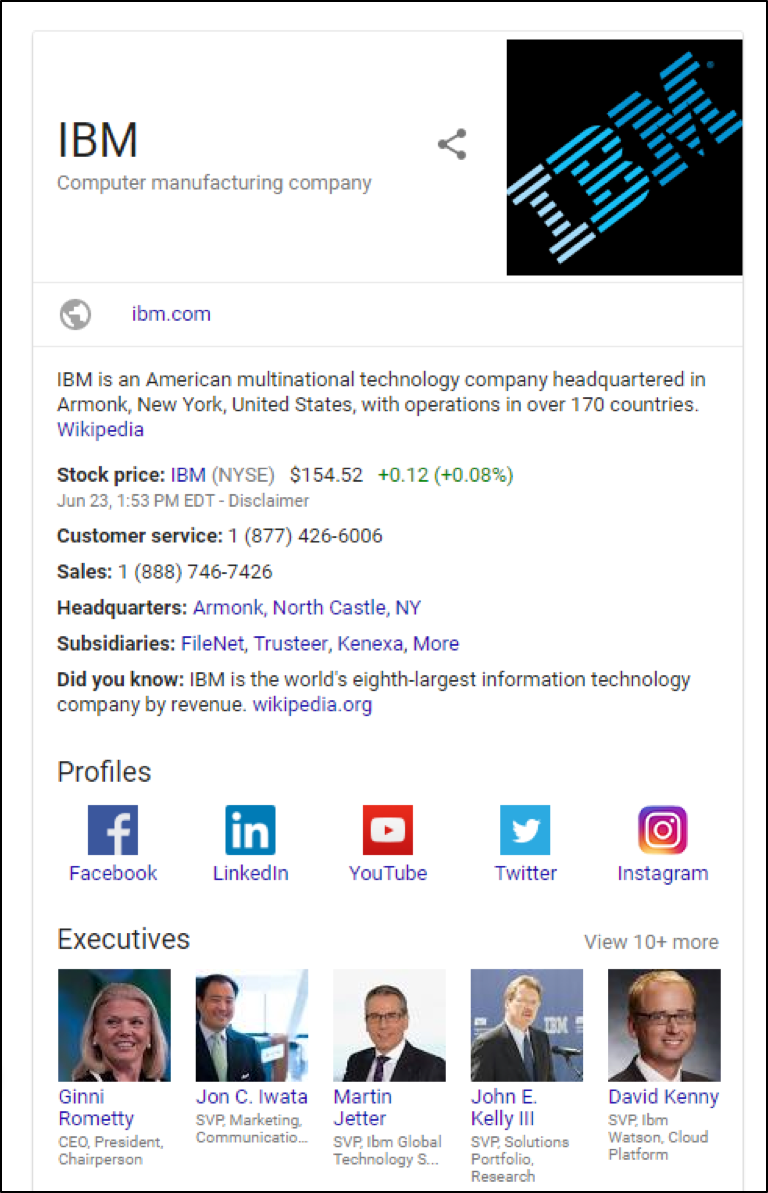 Google knows who the company's top executives are, what their contact numbers and social channels are, as well as where its main office is thanks to the schema markup it can read.
4. Innovative Call to Action Techniques
Traditionally, your call to action would be included on your website, most likely in a pop-up notification or at the very bottom of a page. The goal is to get your visitors or readers to do something. However, these aren't the only places you should be using an efficient and reliable call to action.
You can mix things up by including the same copy — or even improved copy — on your social media profiles, pages and posts. After all, the goal of social media is to increase engagement, whether that's through shares, visits or interactions. If you want your audience to participate, the best way to get them involved is to encourage them with a call to action.
For example, I like to encourage newsletter subscribers by pinning a call to action Tweet to the top of my Twitter profile.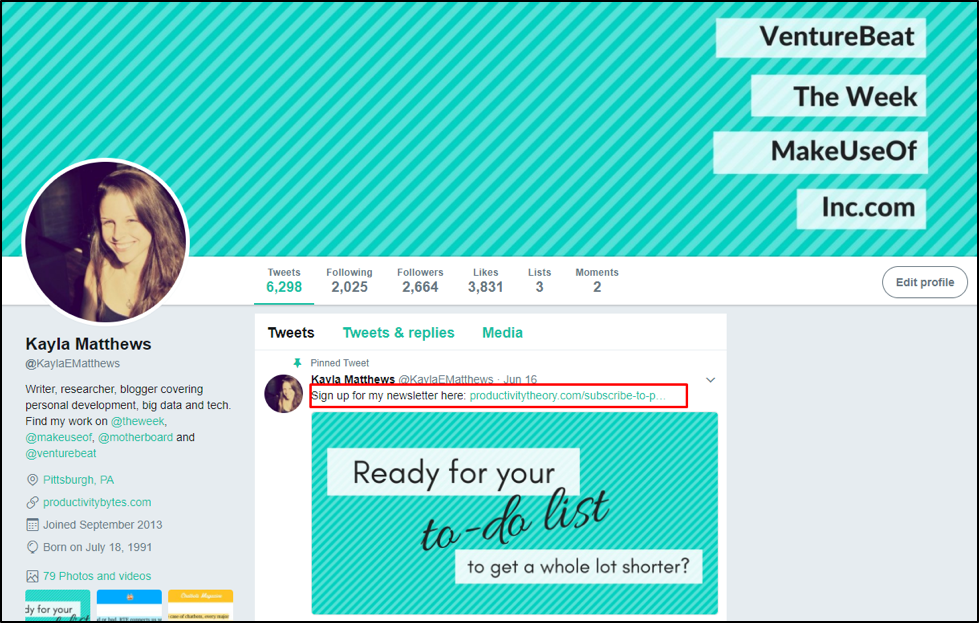 5. Get Featured or Published on Other Websites
Even after your own content goes live, you can get more out of your hard work by syndicating your posts to other websites. The primary goal is to create more exposure for your brand and yourself as a thought leader in your industry.
You could also publish a connected yet separate piece on popular social blogging platforms such as Medium, for instance.
To see this strategy in full force, pay attention to what career advice and job searching company The Muse does on a regular basis — they publish posts not only on their own, widely-read site but on top sites all around the internet, too.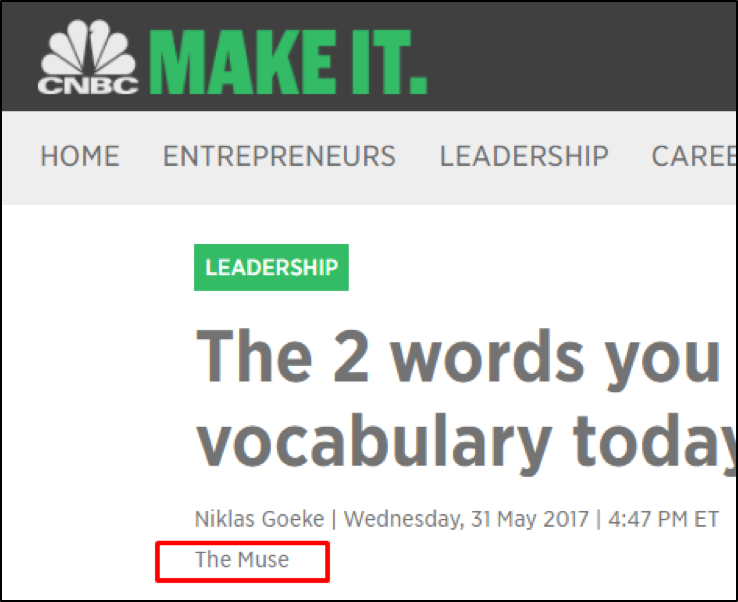 This does several things. For starters, it establishes The Muse as an important and influential channel for all professionals, allowing it to become a haven for career advice. Second, it keeps all the content, topics and discussions relevant and fresh. Finally, it provides highly-engaging and shareable content that can be used to pull in lots of traffic and attention.
As you can see, there are tons of other ways to boost your blog or website's earned traffic besides writing a catchy headline (important as that can be). While the title is paramount, it'd be a marketing crime just to stop there.
Start with these five suggestions, and you'll likely see positive changes to your visitor traffic in the future.
Kayla Matthews writes about branding and digital marketing for websites like Convince and Convert, The Daily Muse and VICE. You can learn more about Kayla and her brands here.