It's no secret that the holiday guide pages are the most coveted PR real estate of the year, and even though it's only the beginning of summer, the time to organize your holiday gift guide campaign starts now. But, if you want your pitch to be noticed in a flood of product releases, do your homework and know journalists' and influencers' inclinations. To help us sort through all that, we talked to Erinn Sluka, the blogger and influencer behind Parenting Healthy, who gave us a few tips on a successful holiday gift guide pitching effort.
What is your advice for PR professionals trying to pitch your Holiday Gift Guide pages?
At first, I like to know if the brand has any upcoming promos so I know if I can stay within the timeline. And, please send links to the brand's page. Many times I have to Google the brand and try to find them when no links are in the pitch.
State right away if you can send samples or have a budget; this allows for a quicker response for a more personalized proposal to be sent. Allow up to 4-6 weeks from the original pitch for final agreements, shipment of product and scheduled posts with enough shares before the holidays. I have been pitched as early as the week of Christmas and that is an impossible timeline.
Create a solid plan for the brands you represent first. PR can advocate for bloggers before you even contact us. Allow brands to understand what you are asking of us — time, gas to the store for recipe creations, ingredients, batteries for toys, etc … When a reputable blogger asks for higher value or paid package, the brand can budget and you don't have to come back with a "sorry, they can't."
Do you have any pet peeves when working with PR professionals?
I try not to focus on pet peeves before relationships or trying to find ways to come to an agreement, but it is difficult to get pitched days before a holiday. Impossible timelines are just plain … impossible.
I can speak for the majority of honest, devoted bloggers when I say a lot of effort goes into our guides and this is the time of year our page views skyrocket and have such a large audience. To contact a blogger with no budget or low product value is almost an insult to many. We work hard and a lot of time is away from our own families to work for your represented brand and compensation is worthy. For review bloggers, we like to be offered a decent value on the product. Myself, I require $50 value on a product sent on non-sponsored posts. For example: be prepared with low price items to offer bloggers a package for their time, some food product and a gift card to help them buy the ingredients they need for a recipe creation. When we get a box of pasta and have to run to the store and buy ingredients, use our gas and take the time to plan it is very hard to agree to that sort of pitch. Bloggers are not being greedy when asking for a budget from you. I think many agencies and brands forget what gets put into a post from time, gas and even our fees we pay for social media schedulers/online services that help organize your ads.
Do you use social media like Twitter or Facebook to gather leads and story ideas? Can you be pitched via these channels?
Twitter is the greatest contact. When there is a brand I want to work with I will sort of 'stalk' their Twitter page, get to know what they are promoting then can do my own tweets about that topic and tag the brand. Hardly do I get any response tagging brands on Facebook, but almost always can get their attention via Twitter.
I love when a brand notices my posts and shares my posts on their channels too. I feel like that is the final piece to really being connected to a brand and not just write a post and move on from each other. I prefer email pitches so all the conversations are in one place and I make it easy to find my email. I will respond, it just may take me longer to notice a PM there.
How do you prefer to receive press materials?
I prefer by email and the subject line should be specific. I refer back to these initial emails several times from start to finish so having a subject line that specifies the brand name and that it is for Holiday Gift Guide saves email searching.
Do you want your company to be featured during the holiday season? If so, download our free 2017 Holiday Gift Guide Pitching Kit to connect with influencers who can promote your brand.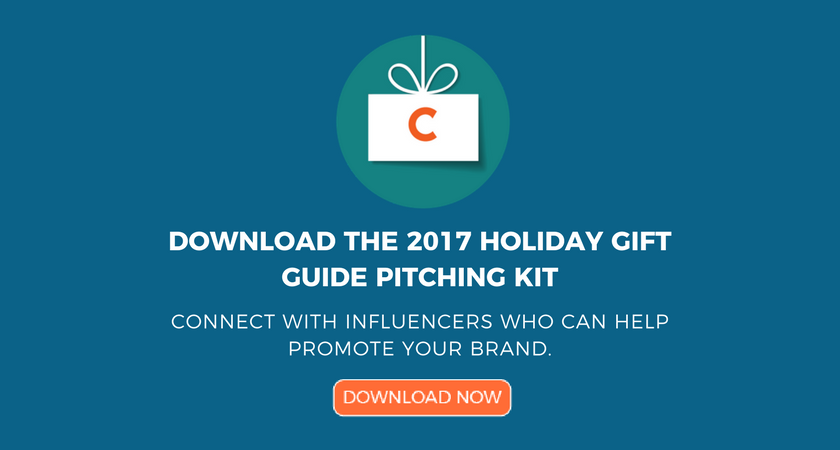 Anna Marevska is an editor and writer for Cision Blog, and writes media updates, media influencer and industry features. She is also the senior manager of content and client data at Cision's research department, and the editor of FashionFilesmag.com. Find her on Instagram @AnnaMar3.