Brands can improve their PR pitching with a variety of tools and changes in approach. A good media relations campaign involves reaching out to those who are already inundated with a variety of pitches in their inboxes, making it essential for your campaign to stand out and be easily digestible. 
Productive media relations can open an untapped market that can greatly expand a brand's campaign pitching, even one that's been stymied by overly conventional or ineffective PR outreach in the past. The perfect media pitch emphasizes a personalized approach that connects with a media contact in a meaningful way. 
Fortunately, there are some simple ways to make your PR campaigns more productive and captivating when pitching to media contacts.
1. Personalize the Approach 
Lack of personalization can mean the difference between a captivated lead and the recipient feeling like they're part of a mass mailing list. Addressing them by name is a start, though that doesn't go far enough or make a brand stand out in a crowded inbox. Instead, dig deeper. 
Follow them on social media. Carefully read their published works. This research provides a great barometer of whether or not the content is in their wheelhouse. Press outreach often fails due to a lack of interest in the topic.  
Additionally, the knowledge gained from further research accommodates demonstration of familiarity with the pitch.  
Starting off by complimenting the recipient on a recent article they published, while tying that topic into the pitch, is an effective way to stand out. Rather than feeling like they ended up on some random mailing list, the recipient will likely feel honored someone has taken time to understand their work and tastes. 
2. Monitor Related Trends
Prudent media pitching includes staying up to date on trends within the industry. One easy way to accomplish this step is by setting up Google Alerts for relevant keywords, ensuring more accurate and relevant pitches. 
Additionally, the alerts will expose new articles that can surface additional influencers that are not presently on the PR campaign's contact list.   Inbox alerts can also bring new publications to light, with the potential to add dozens of writers from that publication. 
Overall, media monitoring is the best way to stay on the pulse of emerging news regarding related keywords, while also being a convenient method to add to a database of contacts. 
3. Use Software
Certain PR software can provide valuable additional insight into your target audience, topical trends and overall engagement.  
Cision's PR software provides a media database for the quick collection of contact information, in addition to media monitoring, news release distribution and engagement analysis. PR software like this can conveniently put everything a PR professional needs in one place, helping make the overall process more efficient. 
It may also be beneficial to use some kind of automated phone system. Tools like PhoneBurner can make your pitching more productive and simplified by streamlining workflows, making follow-ups more efficient and storing lead information in the cloud. 
4. Write a Captivating Subject Line
A captivating subject line is essential, especially when reaching out to contacts who receive hundreds of pitches each week. Aim for something short that piques curiosity without attempting to cram everything into the subject line.
Personalization is great here, too — even a mere mention of the writer's publication can make a difference. Fifty-seven percent of journalists receive between 50 and 500 pitches per week, so it's important to use a captivating subject line to grab their attention from the other pitches. 
Since there's no precise science to what makes a captivating subject line, PR professionals may very well have to conduct A/B testing, monitoring engagement among two or three different subject lines to gauge the most effective.  
Alternating subject lines between each round of follow-up can aid in this testing, as well. 
5. Prove the Value of the Content
How will the coverage benefit the journalist who's writing about the pitched content? It's a question to strongly consider when constructing the pitch, especially knowing recipients are sifting through many dozens of pitches per day, with only the time and space to write about a few of them.
Most frequently, they'll choose to write about whichever topics are in their area of expertise. Prove relevance by emphasizing the content's credibility and newsworthiness in relation to the contact's niche. 
For added integrity, make sure to include specific data sources the pitch is based on, to eliminate confusion or doubts. Also, bold or highlight exactly what makes the content newsworthy, particularly regarding its timeliness to a topic or proximity to the contact's reader base. 
6. Keep the Formatting Tidy and Neat
Recipients are likely to stop reading an email that's littered with links or contains an odd amount of information, whether it's too sparse or overly lengthy. 
An effective pitch should strike a fine balance between short and lengthy, providing all the data and content the recipient needs to be captivated, though without superfluous information.  
Emphasize availability and contact details if they have any additional questions. An effective pitch has tidy formatting while listing information in order of its importance and relevance to the target audience. 
Simple, but effective, strategies such as these can significantly improve media relations and monitoring.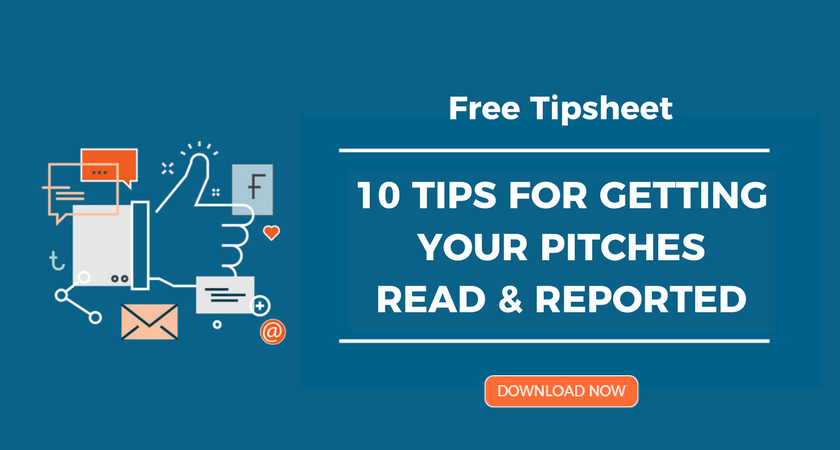 Kayla Matthews writes about branding and digital marketing for websites like Convince and Convert, The Daily Muse and VICE. You can learn more about Kayla and her brands here.