New Year's Resolutions are not limited to just people who want to lose weight, find the love of their life, or travel more in the upcoming year. Businesses should get in on them, too. After all, teams that set goals for their company are 429 percent more likely to succeed than those who don't set any.
So, what goals does your marketing team have in the coming year? If you haven't set any, now is the time to start thinking of ways to improve your branding strategies to make 2018 your best year yet.
Here are three awesome branding resolutions all marketing teams should consider in preparing themselves for 2018 and beyond.
Recruit a Team With a Unified Vision
True branding starts from within. That being said, it's absolutely necessary that your business has a united vision for the brand — in both the long-term and the short term. In order to have a team that can work together towards the same goals, it is important that you build this united vision from the start by hiring the right people.
Unfortunately, many businesses struggle to find the right candidates. Poor hiring decisions can cost businesses significant amounts of time, money, and effort.
Resolve to bring on the right team members who will positively contribute to your brand in 2018 by recruiting the talent whose values fall in line with your own. Data-driven recruitment tools like Harver work to eliminate the tedious task of manually sorting through hundreds of applicants to find the perfect additions to your business.
Bringing on like-minded and talented members will help you grow a stronger team that works together for a unified brand. Creating an all-star team starts with a bulletproof recruiting process that makes sure every new hire fits into the company culture perfectly.
Narrow Down Your Niche
The concept of niche expertise marketing is a great way to establish your brand's credibility as an authority in your industry. If you already have a well-established brand for a wide range of products and are wary of losing sales by going niche, or if you are a commodity reseller without any branding yet, you still have a lot of options. There are a ton of side business ideas where you can test the waters without cannibalizing your brand or committing the full resources of your business.
However, once you taste success in your new endeavor, aim to cement your position as an emerging thought leader in the industry, with a focused content marketing strategy. A Bloom Group survey found that 9 out of 10 customers agreed that their opinion of a business was positively impacted when it showed their expertise through thought leadership in their field.
This means that a solid content marketing strategy will do wonders for your brand messaging. Cesar Beltran, owner and chief technologist at e-commerce web agency Blackbelt Commerce, credits the business's growing success to their commitment to high-quality and actionable content. His team of web developers operates in a specific ecommerce niche — they help retailers running stores on the Shopify platform improve sales with conversion-driven data. 
"Positioning our brand as an expert in ecommerce and Shopify store development has really made a difference in building trust with customers and bringing in business. We stock our blog with articles discussing trends, addressing concerns, and offering insight that is helpful to our customers. Our expertise in the field has really helped our brand stick out," says Beltran.
Their blog is aptly called "Shopify Insider."
Regardless of your field, competition most likely isn't getting any easier. Therefore, positioning your brand as an expert source of information will be even more important in 2018. Make sure that your team is committed to generating content that drives engagement and is focused on providing a level of value people cannot get anywhere else.
Make Content All About the Customer
Personalization is still key as 2018 rolls along, and customers will be expecting even better experiences from brands in the upcoming year. That being said, the concept of personalization should be engrained in your overall branding strategy. Accenture found that 75 percent of people would prefer to buy from a company that remembers personal details about their shopping history.
Look at Amazon, every time you visit their website, you are given a tailored layout based on your previous behavior — they have made personalization a staple in what their UX is all about. If your marketing team would like to make your CX more personalized, but has no idea where to start, Personyze is a great online tool that makes this task simple. The program generates recommendations and targeted webpages based on consumer data for instant personalization.
If you want to build a brand around your customer, you need to create a browsing experience that is customer-centric. Throughout everything you do, be prepared to generate more personalized content, messages and experiences for consumers using the proper tools and data.
Conclusion
As we begin 2018, companies are doing everything they can to anticipate the challenges and emerging trends soon to present themselves. The New Year is a great time to set objectives with your team about refocusing and recommitting to improved branding efforts for the future. Good luck!
Author Bio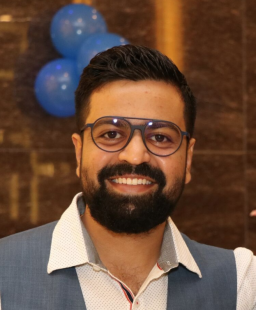 Pratik Dholakiya is the founder of Growfusely, a content marketing agency specializing in content and data-driven SEO. He regularly speaks at various conferences about SEO, Content Marketing, and Entrepreneurship. Pratik has spoken at the 80th Annual Conference of the Florida Public Relations Association, Accounting and Finance Show, Singapore, NextBigWhat's UnPluggd, IIT-Bombay, SMX Israel, SEMrush Meetup, MICA, IIT-Roorkee, and other major events. As a passionate SEO and content marketer, he shares his thoughts and knowledge in publications like Search Engine Land, Search Engine Journal, Entrepreneur Magazine, Fast Company, The Next Web, YourStory, and Inc42, to name a few. He can be found at Twitter @DholakiyaPratik.