For our first #CisionChat of 2018, we wanted to try something different. Usually, #CisionChat asks our Twitter followers open-ended questions about the communications, marketing and PR professions. This time, we wanted to poll our users for a 'yes or no' response to the question 'should this tactic be left in 2017?' Participants could vote 'Let it Die in 2017' or 'Still Valuable' on a list of marketing tactics and defend their answer in the comments. 
With that in mind, let's see what you had to say…
Q1: Automated Direct Messages to New Followers on Twitter
Many marketers still use automated direct messages (DM's) to welcome followers to their Twitter profile. The great thing about social media is being able to connect with brands and people on a more authentic level. There is nothing authentic about receiving a canned message through an automated feature. As the poll above clearly shows, automated direct messages to new followers is not a tactic you should be using in 2018. The only message an automated DM sends is you want the credit for starting a conversation with someone without doing the work.
Q2: Facebook Live
Facebook Live was all the rage when it first came out. Everyone was suggesting it was the best way to share content via Facebook. One of the biggest trends on Facebook in 2017 marketers talked about was the slow decline of organic reach. However, the new Facebook Live feature did not seem to be impacted, so many experts hailed this as the best path forward for brands. 
After Facebook was found to be inflating traffic to live videos many brands stepped back from the feature. As the poll shows, many industry experts still see Facebook Live as valuable but are concerned about the quality of live content many brands are putting out. The consensus in the comments was content is still king. Facebook Live is no magic bullet. 
Q3: Trying to Go 'Viral'
"How do we get this to go viral?" has become the bane of many a marketer's existence. Not only is it an unrealistic expectation but it is a huge red flag your client does not understand content marketing. As Maria Marchewka pointed out "I'd rather have long-term success than one piece of high-performing content." Which is in-line with what the content marketing industry's top experts will tell you. 
This question was the closest to a fifty-fifty response out of the entire chat. Thus, we had to head to the comments for more clarity. Overall, the consensus was 'followers' should not be the most important metric (that honor goes to engagements) but it is still a metric marketers find useful when narrowing down what influencers they want to work with. 
Q5: Using Animated GIFs
A surprisingly devise question came from one of our #CisionChat participants about animated GIFs. Full disclosure, I love GIFs and even themed all of my personal answers to this chat around my favorite GIFs from The Last Jedi. The anti-GIF argument was they have no measurable impact, while GIF-advocates (a word I never thought I would get to use) argued they offered brands a chance to show personality.
This question also caused quite the split. While many responses lamented the decline of organic reach on social media, they also acknowledged the reality of most platforms moving towards a pay-to-play model. One response that caught my eye was from Randy Thio, who pointed out Wendy's Twitter isn't famous for great sponsored posts. Randy has a great point, social media platforms will always have an incentive to promote great content, it keeps their users coming back. Although, that leads us back to Q3 where we discussed how you can't count on going viral. My take would be brands should invest in a mix of paid and organic content. The response to your organic content will help shape your overall content strategy, ensuring people are not only responding when you put money behind your post. Paid will ensure you are not missing out on the audience your social networks are hiding behind a paywall — since you can't count on that content going viral. 
Be sure to tune in every Thursday at 2 p.m. (ET) for our weekly #CisionChat.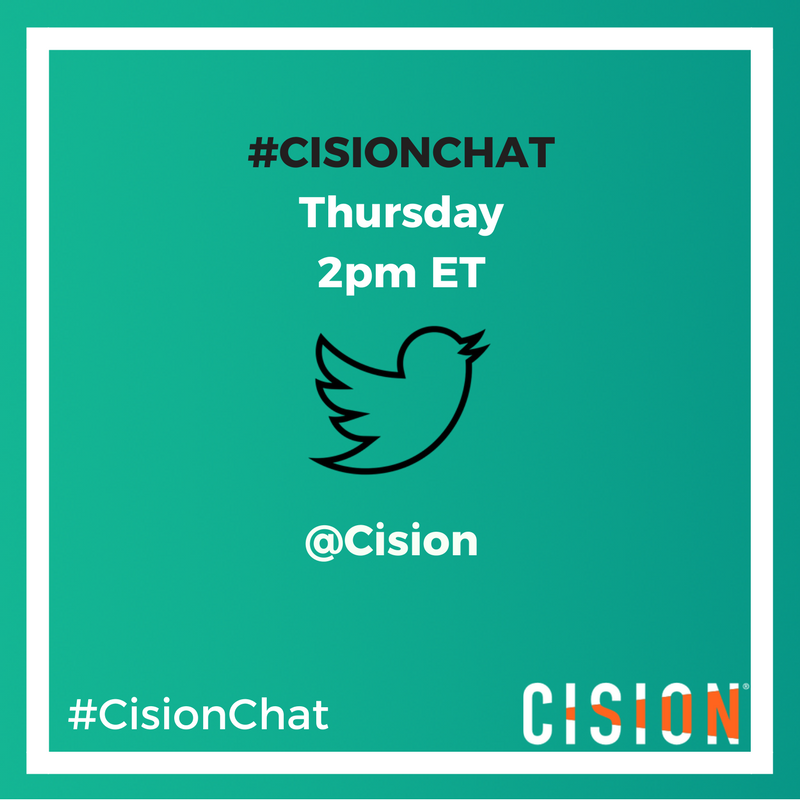 Bruce Kennedy is a social media manager at Cision, where he manages Cision's global brands. Previously, he worked in public relations in tech and entertainment, helping brands from early stage startups to household names like Red Bull, Disney on Ice, Ringling Bros. and Barnum Bailey, Techweek and more.Connect with him on LinkedIn and follow him on Twitter.