Content, content and more content. Brands are investing more time, resources and budget into publishing high-quality content with the goal of attracting, engaging and converting customers throughout the buyer's journey.
According to HubSpot's State of Inbound 2017, the top three inbound marketing priorities are:
Growing SEO & Organic Presence
Blog Content Creation
Content Distribution & Amplification
These three benchmarks go hand-in-hand; and on paper, it sounds very easy. Just create and distribute content to organically reach new audiences. Your success, however, is dependent on the first two steps: the content you create and how you distribute it.
Here are eight types of content and examples of how to promote them to not only boost your organic presence but to drive demand and engagement.
1. Blog
There is overwhelming evidence that shows maintaining a blog generates business results. Your blog authenticates your brand's personality, expertise and values. An active blog boosts traffic, SEO, drives leads and yields 97 percent more inbound links.
Spark engagement from new audiences by delivering your blog content to targeted influencers while driving search engine visibility.
How to do it?
PhRMA exceeded an important KPI by boosting and maintaining consistent blog traffic.
2. Infographics
We learned a lot about the viability of visual content in the 2017 State of the Media. Informative, aesthetic infographics drive immense engagement. Nearly 70 percent of marketers rate charts and graphics as the most engaging type of visual content. Infographics are plug and play, citable and are liked and shared 3x more on social media.
Elevate the efficacy of your content and garner more earned media with Cision's multimedia distribution.
How to do it?
OpenTable used infographics to garner earned media and boost engagement from targeted yet unexpected audiences.
3. Videos
Video has grown to dominate the online attention of your audience. By 2019, 80 percent of the world's internet traffic will be consumed by video. Despite budget and bandwidth constraints, 83 percent of marketers agree that video yields positive ROI.
Increase views and engagement by up to 2.8x by leveraging Cision Distribution's proven video distribution network.
How to do it?
Varian distributed a video which helped to receive national media and analyst coverage.
4. Case Studies
It's critical to educate your prospects throughout the buyer's journey. Whether your audience is identifying their need or evaluating their options, case studies resonate best with buyers. Nearly 8 out of 10 people access case studies when considering solutions.
Generate leads and drive demand by delivering your case studies to key audiences.
How to do it?
The National Association of Realtors, optimized their data-driven content to boost brand engagement.
5. White Papers
Persuasive and authoritative, white papers remain vital to B2B marketers. Nearly 100 percent of B2B buyers want content with more input from industry thought leaders. Without a distribution method, spending hours writing and researching a high-quality white paper does not automatically translate to inbound leads.
Grow your sales funnel by distributing white papers to your target audiences.
How to do it?
censhare generated high-quality leads and demonstrated ROI by breaking out of their existing marketing silos.
6. How-To-Guides
According to Pardot's State of Demand Generation report, 70 percent of buyers return to Google at least 2-3 times to dive deeper into how a company's specific offerings address their pain points. How-to-guides are perfect to demonstrate how your product, service, or solution solves your prospect's challenges.
Earn coverage and boost search visibility by connecting your how-to-guides to potential customers.
How to do it?
Lavu generated leads, boosted brand awareness and SEO despite being in a crowded market.
7. Social Campaigns
Social algorithms diminish your ability to organically reach your target audiences unless you invest in paid placements. Successful social campaigns rely on boosting reactions, shares and comments.
Expand your social reach by delivering your share-worthy content to key audiences.
How to do it?
Grant's Whiskey earned hundreds of placements and millions of online impressions for #GrantsInterview.
8. Webinars
Webinars are the most engaging, personable type of content. They not only demonstrate your brand's thought leadership but allow you to directly interact with your prospects and clients.
Build awareness and spark engagement by promoting your webinars through Cision Distribution.
How to do it?
Discover the information needed to create a strategy and to streamline your communication efforts to create content that drives more ROI.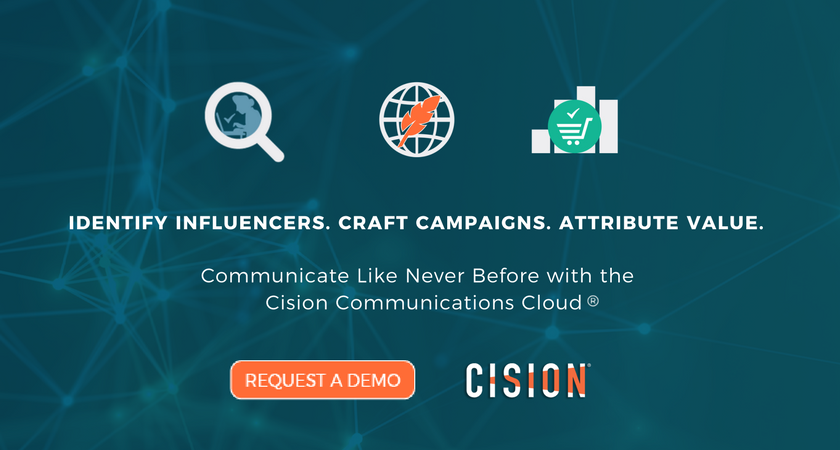 Seth Gilpin is a Senior Product Marketing Specialist for Cision where he blends his passion for storytelling with the science of data. Connect with him on Twitter: @sethgilpn