Recently, I sat down with Kevin Akeroyd, the CEO of Cision®, and Dr. Rainer Mathes, the president and co-founder of Prime Research, to discuss Cision's recent acquisition of Prime Research and what it means for existing and future customers. In this video, Akeroyd, and Dr. Mathes explain how the marriage of these two companies will bring about one integrated services organization, and one integrated tech platform that does media measurement, monitoring, distribution and database extremely well.
If you're interested in learning more about how Cision and Prime Research will work together to change the future of communications, view the video, or read the transcript below.
Chris Lynch: Hello with Cision, and our customers, our employees, our partners, my name is Chris Lynch; I'm the chief marketing officer at Cision. I'm joined here today with Kevin Akeroyd, the CEO of Cision, and Dr. Rainer Mathes, the president and co-founder of Prime Research.
We're very excited here at the Cision family to add Prime, and what we wanted to do was spend a little time with Kevin and Dr. Mathes just about why we did the acquisition, really share some of the amazing insights that Prime is going to bring to the Cision family and really looking forward to the time.
Dr. Mathes, let's start with you. I think a lot of people at home are probably wondering just at a very high level what does Prime do?
Dr. Mathes: We have one mission, and that is to provide insights to our customers. Insights not only to communicate in a strategic way, to let's say improve tactics, to be always aligned to targets, so usually, we say Prime Research for better business decisions.
Chris Lynch: Kevin you know we have such a diverse portfolio at Cision, what kind of factored in for you as making Prime Research such an attractive thing to add to the family?
Kevin Akeroyd: We've only done part of the equation, and that's why bringing in the global leader in insights and analysis, as well as some pretty cool machine learning and AI technology as well. It's not like Prime didn't have technology, they have great technology, but finishing the job so that now we're not only the consolidated data, content, media measurement, distribution and tech platform as a world leader, we're now the insights, intelligence and analysis leader as well. And putting all that together for the chief communication officer we think is a great day for our customers.
Chris Lynch: Dr. Mathes, you've been a thought leader in this industry, you've been out in the market with Prime and seen the convergence of both technology and services, so, how in your mind are the products complementary?
Dr. Mathes: We started with artificial intelligence, we started with deep learning, machine learning, but with our new partner, with being partner of the Cision family I think we all have much more resources to enforce that and to strengthen that very very important technological foundation. You have to understand the global world, as well as the local world, the regions, and I think together we can provide even more global infrastructure, even more access to the different — let's say — developing, but also emerging markets.
Chris Lynch: One follow-up question for you Dr. Mathes, I'm sure the Prime customers have been contacting your phones and ringing off the hook. When you go, and you take that phone call they say, "well what does this mean to me as a customer?" What do you respond with?
Dr. Mathes: There are different calls from different customers. Some are asking, "what does it mean for me? How can I benefit from it?" Others ask about continuity, so there was kind of a mixture. One I remember very well said, "hey that's great news, we are using Cision for distribution, we are using the database of Cision, and we are using you for monitoring and analysis." Perfect fit. One umbrella for both and two services combined.
Some others sometimes are asking for continuity, and I think, Kevin, that's what we agreed on. So, we will make sure that our customers on the Cision side as well as on the Prime side will have their expected service, their expected quality, we will try to keep as stable as possible so that there's no friction — nothing else.
Chris Lynch: Another question for you Kevin — we've had a good footprint in the services industry, if you look at the Bulletin Intelligence acquisition this year as an example, as Dr. Mathes takes on this combined services business, what's your vision for that moving forward?
Kevin Akeroyd: I think that now if we can be the data and content platform, if we can be the tech platform, and now have the intelligence platform, right, that doesn't just do, say, managed services. Doesn't just do analysis. Doesn't just do insights. Doesn't just do alerts. But if I can get all of that from one integrated services organization, on top of one integrated tech platform our ability to go do more faster, right, and more effectively for our customers who have to do more faster and more effectively in their 24/7 changing dynamic it just puts us in a position to be the enabler for the CCO that he or she needs us to be.
Chris Lynch:  Well, thank you so much for joining us today. Thanks, Kevin, and thanks, Dr. Mathes. Please check back to Cision.com; we will have a lot of forthcoming information as we move Prime even more integrated into the Cision family. In addition to that, if you have any questions, if you're a customer, if you have any questions at home, please reach out to your Cision account manager, and we'll go from there. Thanks so much for joining us today.
Kevin Akeroyd  & Dr. Mathes: Thank you, Chris.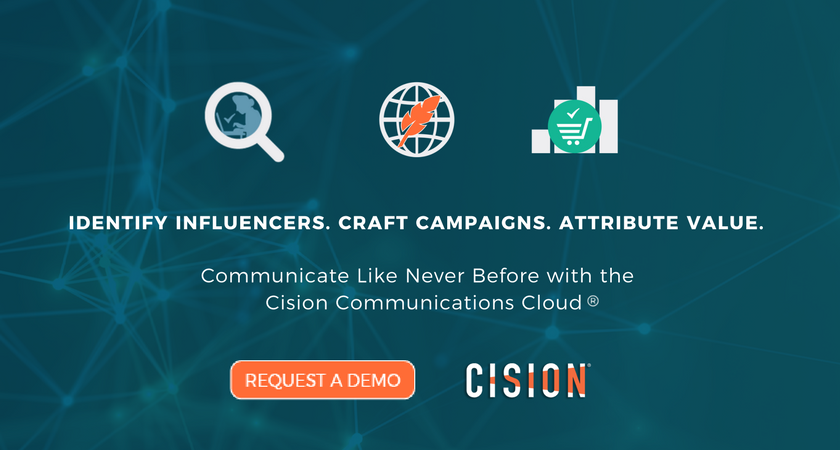 .
Chris Lynch oversees Cision's global marketing teams. Serving as Chief Marketing Officer, Lynch is responsible for Cision's global marketing strategy — spanning communications, product and digital marketing. Previously, he ran product marketing and go-to-market strategy for Oracle's Marketing Cloud business and also held leadership positions at companies like Badgeville and TIBCO. Based in San Francisco, Lynch attended Northeastern University where he received his Bachelor of Arts in Journalism. Follow him on Twitter @cglynch.