This post originally appeared on CNW Blog.
What's not to love about St. Patrick's Day? It's a fun holiday to create a theme around and is often used in PR and marketing campaigns. But like many celebrated holidays around the world, the event's true "brand" has become distorted over the years.
Consider this statistic — more than 34 million Americans claim Irish descent. With a number like that, whether you are targeting an actual Irish audience or just the Irish-at-heart, consider the following six pointers to give your marketing campaign an authentic and accurate Gaelach touch.
1. St. Patrick And St. Patty Are Different Saints!
To review, March 17th, St. Patrick's Day, celebrates the life of the Patron Saint of Ireland. "St. Patty's Day" is one of the most common – and most incorrect — ways to reference the Irish national holiday. While Pat is a shortened version of the name Patrick, Patty is not. Patty is a diminutive of Patricia and with the feast day of St. Patricia falling on August 25th, St. Patty's Day is a different event altogether.

Paddy, on the other hand, is a derivative of the Irish name Pádraig (or Patrick in English). So if you feel the need to get casual with the name of this day, just remember its Paddy and not Patty.
Make it easy on yourself by keeping your references to the full term: St. Patrick's Day, as these brands have done: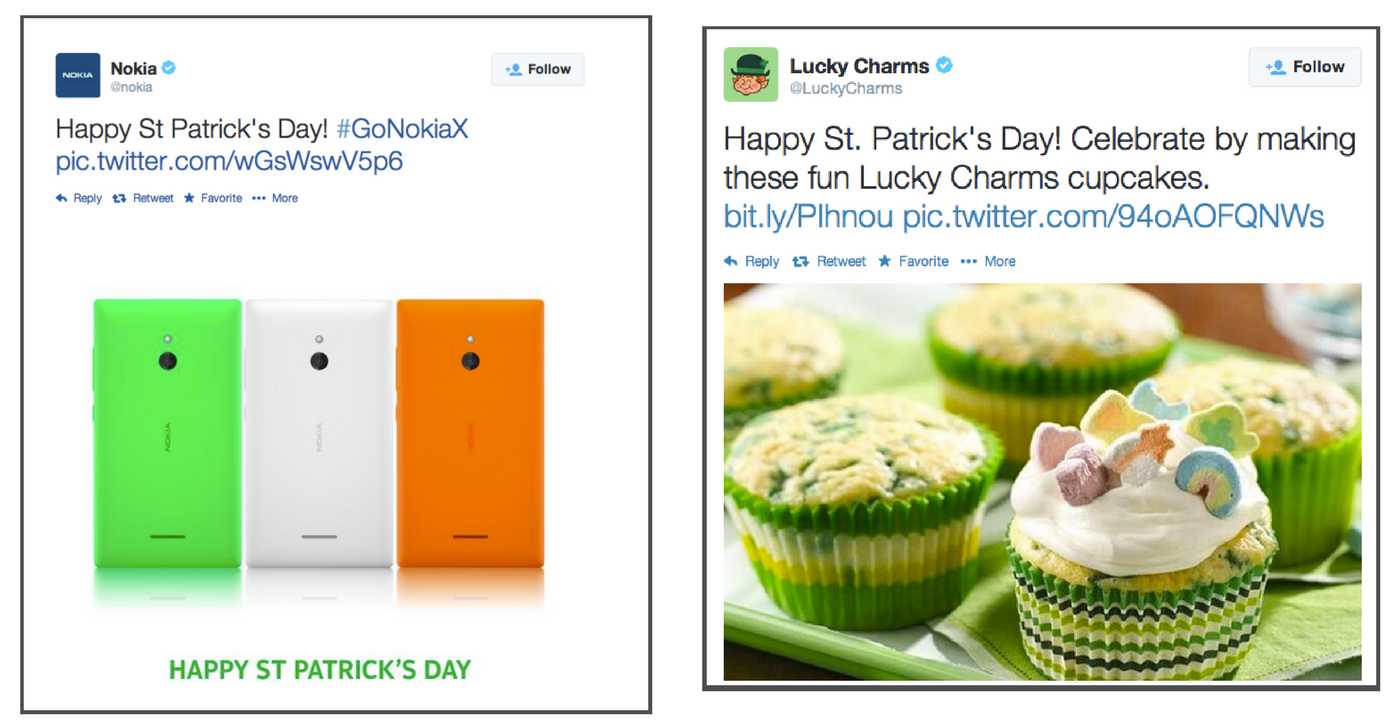 2. It's Shamrock, Not Clover
Another common faux-pas is the use of a four-leaf clover as a symbol to represent Ireland and St. Patrick's Day in particular.
Here's how that gets confused:
Finding a four-leaf clover is thought to be a sign of good luck.
There is an old saying, "the luck of the Irish" which is thought to be in reference to some of the more successful 19th-century gold rush miners, who happened to be Irish.
St. Patrick is associated with a shamrock – a three-leaf plant that looks rather like a clover.
Although the vibrant green plant is not the official national symbol of the Emerald Isle (that's the harp!) it was a three-leaf shamrock that St. Patrick used to teach the Irish people about Christianity and the Holy Trinity and so, the three-leaf shamrock is of great cultural significance.
Using four leaves instead of three is a widespread gaffe. 2016 saw Guinness use a clover rather than a shamrock in its TTC adverts. This was particularly disappointing as Guinness is one of Ireland's oldest and most treasured brands. Fans did not waste any time in taking to social media to correct the company! The brand reacted quickly to remove the adverts and even went one step further to offer a personal and lighthearted apology to the person who first brought it to their attention via Facebook Messenger.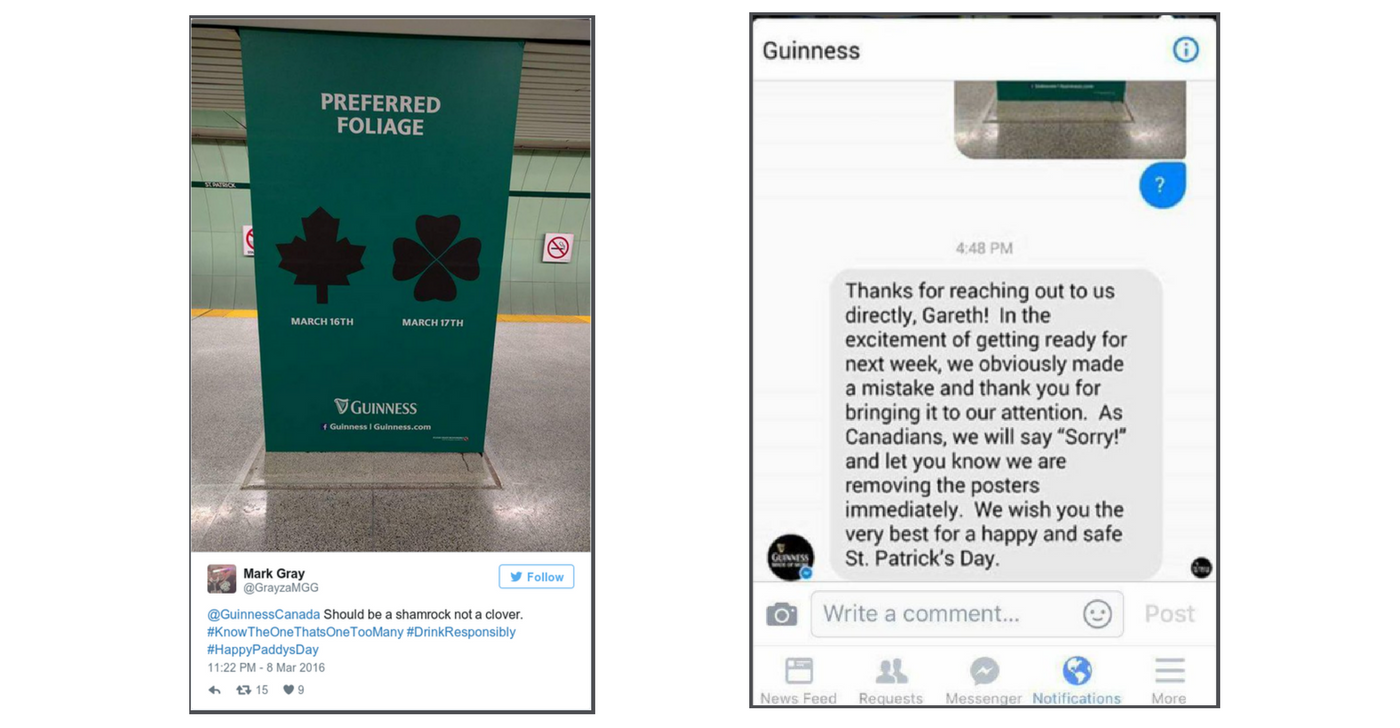 In 2016, an official "Make America Great Again" green hat from the Trump merchandise website also incorrectly used a four-leaf clover.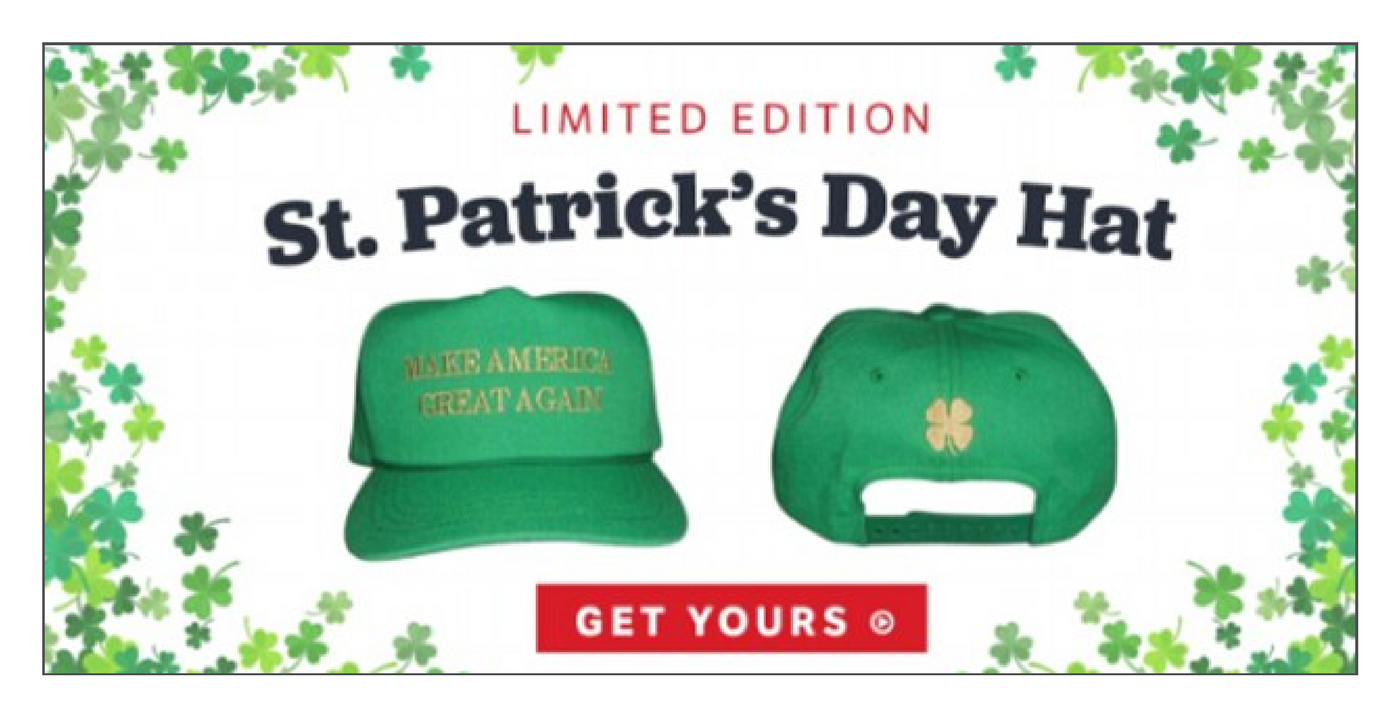 3. The Craic And Other Language Mistakes
Having the craic (pronounced crack) is a phrase commonly used by Irish people, meaning to have a good time. Craic is the Irish word for fun and while the pronunciation doesn't present any issues for most people, the spelling causes confusion. Spelling the word any way other than c-r-a-i-c will lead people to think you are up to something quite different.
On the topic of the Irish language, there is often confusion around this too. The Irish don't speak Gaelic. The Gaelic languages are comprised of Irish, Manx and Scottish Gaelic, all of which are of Celtic origin. The Irish language is simply referred to as Irish and while many non-Irish people may refer to it as Irish Gaelic, this is not common practice in Ireland. The Irish word for the Irish language is Gaeilge, which looks similar in spelling, and so is often the source of this confusion.
Bonus Irish Language Tip: No one from Ireland will ever, ever say "To be sure, to be sure," or "Top O' the morning to ya". Not even on St. Patrick's Day!
4.  Irish References That Are Not Actually Irish
In Mel Gibson's portrayal of William Wallace in Braveheart, he uttered the now famous words, "They may take away our lives, but they'll never take our freedom!" These words are now commonly slurred in pubs across North America on St. Patrick's Day. Friends, William Wallace was Scottish. Doing your best William Wallace impression to demonstrate your understanding of Irish history will only confuse people. Other Scottish references to omit from your St. Patrick's Day campaign include the bagpipes, tartan and kilts.
5. The Proper Portrayal of Guinness
There is a very specific way to pour a pint of Guinness. Whether this technique is the result of a very successful marketing campaign from the 1940s as suggested by many sources, pouring a Guinness any other way is simply unacceptable to the people of Ireland.
Vancouver based venue, Railtown Café, disappointed many Irish patrons by using the following image in its St. Patrick's Day event advertisement.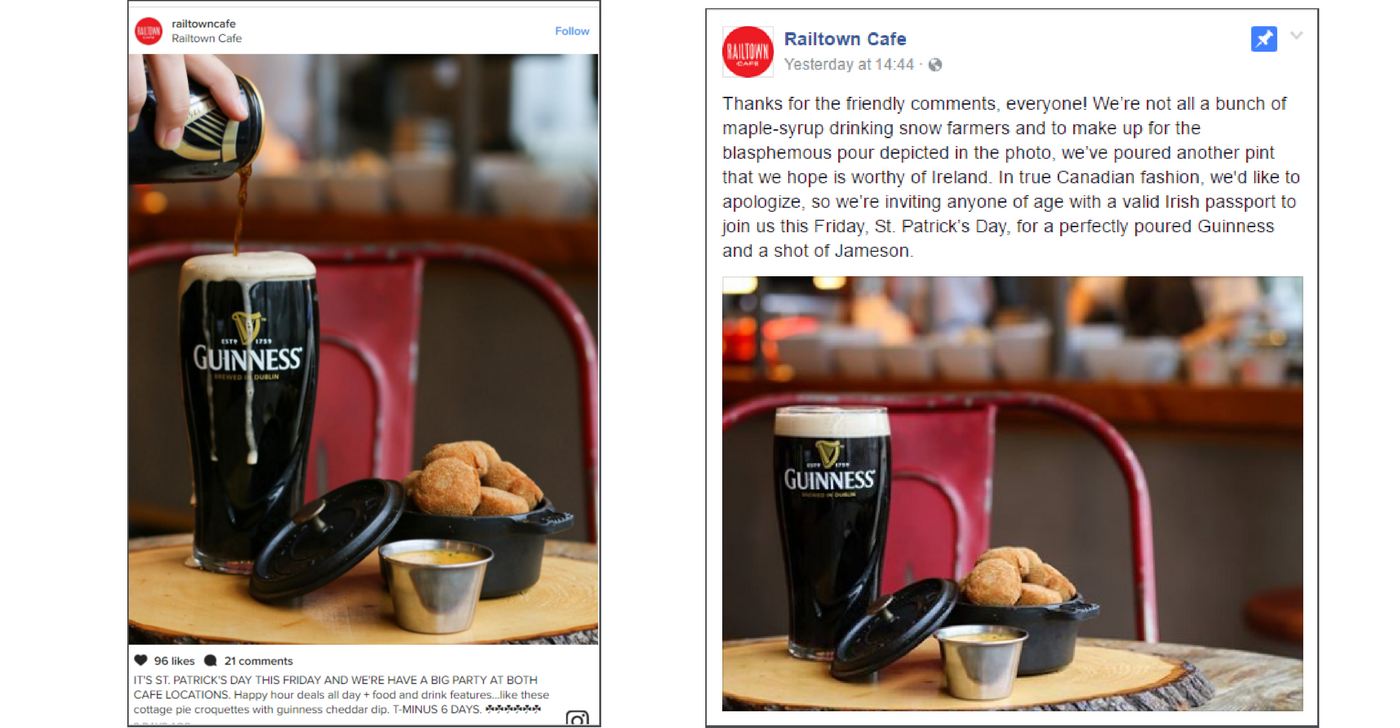 News of their egregious error traveled across the Atlantic with many popular Irish news and gossip websites discussing this disastrous pint. The café quickly reacted to the social media backlash, posting a new picture of a perfectly poured pint with a humble apology, winning back the hearts of the Irish.
In case you're wondering, here's how to pour the perfect pint of Guinness from the experts themselves:
Bonus Guinness Tip: If your Guinness has been poured correctly, then you should be able to tell exactly how many sips you took to finish the pint. A ring should after each sip will be left inside the glass. Master Guinness drinkers say it should take you seven big sips to finish!)
6. Keep it 100 (Irish)
As with any marketing campaign, the key to success is research. Tying campaigns around holidays is always a great way to gain some traction, but to ensure that effort pays off a little research goes a long way. And, if you really want to impress your Irish friends and colleagues this St. Patrick's Day, might I suggest that you quote this ancient Irish blessing meaning "May every road rise to meet you."
"An bhfuil cead agam dul go dtí an leithreas." (pronounced: on will kead a-gum dull guh dee on leh-rus) 😉
La Fhéile Pádraig sona duit! (Happy St. Patrick's Day!)

Amy-Louise Tracey is a Program Manager on the Customer Marketing team at CNW, a Cision company. Follow her on Twitter @AmyLouiseTracey and @CNWGroup