Web analytics is a key component in understanding when PR and comms efforts are leading to conversions on brand websites. A 2017 survey by Forrester Research identified that seventy-eight percent of U.S. consumers made their most recent internet purchase via computers and web browsers¹. Web usage is central to daily life, and not only for E-commerce. From traffic to revenue, web analytics provides a clearer picture of how audiences and consumers engage with websites, and prove return on investment (ROI).
What is Web Analytics?
Web analytics includes various metrics to show activities a consumer or user completes on your website – everything from signing up for a webinar to downloading a tip sheet. This user engagement data paints a clearer picture of specific user behavior and helps you identify when a desired outcome is achieved through web interaction.
Why is Web Analytics Important to PR And Comms?
First and foremost, measuring website data provides insight to create a better user experience. Web analytics tells what the most popular lanes or paths are within a website, what actions lead to a purchase, where users spend the most or least time and what they specifically do within a site.
Second, it's important to note that web analytics metrics don't include personally identifiable information (PII), like names, birthdates or phone numbers. Instead analytics focus on interaction to show how users are engaging, rather than who is engaging.
Analytics data points can be used to improve website flow, access or ease of use, but they can also be used to tell a comms team when an ongoing campaign is showing results on their website. Comms professionals need these types of metrics to tell where and how campaigns led users to take actions, specifically steering traffic to their website and driving engagement, and accurately track the effectiveness of those campaigns, informing future efforts.
How Does it Work And What Can it Tell About Comms Strategy?
The first step is to set up either Google or Adobe Analytics on brand websites. Each provider comes with their own set of options for implementation (for the tech-savvy: ex. Dynamic Tag Management vs. JavaScript or Analytics SDKs for Adobe) and adjusted price tag. Google Analytics is free but can be upgraded to Google Analytics 360, an enterprise-level product with more support, expanded data limits and additional options that comes at a cost (see Standard vs. 360). Web tracking codes are then established via these analytics platforms to track everything from outbound links to E-commerce and content groups.
Segmentation (subset) options for the data are extensive through use of various filters and isolate groups of users, sessions and hits. These segments can be further defined to show a range of data points; they can be utilized to display information like engaged traffic or reports on the day (and hour) where your site is most visited, and how users interact.
But rather than go too far down the rabbit hole of what these seemingly endless segmentation and filtering options can do, I'll highlight the key use-case for comms and PR. Understanding web traffic and conversions is becoming a standard value demonstrator in place of lightweight metrics like traditional reach stats because they return hard results on user interaction — regardless of industry. While other earned media measurement methods differ across industry and even company, time spent on a page and pageviews give solid confirmation of actual engagement that isn't available via metrics like brand awareness and sentiment.
Integration with Google Analytics and Adobe Analytics enables comms teams to make ROI evaluations by tying metric returns on websites to campaigns, or various points therein. In turn, this better informs their earned media strategy and drives more business as user-activity highlights success benchmarks set in place.
This isn't a new strategy, The Institute of PR was producing studies on the usage of web analytics tied to earned media almost a decade ago, but the applications are evergreen in the current data-intensive measurement landscape²:
Discover traditional and social media sites driving traffic to brand websites.
Understand the types of sites — from newspapers online to blogs, and more – that are driving engagement and visitors.
Define conversion rates for earned media (unpaid) vs. paid and owned.
Cision Comms Cloud™ starts users off on the right foot, filtering web analytics data through monitoring tools, alleviating the sorting, segmenting and filtering that would be necessary to understand types of sites (traditional vs. blog, etc.) and content (National or Regional news, etc.) driving engagement. More importantly, Comms Cloud is only pulling through earned media data, and screens out paid and owned-related traffic.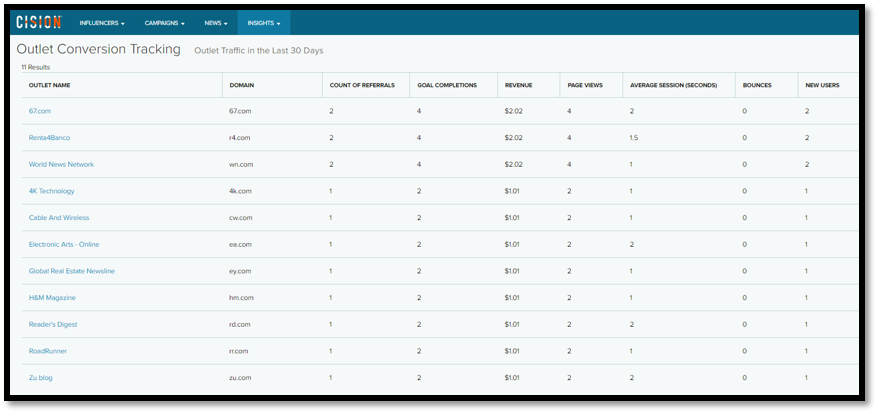 With the data points pulled from Google Analytics and Adobe Analytics, PR and comms professionals can maximize their Comms Cloud experience based on direct data points from these integrations with the values currently available for segmentation within the platform. To learn more about Comms Cloud, schedule a demo today.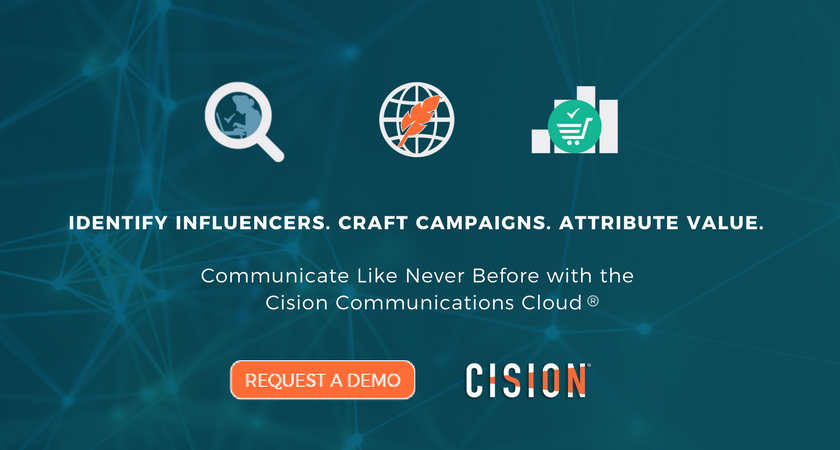 ¹Forrester Data Consumer Technographics® North American Consumer Technology, Media, And Telecom Customer Life Cycle Survey, Q2 2017 (US).
²Duncan, S. (2010, February). Using Web Analytics to Measure the Impact of Earned Online Media on Business Outcomes: A Methodological Approach. Retrieved March, 2018, from http://www.instituteforpr.org/wp-content/uploads/Seth_Duncan_Web_Analytics.pdf

---
Kevin Miller is a Product Marketing Manager for Cision. He develops marketing strategy and messaging, focusing on influencer impact and related trends within the comms and media industries.