Considering the culmination of traditional advertisements (newspaper, TV, radio and billboards) and digital advertisements (banner ads, pop-ups and sponsored posts), how many advertisements a day do you think you're exposed to? 100, 500, maybe 1,000? Try 5,000. Now imagine what that number would be if it were not for the 600+ million devices that are equipped with ad-blocking technology.
Annoyed and overwhelmed, consumers are fed up with intrusive advertising and sales tactics. It's no surprise, 70 percent of society wants to learn about products and services through content and not advertisements. Audiences crave information. We have an innate desire to be entertained, informed, inspired and even outraged. Content that is authentic, accessible and relevant has the power to shape our behavior — whether it's making a purchase, supporting a cause, or requesting a demo.
The digital and content revolution has empowered customers to seize control of their path to purchase, forcing brands to retire their sledgehammer marketing tactics. Today, brands must attract customers with high-quality content, impacting their target audience through an array of online channels.
Content Marketing is no Longer a Shiny New Object
Practiced by virtually all B2B and B2C organizations, content has quickly evolved into one of marketing's staples. Coined the "future of marketing" by CMOs, content has the power to solve marketing's pristine challenges — growing web traffic, converting leads, upselling and retaining existing customers. Or simply put — driving revenue. Not to mention, it's cost-effective compared to traditional marketing.
According to Demand Metric, content marketing generates approximately three times as many leads and costs 62 percent less than traditional marketing. On paper, content marketing sounds like a slam dunk: create content to drive demand and score revenue. But is it really that easy?
Unfortunately not.
The Majority of Content is Ignored
A few years ago, Moz and BuzzSumo analyzed engagement trends of over one-million online articles. The results might shock you.
When it comes shares and links, the overwhelming majority of content is ignored. In a randomly selected sample of over 100,000 articles: 50 percent had two or less Facebook interactions (shares, likes or comments) and over 75 percent had zero external links (earned coverage).
The research suggests that: 1) most content is low quality and not share-or-news-worthy, and 2) most marketers are very poor at distributing their content.
But What Makes Content Marketers Successful?

Every year, the Content Marketing Institute publishes research surrounding the state of content marketing for B2B and B2C organizations. Surveying thousands of marketers, here are this year's trends:
What the most successful B2B content marketers do?:
92 percent focus on building new audiences
89 percent are extremely/very committed to content marketing
88 percent value creativity and craft in content creation
And for the most successful B2C marketers:
93 percent are extremely/very committed to content marketing
87 percent prioritize delivering quality over quantity
84 percent focus on creating content for audiences versus brand
Content marketing is rooted in the principle of creating high-quality content to attract and engage your target audience. Keywords, of course, being high-quality, attract and engage. As you know, audiences are exposed to thousands of competing messages every day. To be successful, marketers must ensure their content not only reaches but demands the attention of their target audience.
How to Drive Your Content Marketing Priorities
Let's face it, nobody knows your brand, industry and personas better than you. As you develop and navigate your content marketing plan, it's important to be nimble, objective and open to change. Establish your benchmarks, set your priorities and develop your content calendar. Aim your crosshairs on creating great content.
It's no surprise that seven out of the top ten content marketers priorities are content creation.
How to Overcome These Hurdles 
You can spend months writing a white paper or spend thousands on a video, but if it's not laser focused and doesn't reach the right audiences it's not going to convert. Content is not king; relevant content is. Despite the majority of marketing priorities revolving around content creation, the top priorities are content distribution.
1) Boost Organic Search Visibility
For good reasons, boosting organic search is the top priority for content marketers. When thinking about a customer's path to purchase, Google is the starting point and often the finish line. According to Search Engine Journal, SEO leads have a 14.6 percent close rate, while outbound leads (such as direct mail or print advertising) have a 1.7 percent close rate.
Unfortunately, SEO is extremely complicated. What worked for you yesterday may not work tomorrow. And on top of Google's perpetual updates, marketers must be mindful of society's evolving search habits. A 2017 analysis of 1.4 billion keywords revealed that 64.5 percent of searches are four words or longer. Furthermore, 96.5 percent of all search queries have less than 50 searches per month. Capitalizing on these long-tail keywords present a great opportunity for content marketers.
2) Drive Earned Media 
The rise of earned media. Have you heard about it? Those traditional "PR tactics", you know pitching influencers and distributing content to the media, have gained significant steam. More marketers are realizing the power of PR and the benefits of adding earned media into their content marketing strategy. Research conducted by the Content Marketing Institute found that 78 percent of effective content marketers used press release services. Leadership is on board too, 81 percent of senior marketers believe earned media is more effective than paid media.
When you think about it makes sense. Press releases and blogs are known for building brand awareness. Both can serve as a top-of-funnel entry point or a touch point for existing customers. Earned media, however, has the credibility factor. According to Neilsen, the majority of consumers trust earned media more than paid and owned.
Earned media should be a consistent piece of your content distribution strategy. Whether you publish daily, weekly, or monthly, the high-quality content you create is worthy of earned coverage.
Cision Distribution by PR Newswire can elevate the reach and efficacy of your content. Regardless of your industry and target audience, press release distribution will send your thought leadership to thousands of media, trade and influencer points.
3) Comprehensive, Multichannel Content Distribution
We learned from Moz and BuzzSumo that the brands are publishing content that doesn't serve a purpose. To avoid this pitfall, you must effectively reach your target audiences before you can ever spark engagement.
We know brands are prioritizing content creation, but for the for the majority of marketers, the top challenges are growing website traffic and driving leads. To drive results, brands need a execute a holistic distribution strategy, reaching well beyond your owned audiences.
Your content strategy can reach its full potential by simultaneously tapping into paid, earned, owned and social channels.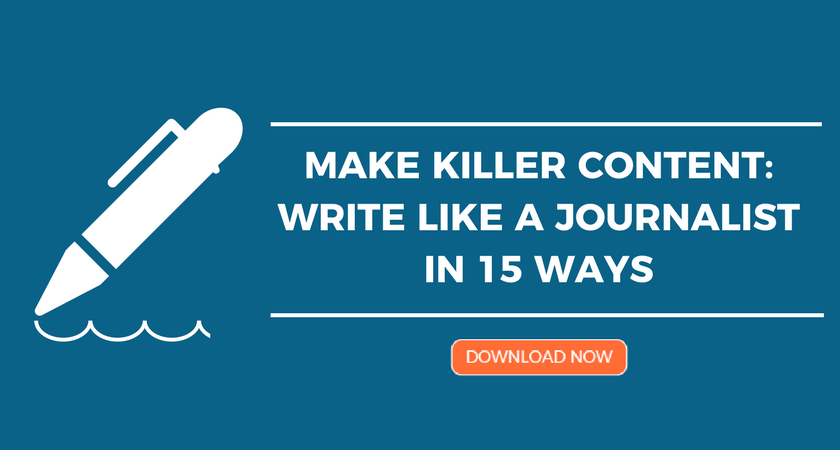 Seth Gilpin is a Senior Product Marketing Specialist for Cision where he blends his passion for storytelling with the science of data. Connect with him on Twitter: @sethgilpn