The U.S. Centers for Disease Control and Prevention (CDC) recently reported that 1 in 4 adults have a disability. Coleen Boyle, Ph.D., director of CDC's National Center on Birth Defects and Developmental Disabilities said, "At some point in their lives, most people will either have a disability or know someone who has one."
It wasn't until my significant other got a job at an accessibility resource center that I realized how much I've taken day-to-day communications technologies for granted. On a daily basis, my significant other uses a braille PIAF machine to translate text, mathematical equations and images into braille for blind and visually impaired students. The machine, worth more than $1,000, raises the ink on heat sensitive paper. As a person without a disability, I was unaware that communications technologies like the PIAF machine for people with disabilities aren't always readily available at a low-cost.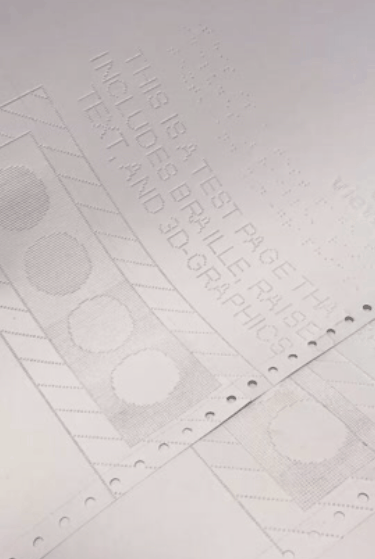 While most U.S. companies have done a great job committing to a diversity and inclusion strategy, there's still a critical need to create awareness of accessibility to ensure that everyone has access to equal opportunities and services. The U.S. Census Bureau says, "54 million people living with disabilities represent approximately $1 trillion in aggregate income that translates into more than $220 billion in discretionary spending power." With double the spending power of teens, your brand should already be targeting this audience in every way possible. 
Still, a question often asked by public relations professionals is, "What's the value in a press release?" The most obvious answer is to reach a broader audience. You can broaden your reach and demonstrate your company's commitment to inclusion and social responsibility by sending out accessible press releases that engage people with disabilities — it's a practice that every company should learn. Following are tips to improve your press release for disability inclusion.
1. Understand Accessibility Standards
There are many different types of disabilities that you may meet. Some of these types of general disabilities are:
physical
visual
hearing
speech
learning
cognitive
There are many established laws and regulations that protect people with disabilities. On July 26, millions of Americans celebrated the anniversary of the Americans with Disabilities Act (ADA). The ADA is a civil rights law passed in 1990 that prohibits discrimination against people with disabilities. It ensures that people with disabilities have equal rights and opportunities. In 1997, the World Wide Web Consortium (W3C) began setting guidelines through its Web Accessibility Initiative to "develop standards and support materials to help you understand and implement accessibility." Accessibility is a W3C standard, but in some countries, it's actually the law. 
2. Follow Web Content Accessibility Guidelines (WCAG)
WCAG is developed through a World Wide Web Consortium (W3C) process. The process involves individuals and organizations from around the world who collaborate to provide a single standard for web content accessibility. Their goal is to make web content more accessible to people with disabilities. WCAG refers to information like text, images and sounds as web content. Since the guidelines can be interpreted in a myriad of ways, each company will have a different interpretation.
You should be paying as much attention to WCAG as you do Google's algorithm updates. If you have a news or media room, ensure all of your press releases are posted to an accessible and compliant website. The PR Newswire MediaRoom product enables customers to be AA WCAG compliant. PR Newswire customers like Progressive Insurance use a scanning tool to identify non-compliant pieces of their media room. PR Newswire then works closely with Progressive to update their platform to meet compliance requirements. Following are some examples of visible elements in Progressive's media room:
Note: This information was provided by the PR Newswire MediaRoom team. 
3.  Write Accessible Content
Make your press release readily available to people with disabilities by posting it in a variety of formats. If you're sending your press release through a distribution service and you don't have control over what format it's distributed in, include a link to an accessible version on your company's website or create a media/newsroom that hosts your press releases in a variety of accessible formats. For example, post a downloadable Rich Text Format (RTF) and/or PDF file to your newsroom — both files are accessible formats. If you don't have a media or newsroom, you can still write accessible digital content by following these tips:
Get straight to the point by writing clearly and concisely.
Avoid overuse of font variations like bold, italics, underlines and ALL CAPITALS.
Avoid centering text.
Use numbered and bulleted lists.
Avoid using soft returns.
Use short sentences and paragraphs.
Avoid jargon terms.
Break up long drawn-out paragraphs by using bold headers to separate sections.
If you include a link in the release to a contact form, newsletter or subscription signup page, ensure there are clear directions and titles for each field.
4.  Include Accessible Multimedia
The ADA requires that people with disabilities have an equal alternative. As a press release editor, one of the most common mistakes that I see PR professionals make is they don't include a caption with their multimedia. By not including a caption for their multimedia, they're missing out on more than 20 percent of their audience. Create accessible multimedia with these quick tips to improve disability inclusion:
Be inclusive and equitable with images and videos that you choose to include in your press release.
Be conscious of the way people with disabilities images and videos are depicted.
Don't use text overlay on images.
Be descriptive in your image and video captions. Only provide the reader with information relevant to the image or video.
If you include a YouTube video, be sure there's an accessible transcript on the video's description.
Provide your audience with multiple multimedia formats such as image, audio and video, especially if the announcement is about a new accessibility initiative or program.
If you include a PDF attachment of a report or study, choose an appropriate title for the file.
If you're unsure whether or not your multimedia will be posted in a place that's accessible, include a link to the accessible version in the caption or preferably in the video/audio itself.
5. Identify Technology Barriers to Access
Although the amount of access to readily available assistive communications technologies for people with disabilities has grown, finding them at low-cost can be difficult. With the help of programs and grants such as the $10,000 grant to the Easter Seals Greater Houston from the Comcast Foundation, access to such technologies is improving. Easter Seals Greater Houston stated in a recent press release, "Assistive technology such as speech generating devices can assist individuals with disabilities to express themselves, have social interactions and participate in their community to enhance their quality of life." It can also remove internet technology barriers. Screen magnification software, wearables, screen readers and input devices enable people with disabilities to access web content, so it's crucial that your web content be interpretable by these technologies.
Wearable assistive technologies like the orCam revolutionize artificial vision and improve the lives of blind and visually impaired users. Checkout orCam's "A Day in the Life With OrCam MyEye 2" video below:
Creating an accessible press release can be difficult, but you can plan ahead by familiarizing yourself with accessibility guidelines. There are plenty of ADA resources available to you. Show your company's commitment to inclusion in your press releases by following accessibility guidelines and supporting full participation on the internet.
Marisa is a Senior Customer Content Specialist, SEO Certified team member and expert on press release distribution. She's been with Cision since 2013. Connect with her on LinkedIn.