11 Content Marketing Mistakes to Avoid
If you're developing digital content in any capacity, you've probably run across some of the following advice:
Develop a content strategy
Entertain, don't sell
Write "good" content
To read some of these, it becomes a bit laughable how useless they are. You could develop a content marketing strategy, but that doesn't mean that it will be a good strategy, or that it is related to the corporate goals in any meaningful way. You could develop content to entertain and never sell, but what if people really want to buy from you? Or learn about how they can use their purchase better? What if they want to know cool things about your products and services and don't have time for entertainment? And as for "good" content, what constitutes "good" isn't necessarily the same from person to person. (As an example, I am unusually critical of online statistics, many people aren't.)
Here's my point: a lot of the content advice that you'll read is either too broad or too specific to be of value to most people. What I want to do in this post is to identify 11 content marketing mistakes that you should avoid. I'll caveat that by saying that each tip needs to be specific, applicable to most and correctable. Let's see how I did:
Mistake #1: All of your editing is focused on optimizing content (your headlines aren't "click"-magnets)
"On average, 8 out of 10 people will read headline copy, but only 2 out of 10 will read the rest. This is the secret to the power of your title…" – Brian Clark, Copyblogger
We've all experienced "click-bait." When a sensational title leads to a less than sensational post or website we feel angry, but when a less than sensational title leads to a sensational post we feel nothing…. because in all likelihood we never read the post.
No matter the medium, a compelling headline can do more to generate interest in your content than nearly anything else you can do. Think of any popular website: they all have popular articles and less-than-popular articles, due almost entirely to the ability of a headline to compel readers to click.
Treat your headline as the premium real estate that it is, and give it curb appeal.
Mistake #2: You have poor form
"Prettying up mediocre content won't make it any better. But does your best work look like it belongs in an encyclopedia?" – Cyrus Shepard, moz.com
Would you consider a term paper that you wrote in high school or college, "content?" In a sense it might be, but a term paper would be out of place on a website or in the blogosphere. The reason is visually evident: great digital content has strong structure.
One of the most important articles about content structure is Cyrus Sheperd's post for Moz. In it, he describes the capability for a well-structured post to generate more than 100 times the interest of an essay-style post. His advice:
Write for power skimmers
Use headline formulas
Use numbers (statistics)
Use power words / language
Use images
Use sub-headings
Use lists
Use block-quotes
Use bold,

colored

and italicized text
This extends to video and audio content as well. Moz's "whiteboard Friday," the "Invisibilia" podcast, and "Ukelele Mike" videos all have familiar structure and use story, dynamics and inflection to make each video or podcast interesting.
Mistake #3: You're trying to reach the wrong crowd (I'm not the audience you're looking for)
I had the opportunity to write a guest post for a PR blog recently. I wrote a pretty extensive piece about social media for PR professionals (as I might for the Cision blog) and right before sending it I slapped myself on the forehead. A PR firm blog isn't writing to PR professionals about PR problems, they're writing to client businesses about PR problems. I re-wrote the article.
Less conspicuous examples of this occur for content marketers every day. A YouTube video doesn't get a lot of traction relative to others on your channel (or relative to a competitor's channel). Readers exit your blog in a matter of seconds.
There are many feedback mechanisms to determine that you're not reaching your target audience with your content. The key is to adjust your content focus when this happens.
Mistake #4: You're making me wait (for the longest seconds ever)
"Users have grown used to being able to access web pages quickly, and if your page takes longer than two seconds to show signs of life, users quickly discard the page and go back to their search results." – Julia McCoy
I shared in a recent post the story of a non-profit that I worked with whose site took 10 seconds to load. The culprit for this page load issue was the file size of their images, and I was able to decrease this with a simple image optimization plugin. (They also tried to serve video directly from their site rather than upload to YouTube and embed)
There are a variety of technical issues that can cause your site to work slowly, but with tools like Pingdom Website Speed Test and Google Page Speed, there isn't any reason that you can't identify and correct page speed issues quickly and (for the most part) painlessly. There are also CDN tools like Cloudflare and others that can serve cached content from their servers, which speeds up load time as well.
Bottom line: don't let technical issues be the impediment for readers / viewers to access your content.
Mistake #5: Your content doesn't work very well on my phone
"Tablets and iPhones are just not an option, and a hugely growing number of people use these devices" – Andy Preisler
A lot has been made about Google's upcoming push to include mobile usability prominently in their algorithm. Less talked about are the reasons for this: namely that 90 percent of adults have a cell phone and 42 percent of adults own a tablet. Mobile is the primary way that we consume and interact with some types of digital content.
Google is having a conversation about mobile, but it's not about Google so much as it is about the ability of your customers to consume content on the device that they prefer. Fortunately, Google has three really great tools to help you gauge and fix your mobile usability issues:
Mobile-friendly test – This is a tool that Google designed that will look at your web pages one by one and give you feedback about whether the page is mobile-optimized and if not, how you can fix it.
Webmaster Tools – Webmaster tools extends the mobile-friendly test to the entirety of your site and shares all of the pages that are not mobile-optimized (22 percent of my personal website isn't mobile-optimized…. so I have some work to do!).
Mobile Emulation tool – This is a Chrome DevTools feature built into the Chrome browser that allows you to emulate any of many different mobile devices to see what users see from your site. There are other third-party tools that perform the same function.
As more and more people consume content on their mobile devices, it becomes increasingly important to make sure that mobile users can see and interact with your content on mobile.
Mistake #6: Words, words and words
You may be a great wordsmith. You may even create great structure with your words. But all things being equal, a picture or video, or media file can enhance your content significantly. One of the revolutionary things that YouTube did was to allow webmasters to serve media content from external servers (we generally refer to these as embedded files).
There is SO much external stuff that you can use to augment your content…
You can embed YouTube videos:
You can embed SoundCloud files:
You can embed Tweets:
A great guide for what you need to know to implement your visual #ContentMarketing plan: http://t.co/eG3mapEapR by @BrettRelander

— Social Media Today (@socialmedia2day) April 10, 2015
You can embed Instagram posts:
You can embed Slideshare presentations:
You can embed memes: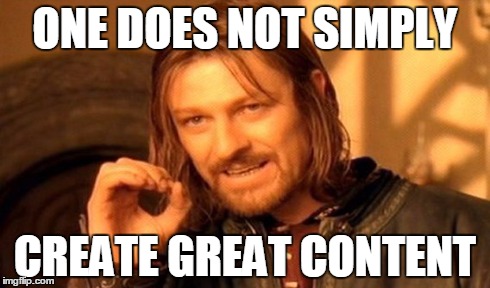 Want to master the art of video for PR? Join our free webinar with Matthew Schwartz. Register now!
Mistake #7: Your not proofreading (or editing) you're stuff very good*
"In the first place God made idiots. This was for practice. Then he made proof-readers." – Mark Twain
When you're reading a Facebook post and your friends misuse or misspell words, it's pretty difficult to overlook sometimes. And those are your friends. When a brand uses poor grammar or misspells some words, they don't enjoy the goodwill that your friends do.
Proofread your copy. Edit your media. If someone finds a mistake (inevitably someone will): correct it immediately.
*This mistakes in the subhead are intentional.
Mistake #8: You are the sole contributor to the content marketing department
"While you may be a sole proprietor, it doesn't mean you have to create everything yourself. You can share content that others have created, as long as you provide proper source credit and attribution." –Kim Stiglitz
Good content is difficult to create, and it can be even more difficult when you're the sole person responsible for it, or have limited resources to accomplish a lot.
Fortunately, there is a surplus of great content out on the Internets. One tactic that you can use to diversify your content offering on the cheap would be to syndicate other people's content. Of course, you need permission for this and you need to follow Google's guidelines to avoid a duplicate content penalty, but generally people are open to increasing distribution of their content after their initial distribution has run its course.
Of course there are other ways, such as content curation tools, to expand your content beyond what you produce in-house.
Mistake #9: You aren't measuring what matters
"Measuring is essential; you are not producing content merely for fun." – Chris Meier
Here's a thought experiment: your YouTube video had 2,000 views. How did it impact sales? If you answered that question, consider how many assumptions and leaps of logic you had to take to come up with that.
The challenge for marketing and PR in general is to find meaningful metrics that tie our tactics to the overarching corporate goals. What content marketers need to do is engineer the metrics that they need into their process. A couple of thought leaders in this area of measurement are Johna Burke of BurrellesLuce and Shonali Burke (more on their insights here). Both Burkes encourage delineating corporate responsibilities and expectations, and finding a way to measure the specific expected result.
The key takeaway here is that the extent that content marketing serves its intended purpose should be meaningfully measured.
Mistake #10: You won't cede any control of your content to me, your faithful content consumer
"One very common content marketing mistake that's made with even the best of intentions is to put a positive spin on every piece….To help avoid this, you may want to invite users to participate in your content marketing efforts." – Neil Patel
You can get lulled into a false sense of control when you're writing or recording content pieces. Not unlike being a new parent who assumes they have full control of a sentient being (spoiler alert: in either case, you have little control).
Readers will not always agree with you. Readers will have questions. Readers will want elaboration, or will want to elaborate their own points. In any event, once you publish your piece that "baby" is no longer yours. But you still have some control…..
You can encourage comments – this may seem counterintutive to the ultimate control (to turn off comments), but really it is a matter of having the conversation in a familiar place.
You can interact around the content on social channels – Twitter, LinkedIn, Google Plus, Facebook – these are forums where content is discussed every day. Participate, listen and validate what people share around the content you create.
You can update content based upon new insights – There have been a few times when I've changed content I've written based upon a comment that I've received from a reader. If you act that everything you write is sacrosanct, odds are you're wrong.
You can encourage collaborative content with your readers – Anything from hashtag campaigns (John Oliver does some fantastic work with hashtags around his segments on HBO's "Last Week Tonight") to soliciting feedback for content posts.
It may go without saying, but it's important to let go of your content. The worst discussions and hurt feelings tend to happen when we feel so defensive about what we've written or recorded that we dismiss other ideas about it.
Mistake #11: I never saw your stuff (and that's on you)
"You can't just build it and expect them to come… even if you invite them via email and Twitter and Facebook. Aim to spend at least (at the very least) a third as much time and money promoting your content as your spent creating it." – Pamela Neely
What are the channels that you can promote content in? Social channels? Email newsletters? Word of mouth? All of these are relatively inexpensive tactics, but also not as effective as paid promotion. Social platforms and search engines (to a lesser degree) are designed to make you pay for advertising / distribution. There is no free ride, unless you consider reaching 2 percent of your available Fans as success.
Point being: if you're serious about using content marketing as a tactic for your marketing mix, you should be distributing it appropriately. This means that in addition to free platforms, you should budget for paid distribution.
Want to produce content that stands out from the masses? Get our free white paper filled with outside-the-box content ideas now!
Conclusion
What I wanted to do in this piece was to examine a few content mistakes that you can easily make and easily correct. Content creation and distribution is quite similar to any other content and requires resource, focus and commitment.
I'll close with a quote from David Ogilvy which epitomizes the mindset you have to have to find success in content marketing:
"Back your winners, and abandon your losers."
Jim Dougherty is a featured contributor to the Cision Blog and his own blog,
leaderswest
. His areas of interest include statistics, technology, and content marketing. When not writing, he is likely reading, running, playing guitar or being a dad. PRSA member. Find him on Twitter
@jimdougherty
.