Meerkat & Periscope: Which Live Streaming App Is Right for Your Brand?
Live streaming may be the new kid on the block, but it's making a name for itself in the marketing world. With more than 1.5 million live streams on Meerkat and Periscope since March, it's clear that these apps are finding serious success among audiences and brands.
Even if you've never tried live video before, it's easy to get started. The first question you need to ask yourself is "which live streaming app will work best for my brand?" To help you make your decision, we've compiled a list of the main benefits for both Meerkat and Periscope and what each app can do for you.
Here's a breakdown of the differences between Meerkat and Periscope and a look at some of the top brands using the apps:
Meerkat
Meerkat offers a scheduling function, which allows you to plan your live stream up to 24 hours in advance. Once you complete your live stream, however, it disappears. Your audience can only watch the stream in the moment, not on their own time. Meerkat also features "Cameo," which lets users take over your stream for a limited amount of time. This is a great way to showcase an influencer or other guest.
Who's using Meerkat?
One of the early adopters of the app, Red Bull recently used Meerkat to live stream their Red Bull "Guest House" events during Miami Music Week, giving fans an inside look at the event. Starbucks has also taken fans behind the scenes with a tour of one of their coffeehouses. By giving their audiences an exclusive experience, these brands created a more personal relationship with their viewers. This way, audiences were able to learn more about the companies and how they operate, and the casual format of live video provided a candid atmosphere.
Want 15 tips on how to start using live streaming? Click here for our free white paper now!
Periscope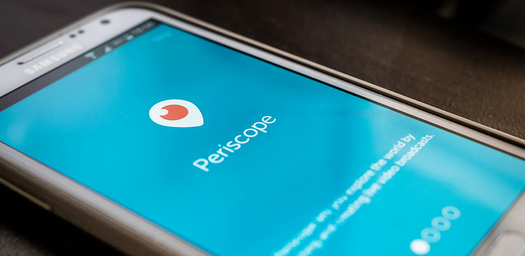 Periscope's main pull is its integration with Twitter. Access to Twitter means you can easily connect with your followers on the app. Also, Periscope's analytics allow you to find out more information on users' preferences and interests and discover what is working well for you. While you cannot schedule a stream in advance, Periscope does allow users access to your stream up to 24 hours after recording. You can also save streams to your Periscope or YouTube channel.
Who's using Periscope?
In its first Periscope stream in April, JCPenney showcased Eva Longoria as she announced her new JCPenney bedding collection and answered fans' questions. Fans were given the opportunity to be one of the first to see JCPenney's new product, and JCPenney enhanced the buzz surrounding the product's release. Launching a new product via live stream is a trend that more brands will likely do in the future.
GE recently used Periscope to release a behind-the-scenes interview with Neil deGrasse Tyson and Bill Nye. Celebrity cameos help expand viewership, draw more people's attention and further contribute to fans' desire for an exclusive experience. Viewers are more likely to tune in to your next stream if they know they will get something special out of it.
Try both!
Both Meerkat and Periscope provide brands with the opportunity to connect with and engage audiences in a new way. Choosing the right tool for your brand depends on your goals and needs. If you're unsure which tool to use, consider testing them both. Bolthouse Farms is currently doing just that, with a side-by-side campaign comparing how each app performs. Follow their example and try your hand at both apps. See which one works better for you – and which one you like using more!
Images: Photo Cindy, macprohawaii, Jim Makos (Creative Commons)

Maria Materise is a content marketing specialist for Cision. Formerly a copywriter, she enjoys creating content that excites and inspires audiences. She is an avid reader, movie trivia geek, Harry Potter fanatic and makeup junkie..