How to Growth Hack a Successful Backlink Strategy
When it comes to SEO, earning quality backlinks (links from other websites to your webpage) is one of the most critical ranking factors. According to Brian Dean, SEO expert and owner of Backlinko, "the number of domains linking to a page correlated with rankings more than any other factor." That's a pretty bold statement considering that Google has more than 200 reported ranking factors.
While backlinks are a great signal for SEO, it takes a lot of time to earn them. Now, there are certainly quick and easy ways to get backlinks to your brand's website, but if they're quick and easy, they're more than likely going to be low-quality. Search engines like Google and Bing regularly probe the quality of sites, which means those with low-quality get pushed down in the search results. This leaves your quick-and-easy backlink strategy fruitless and your brand still at the bottom of the SEO barrel.
So how do you go about getting quality backlinks and improving your brand's SEO the right way? Try leveraging the power of earned media.
Targeting the Right Media Earns Quality Backlinks
When it comes to backlinks not all sites are created equal. Incoming links from sites with a strong domain authority are a more powerful signal to search engines than sites with low authority. For example, if you are in the public relations industry you would be better off having a site like PRWeek to link to you than a small agency blog that's only been around for a couple of years.
So, how can you ensure that happens? By using a media database to target reputable outlets in your industry. A database like Cision will help you filter outlets by type, DMA, country, subject and more. Additionally, every outlet profile offers information about the company, their audience size and awards won.
Earned Media Builds Trust
If you target the right influencers not only will you earn authoritative backlinks, but you will also build trust. 81 percent of marketers rate earned media as being more effective or as effective as paid media coverage. When a trusted, vetted third-party site mentions or links to your brand, readers are more likely to trust you. Simply put, earned media is trusted media, and with 88 percent of consumers stating that ads have little to no impact on their purchase decisions, paid media placements are not likely to win your target audience over.
Getting Started with Earned Media is Simple
But the earned media approach doesn't have to consist entirely of the traditional, time-consuming earned media coverage process. Using tools like Help A Reporter Out (HARO) and ProfNet provides PR professionals, brands and industry experts alike the opportunity to access and respond to earned media opportunities pitched by journalists.
When you sign up as a "source" on these media opportunity sites, you receive daily emails with a list of queries from journalists and bloggers searching for experts to interview or include in their stories. Sources can easily navigate the queries, sorted by topic, and determine which ones are most relevant to their industry, profession or expertise.
Once you find a relevant query you or your client can contribute to, simply respond to the journalist's unique email address provided with the information needed. A great way to encourage journalists to link back to your website is by providing them with supplemental information that can help bolster the story (for example: photos, video, quotes from executives, or data/research).
Free tools like HARO and ProfNet give entrepreneurs, small businesses, or anyone working with a shoe-string budget the opportunity to earn media coverage and get valuable backlinks to their websites on relevant outlets that matter to their target audiences.
By harnessing the power of earned media you can advance your backlink strategy and grow your search traffic. Learn how HARO can boost your brand's story, download our tip sheet: HARO Best Practices for Journalists, Bloggers and Brand Communicators.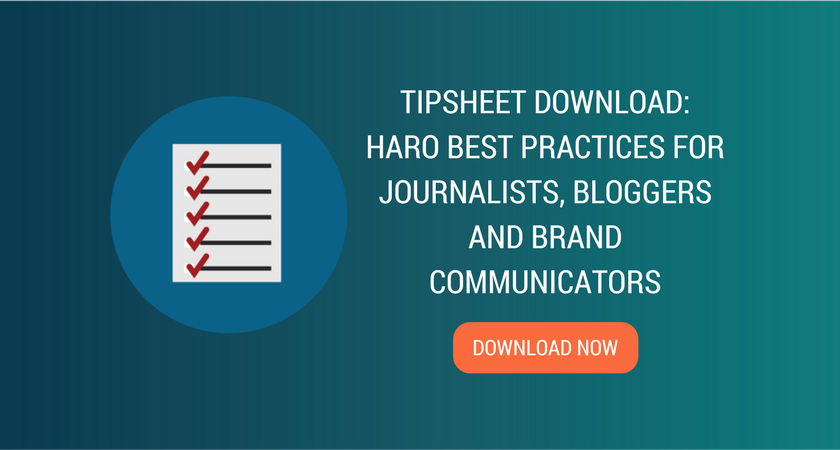 Nick Bell is the VP of Marketing Communications at Cision. With more than 20 years of technology marketing experience, Bell has held executive-level positions with marketing technology firms including Oracle Marketing Cloud, Eloqua and Adobe. Bell has a proven track record of developing award-winning and ROI-based marketing programs, media relations, and brand strategies. Bell holds a degree in journalism from the University of Missouri School of Journalism. Follow him on Twitter @nbell94102.