Influencer marketing is hot right now. Just look at the Google Trends data and you can see a huge spike in interest over the past two years.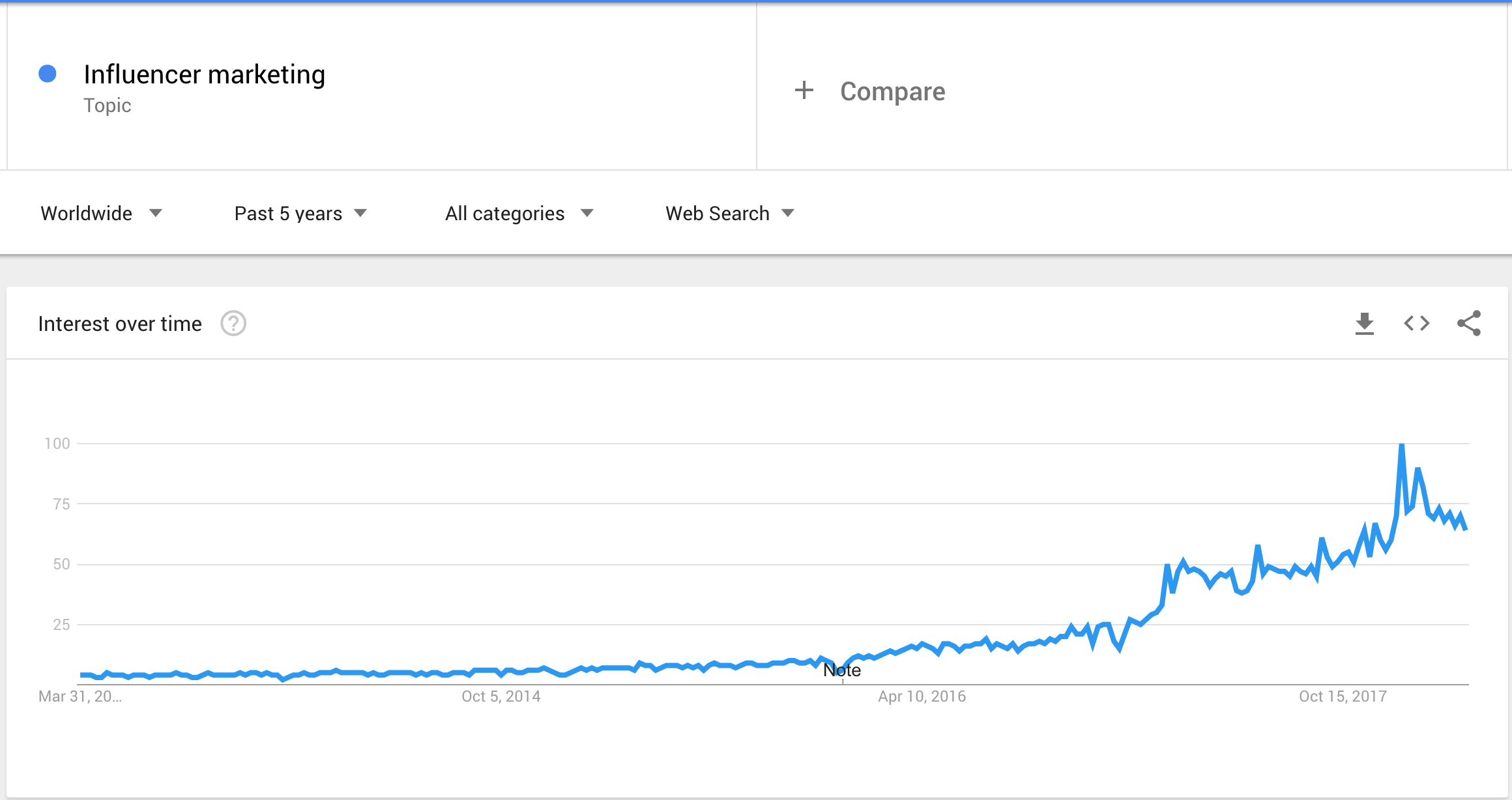 But, why is influencer marketing suddenly so popular? Well, with the rise of social media, it's never been easier to connect with people and audiences all across the globe. Additionally, 70 percent of millennial consumers are influenced by the recommendations of their peers in buying decisions according to an influencer marketing survey conducted by Collective Bias.
Though, finding a celebrity or someone with lots of followers isn't necessarily enough to move the needle. The same survey reveals that 30 percent of consumers are more likely to buy a product recommended by a non-celebrity blogger. So, not only do you have to find influencers, you have to find the right influencers.
Cision Comms Cloud™ is a robust solution that makes identifying influencers incredibly easy, no matter your niche. Watch the video below to learn how to target influencers with the Cision Comms Cloud using features like:
Talking About: Search for influencers who have recently published articles or Tweeted about your topic or brand.
Audience Interest: Search for influencers who have social audiences interested in your topic.
You Might Also Like: Cision Comms Cloud analyzes an influencers social audience data and suggests other contacts who have similar audiences.
Reach Out: From within the platform you can directly reach out to influencers on your list with personalized emails.
These features are just the tip of the iceberg, watch the video or read the below transcript to learn more.
Transcript: Hi, I'm Jeff Vanderby, I'll show you how the Cision Communications Cloud®  can help you optimize your influencer targeting. We'll start with the Talking About search. This is a unique and really useful feature of the Cision Database that lets you quickly do an online and Twitter search to see which influencers in our database have recently published articles or tweeted about your topic or brand.
This search can help you easily identify key and emerging influencers as well as provide additional useful insights. For instance, writers talking about or publishing on topics outside of their regular beats. Those contacts might not have come up in your initial targeting plan or in a regular topics covered search.
Here, you can see how quickly you can scan through recently published articles and social posts from an influencer who has been talking about your topic. Knowing what a journalist has been tweeting about can give you a heads up that they're expanding their focus beyond their current beat. Or, at the very least give you a unique angle you can use in your pitch.
Rather than returning a list in alphabetical order, the Talking About search automatically sorts influencers by rank putting the most impactful contacts for your topic at the top of the list. You can also dive into insights about a specific contact's changing influence over time to see who's trending right now on specific topics.
The more data you have about your audience the better informed your decisions will be. Comms Cloud uses technology and machine learning algorithms to churn through an incredibly large amount of data to help you quickly get a sense of what an influencer's audience is talking about, their interests, their favorite brands and their social demographics.
You can also search based on Twitter audience interests. You probably have a very specific audience in mind for your message and Comms Cloud enables you to use that audience profile and work backward to identify the influencers most likely to reach the audience you want.
In this example, I've searched for audiences interested in power walking and running. Here you can see the resulting list of influencers. These contacts are returned in search because they all have social audiences who are interested in power walking and running.
The You Might Also Like feature analyzes Twitter audience data and automatically suggests other contacts in our database whose Twitter audience is similar to the contacts you're interested in. These recommendations appear at the bottom of a contact's profile. In this example, Jaclyn London has a similar audience profile to Lauren Slayton. So, Lauren is recommended. From Lauren's profile page other influencers with a similar audience are again recommended. This feature can help you quickly discover new contacts.
One of the advantages of Cision Database is that you can send customized emails to your influencer list from within the platform and see detailed reports for opens and clicks. But you can do so much more than that. For instance, you can quickly switch to an "at a glance" view of all the key underlying data for the influencers on your list, including recent social activity.
You can also set up real-time social streams of Twitter and Instagram posts. This lets you easily keep track of what the influencers on a given list are talking about and when you see the right opportunity you can easily engage with them right from the stream's page.
Here I'll show you how quick it is to set up a social stream:
From the campaigns menu, click on streams.
Choose new stream.
Choose the social media channel you want to display as a stream and the contact list with the influencers whose posts you want to display.
And then, give your stream a name.
Within moments you'll be pulling in posts from the contacts on that list. And, as mentioned earlier, you can engage with those posts directly in the platform.
Another great feature — Campaigns — helps you not only organize your activities but also to optimize tracking and reporting of ROI.
Here is an example of a campaign dashboard. On the left, you can see details about the influencers associated with this specific campaign. In the middle, you can keep track of the various activities your team has undertaken for that campaign. For example, all the various engagements with influencers like emails, call backs, or social posts. And, if you use Cision for media monitoring, you can tie earned media back to a specific campaign and influencer list to help you attribute business value to your efforts.
These are just some of the many ways that Cision can help you achieve your goals. To find out more, schedule a demo today.