The PR industry and SEO no longer live in two separate worlds.
The 2016 Edelman Trust Barometer states that out of all the people they surveyed, over 60% trust Google rather than news outlets. A strong reason for PR pros to start concentrating more on SEO.
In the advanced digital landscape and a mobile-first world, digital PR is already closely integrated with SEO. A case in point is that of Google's algorithms, which apart from the SEO industry, also have a profound impact on the PR industry. The updates mainly affect web traffic, conversions and content, leading to SEO and PR professionals scurrying for changing their existing strategies.
Google frequently changes its algorithms, and several minor updates are rolled out each year, which make their presence felt without any prior announcement. Google search algorithm updates in 2016, for example, included a number of integrated changes in order to unify mobile SEO and local SEO along with paid and organic results.
More often than not, the algorithmic changes place importance on content and link quality, authenticity of sources, and the relevance and appeal of the content to the end-users. This can be attributed to the change in internet search habits and the excessive use of smartphones. For instance, 48% of consumers start mobile research with a search engine and on an average, smartphone conversions are up by 64% as compared to the average desktop conversion rates. In short, people want to get the news, views, and opinions on their fingertips.
With this dynamic shift in the digital PR industry in view, here's a list of the most recent updates brought forth by the search engine-giant and tips on coping with them:
Google Penguin
Launched in April 2012, Google's Penguin update was aimed at sites which spammed search results. A lot of the websites did so by bulk link-buying or getting them via link networks. Every time a new Penguin update releases, penalized websites which remove bad/unnatural links can regain their rankings and so can websites that remove unnecessary spam.
Link building, in general, has changed over the years as exemplified in this report by Google Trends, and PR professionals need to come up with different tactics to avoid being caught in spam filters.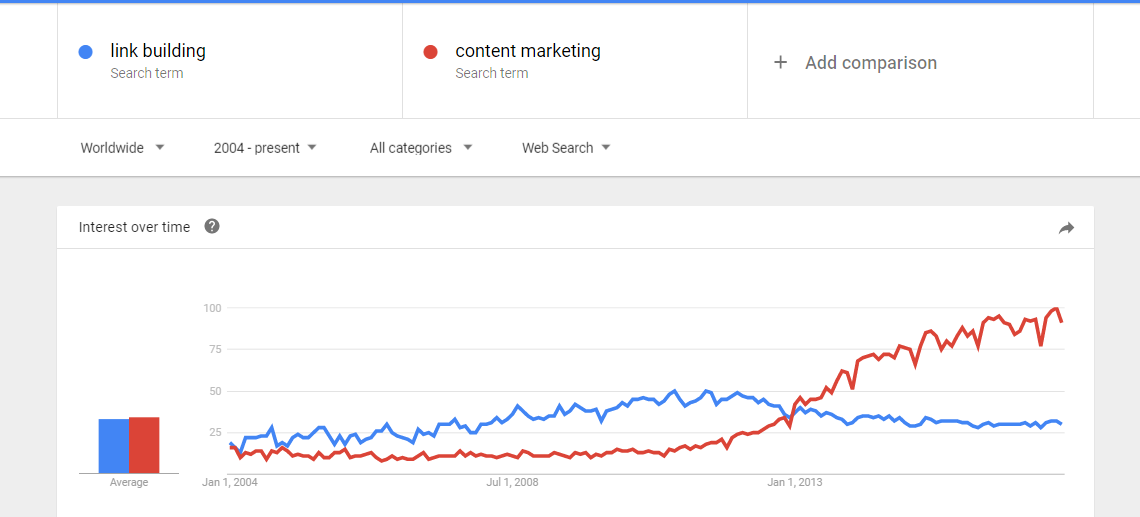 Image Source: https://trends.google.com/trends/explore?date=all&q=link%20building,content%20marketing&hl=en-US
Actionable tip:
Google has stopped notifying people regarding changes in its search algorithm since 2016. Therefore it's essential that digital and PR teams work together and put more effort into monitoring upcoming algorithm changes. This includes tracking minor changes in keyword rankings and web traffic.
Writing compelling content will always come to your rescue and so will the re="nofollow" attribute for the links, especially in articles, blogs, guest posts, and press releases. This will prevent bad links from passing PageRank.
Google Fred Update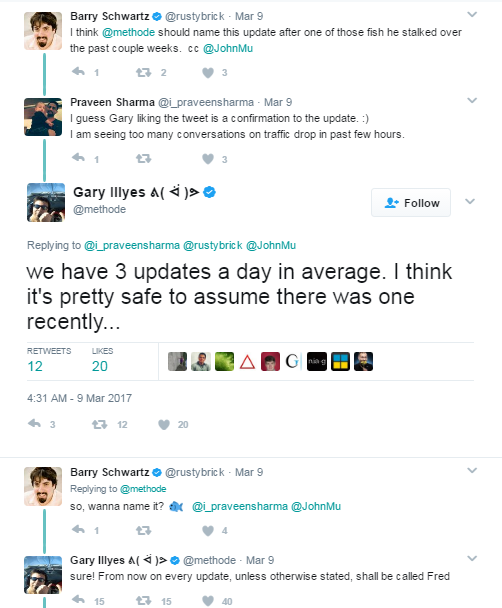 Screen: https://twitter.com/methode/status/839815982369636353?ref_src=twsrc%5Etfw&ref_url=http%3A%2F%2Fsearchengineland.com%2Fnew-unconfirmed-google-fred-update-shakes-seo-world-270898
In the past some digital PR firms used low-quality websites to promote their client's website to gain instant exposure and high rankings for targeted keywords. They also invested too heavily in paid media vs. earned/owned. This practice was followed by several digital PR agencies with the aim of getting their client's link uploaded on any website hook, line and sinker.
This tactic worked until Google's Fred update arrived.
Fred is a spam algorithm that works around links. The core algorithm linked to quality appeared around March 8, 2017. It was no official confirmation, but the impact of the update was felt across the SEO community. Some sites lost 50 to 60% of their Google organic traffic overnight and some reported losing up to 90% traffic. This indicated that it was a big update indeed!
Actionable tip:
Be careful about where you add your client's website to avoid getting negatively affected from the backlinks generated from inferior-quality websites. Consider using a trusted distribution service like PR Newswire to reach both journalists and increase online discoverability with high ranking websites.
Another practice to improve search rank is to invest time in searching for low-quality webpages to which the client's website is linked and request website owners to remove them.
Alternatively, keep a track of the backlinks on poor-quality websites with tools like Ahrefs. The free version of the tool lets you monitor up to 10 backlinks and 2 domains for each request, while the paid versions let you perform a thorough analysis of the backlink profile.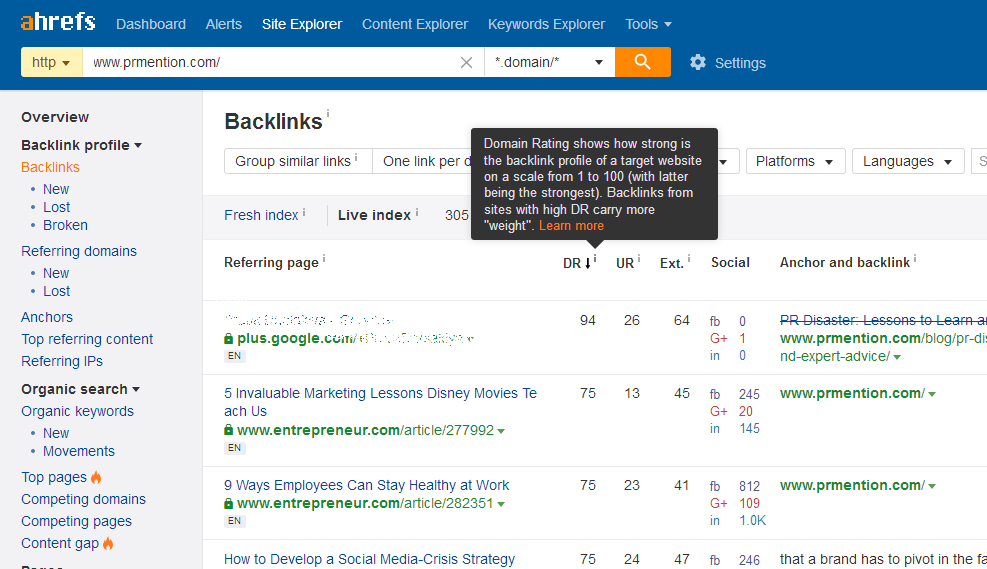 AdWords Placement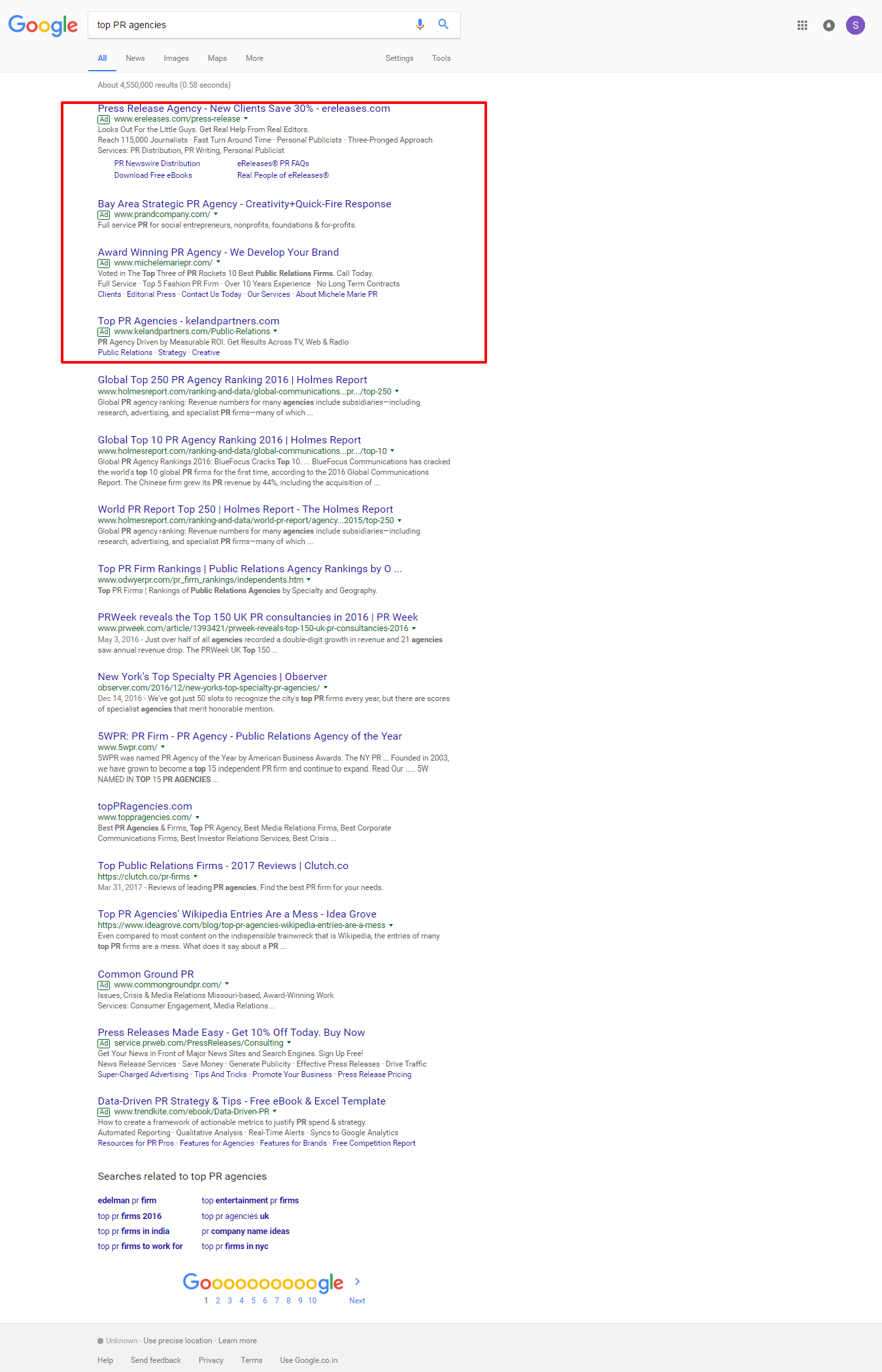 There's a major shift in the way Google displays its paid ads for a particular search.
AdWords Placement has come a long way, with Google restricting the number of paid ads to four at the top of the organic search results. Earlier, paid ads were displayed on the right-hand side of the organic search results and used by SEO team of digital PR company to push up certain pages in Google Search through paid option. With Google showing the door to the side ads, several firms which earlier relied heavily on Google AdWords for exposure in the SERP, were adversely affected.
With the competition becoming stiff, it becomes a challenge for PR and SEO firms to come up with ways to get traction for their ads.
Actionable tip:
You can now add the ads as placements to the ad groups on sites that are a part of your Display Network. The ad placement can be an entire website or a sub-set of ad units within a site. The best way to go about it is to find ad placements by listing the websites where you want to advertise or search for placements that are in-sync with your client's themes or topics.
Also, the scope for ranking with low-quality ads is nil, and this is why you'll need to work towards improving the quality score of the ads, which depends on:
The Click-Through Rate (CTR)
Relevance of each keyword to its ad group
Quality of the landing page and its relevance
Ad text relevance
Historical AdWords account performance
Work on getting a quality score and there'll be no looking back when it comes to AdWords Placement.
AMP Listing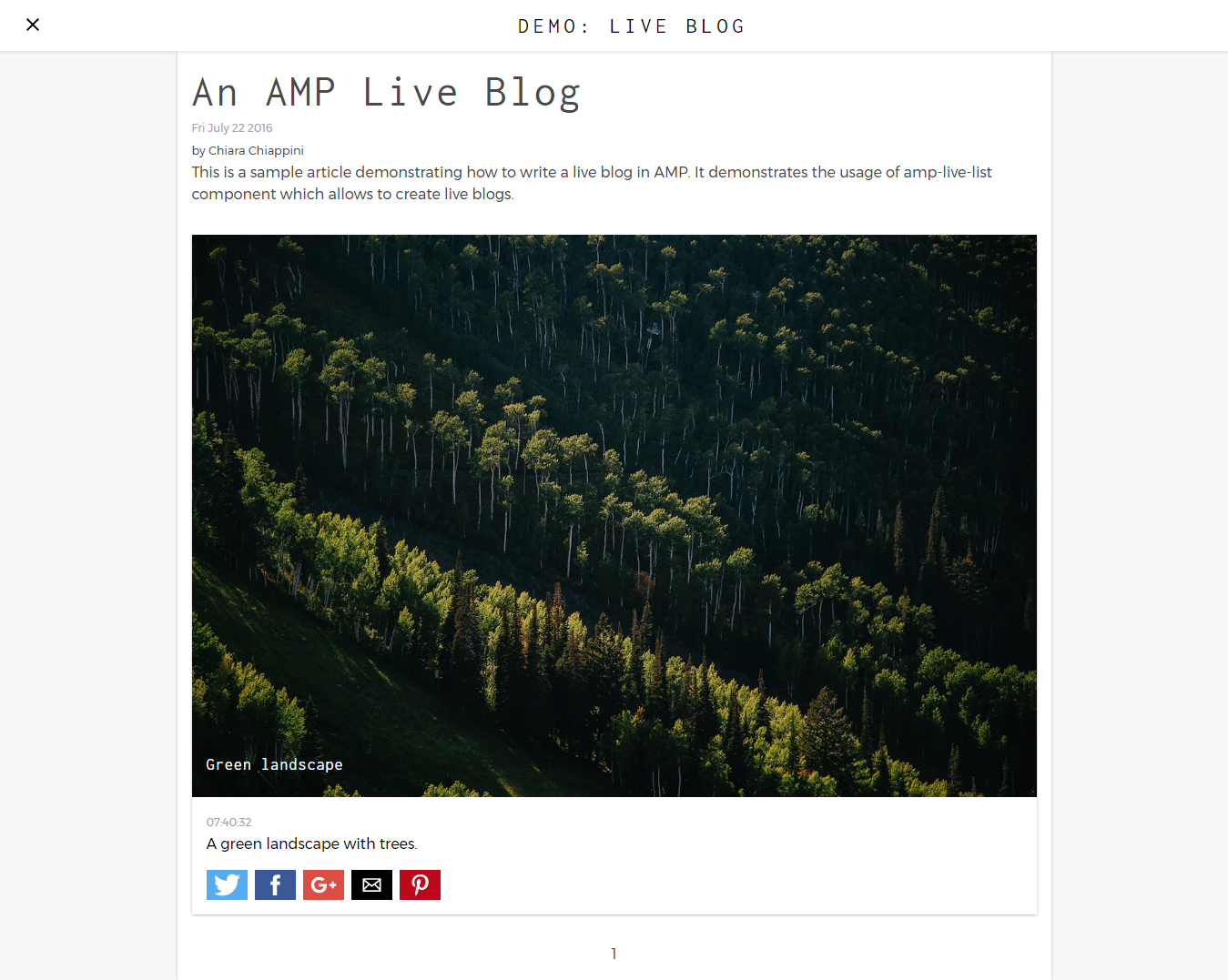 Image Source: https://ampbyexample.com/samples_templates/live_blog/preview/
According to recent data, the number of mobile searches have increased and toppled desktop searches.
68% of smartphone owners use their phones occasionally to follow breaking news events. And about 61% of users are unlikely to return to a mobile site which they had trouble accessing and instead, 40% of them will visit a competitor's site.
This stresses on the importance of mobile search and mobile-optimized websites adds to the importance of ranking higher in mobile search results, especially during a PR crisis when a breaking news is plastered all over the internet. As we saw with the recent United Airlines fiasco, crisis news doesn't take time to go viral.
Enter AMP.
AMP or Accelerated Mobile Pages is backed by Google and designed as an open standard for publishers to get pages to load quickly on mobile devices. In Feb 2016, Google officially integrated AMP listings in its mobile search results. As a result, pages using AMP coding have special places in the search results or will appear with 'AMP' designation.
AMP enhances the user experience and works well when you want to include video, images and data-rich content on a page.
Actionable tip:
List all the publications that rank high in mobile or the keywords of interest. Use them to spread positive news about your firm.
Also, optimize the content on your own website by using "amp tag" to speed up your website and make it rank high on mobile searches. This will push down negative results and bring positive results high in the SERP and help in crisis management.
Google Fact Check


Not all content that is afloat on the internet is checked for facts and yet, false news sometimes gets ranked higher in the search results.
To combat this issue, Google recently rolled out a new feature, which places 'Fact Check' tags on the snippets of several articles in its News results. This feature extended to each and every listing in its News pages and the massive search catalog. The idea behind this is to curb the spread of fake news online, and came soon after Facebook launched its tool to stop fake news from going viral on its platform.
Actionable tip:
PR agencies can wage a battle against fake news by digging deep into the sources. Begin by reading more than just the headline, verify the news from additional third-party sources, see the perspective of the story, and cite trustworthy sources to lend authenticity to your stories. This can include data from a well-known research organization, studies from a reputable university, quotes from an influencer in the niche/industry, and so on.
Read Mount Allison University's Libraries and Archives fake news resources guide.
The Digital and PR Evolution
Google updates are not going to stop and digital evolution is never going to come to a standstill. As such, digital PR agencies have no alternative but to catch up. Be well-informed of the latest changes and make it a point to be in the know of the goings-on using the actionable tips in this post.
Turn to Cision and PR Newswire when looking to ensure your brand's content is communicated via a trusted channel, which reaches media and boosts online discoverability. Contact us today!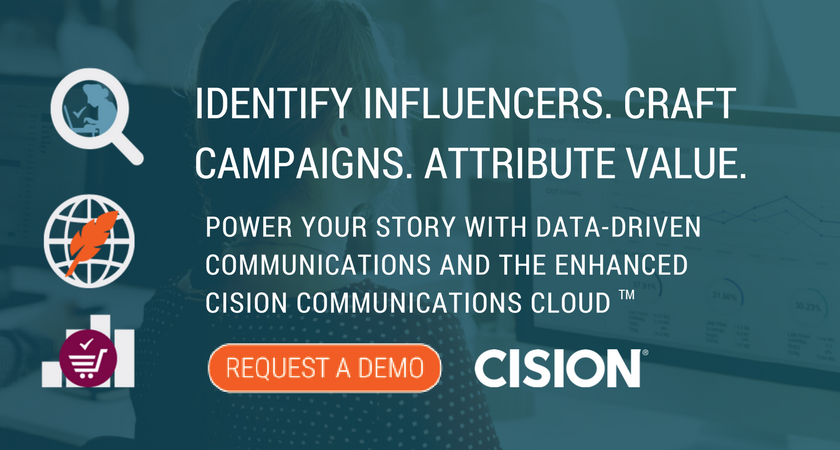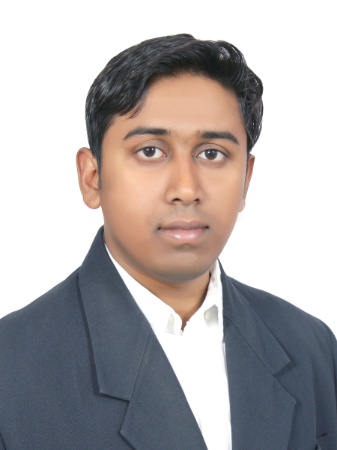 Taral Patel is a PR Executive at PRmention, a Digital PR Agency helping businesses get more visibility through their targeted digital PR strategies. Being a certified digital marketer, he understands how modern technology shapes the PR industry. In his free time, he loves to hang out with his friends, and cheers for FC Barcelona. Connect with him on Twitter @connect2taral