Some people like just peanut butter on their sandwich and some people like just jelly; but when you put them together, that's where the magic happens. It's the same thing with social media and PR. Use just one, you'll get decent results but use them together, with a strategy, you will explode your visibility.
Social Media = Peanut Butter
Think of social media as the peanut butter. It's the foundation of marketing in 2017.  As a business owner, you must be on social media. If you don't think you need to be on social media, consider the fact that there are over 2.7 billion active social media users in the world. How can you afford not be on social media and miss out on this potential market?
Which platform is best? The one you are most comfortable with and the one that you will engage on. That is the key to success in social media. You want your followers to get to know you so they want to work with you or buy from you. Know the platform and use it to its highest potential. If you like Facebook, start livestreaming, today. Right now, Facebook Live is THE most effective ways to get more eyes on a Facebook post.
Did you know that Instagram just launched a slideshow feature? You can now combine up to ten photos or videos into one post. Imagine how powerful this tool is for a Realtor who can now show several images of a listing or a restaurant owner who can share images of ten different entrees. How can you use this tool to benefit your business? As with anything new, the early bird will get the worm and reap the benefits as early adopters of this new feature.
Pick a platform and just start. If you are using social media, make sure you are using that platform to its fullest capabilities and get the best bang for your time buck by getting the most out of it.
PR = Jelly
Now for the jelly. Sweeten your marketing plan by adding in free publicity. What is known for certain is that more visibility means more customers and that means more profits. You're growing your visibility with social media and now by adding in free publicity, you're making it all happen much faster and to a larger audience.
Start locally. Local media loves to cover stories about local businesses. Make your business newsworthy. "New" is the key word here. If you're a new business or have a new significant hire or a new location, that is newsworthy. Did you invent a revolutionary product, write a book, or win an award? Those are all topics that interest local media. What is your expertise and how can you share that in a newsworthy manner? An accountant can talk about new tax laws and what that means for local businesses. A roofer can speak about the importance of clearing leaves out of gutters in the fall to prevent leaks. A Realtor can share three best bang-for-your-buck upgrades before selling. What is your expertise and what value can you provide a media outlet's audience in sharing what you know?
The next step is finding the right journalist. Remember that Google is a question search engine. Ask Google, "who writes about [your topic] at [name of publication]." Usually all their contact information comes up including email address and phone number. This is an important step because you don't want to send your business story to the food editor.
Last is the "hook." You want to hook the journalist in with your subject line so they will want to read more and open your email. Look at magazine covers for great hook examples. People get paid for you to make an impulse purchase in the grocery store check-out line based on the article title/hook on the cover. What can they say that will make you want to buy the magazine to read the article? Also, think about on television when they say, "Coming up next…" That is a hook. What will make you stay through the commercials to hear the next story.
This 3-step approach is the key to publicity success. By pitching the media in this way, you will be light-years ahead of your competition and journalists will be thrilled to work with you because you've just made their job that much easier.
Social Media + PR = PB&J
The final step is combining the peanut butter and jelly. When you find the right journalist, connect with them on social media. If they are active on Twitter, follow them, retweet them, share their work and comment on their stories. Do the same on Instagram. Connect on LinkedIn by saying you've read or watched their work and you welcome the opportunity to connect. Become a valuable resource for them. Build relationships through social media so that when you pitch you are a warm lead versus a cold one.
This last step is the secret sauce. The media is pitched all the time but very few people take the time to get to know the journalist. Do your research on both the media outlet and the journalist so you can be a valuable resource to them versus just another pitch. Get more information on how to pitch the media successfully at www.IWantPR.com.
Turn to Cision and PR Newswire when looking to ensure your brand's content is communicated via a trusted channel, which reaches media and boosts online discoverability. Contact us today!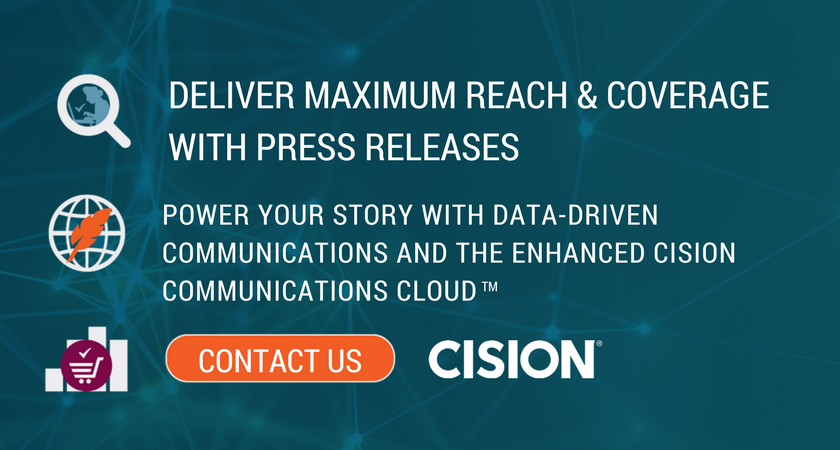 Christina Daves is a do-it-yourself publicity expert. She is the best-selling author or PR for Anyone™ 100+ Affordable Ways to Easily Create Buzz for Your Business. Christina has appeared in over 250 media outlets including TODAY, Steve Harvey, local affiliates of ABC, NBC, CBS, and FOX, The Washington Post, Forbes, Success Magazine, Sirius XM Radio, and more. She is also a sought-after Keynote speaker and corporate trainer. www.PRforAnyone.com