Communication professionals face increasing challenges in delivering successful programs due to the fragmentation of media, growing power of social influencers and rising consumer distrust of traditional media. The communications world is growing more complex, yet, the opportunity for communications professionals armed with data is actually growing.
A recent report called
The Earned Media Opportunity Actionable Insights from Marketing Leaders
, reveals how CMOs and other senior marketers feel about the role of earned media in the era of convergence. Outsell, a leading research and advisory firm, conducted independent research to determine how attitudes about different media types have changed. The report also identifies the key factors that communication professionals need to know to ensure that their content and programs deliver results. 
Read on to learn about the top takeaways from the study. 
Brand Value is Dependent upon Successful Communications
The marketing methods rated most effective by B2B and B2C marketers were pull methods, where prospects opt in when they are ready to engage through channels such as owned websites. Public relations, a pull tactic, is also rated as more effective by senior marketers than traditional push marketing methods.
Many traditional push marketing tactics like print, TV, radio and other forms of advertising are intrusive. People seek out information when they're interested in a product, and don't want to be interrupted when they're not. Consider the traditional car buying experience. In the past, consumers had limited information to research makes, models, prices and value. Most people relied on the messages delivered in advertisements and by car salespeople.
The auto brands controlled the message.
Today, car shoppers have a wealth of information at their fingertips from independent websites, news articles, online pricing tools, consumer reviews and recommendations. Most of the buying decision is already made before consumers ever step foot in a dealership. All brands must ensure that they are part of this early stage when consumers are gathering information. Brands that don't recognize this by influencing press, media, and influencers, are increasingly seeing their brand value erode.
All brands must ensure that they are part of this early stage when consumers are gathering information. This highlights an opportunity to create awareness through earned media. Brands that don't recognize this opening will see their value and market share decline. 
To increase the performance of PR programs, communicators need to draw a direct link between their efforts and buyer behavior. Communicators must know the answers to the following questions to craft programs that deliver strong results:
What are people consuming?
Why are they consuming it?
How can marketing strategy align to generate content about these interests?
Earned Media and Pull Marketing Generates Trust
illustrated in the figure below, Outsell has also mapped user trust levels when considering a variety of push and pull marketing methods. The chart shows that interruptive marketing is the most disliked. This includes tactics such as TV and radio advertising, autoplay videos, telemarketing and door-to-door sales.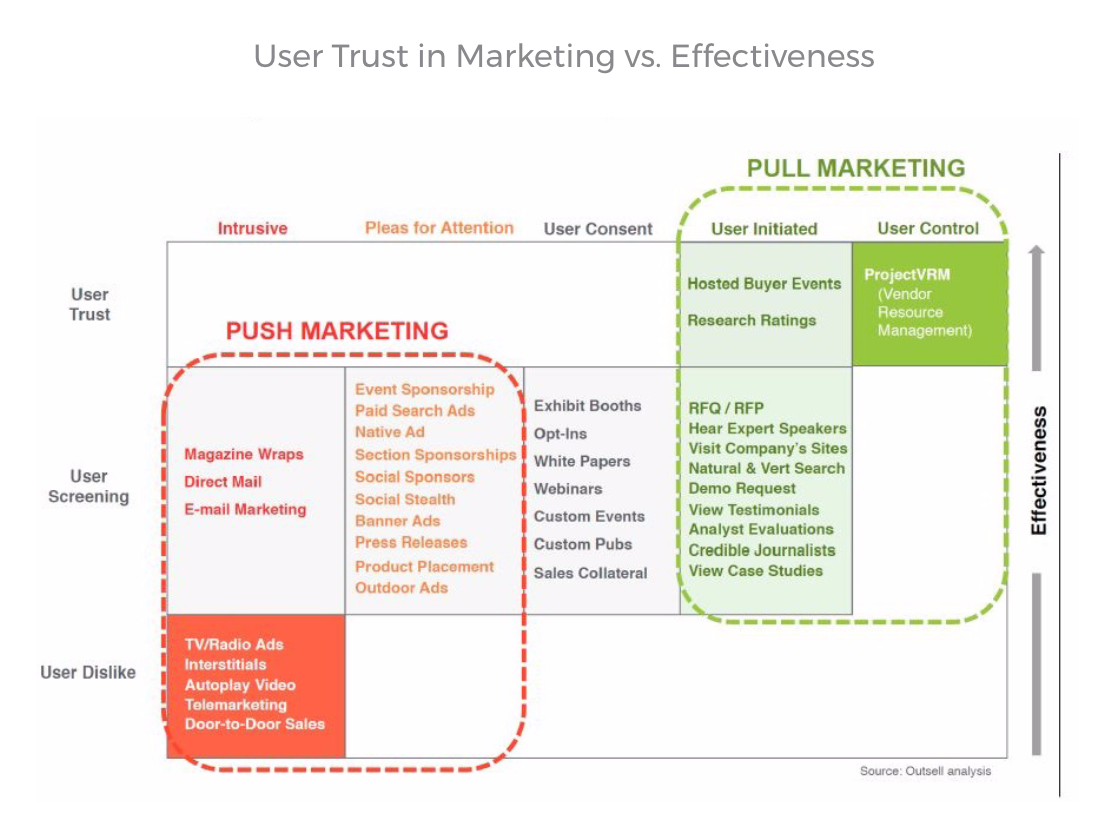 Users prefer experiences they can opt-in to such as RFQ/RFP, demo requests, viewing testimonials and case studies and visiting companies' websites. It's also worth noting that credible journalism was also rated as effective in building user trust.
Marketing Spend is Changing
Marketers are recognizing the value of pull marketing, and are adjusting marketing budgets to include a greater mix of opt-in tactics. In the below table of high-growth marketing methods, spending has increased for social engagement (+10%), webinars (+8%) and public relations (+3%).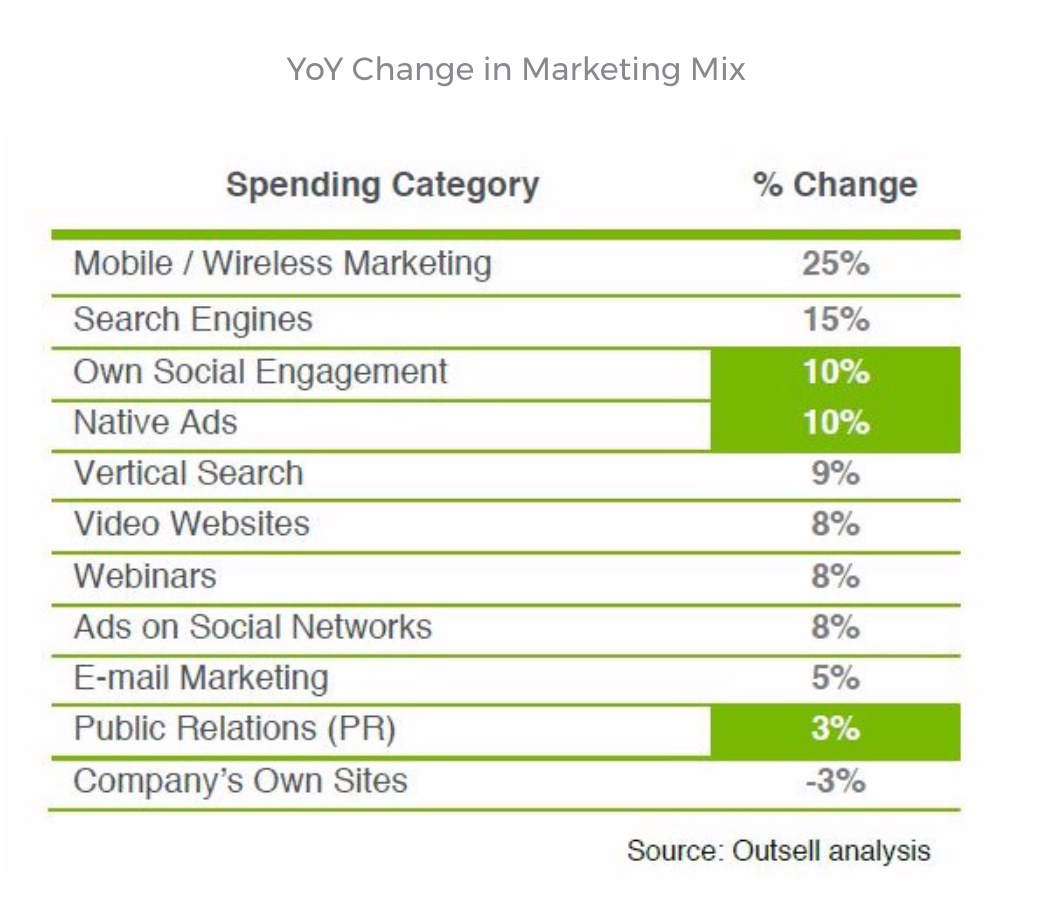 Bringing it All Together — How Marketer's Attitudes Are Shifting
The key take away from this research is that consumers want to be engaged when they are interested, and they tend not to respond when they are interrupted.
They see traditional advertising and other push methods as disruptive and distracting. People prefer experiences they can opt-in to so they can control the timing, pace, and locations of interactions.
Marketers are increasingly recognizing this. The Outsell report shows that attitudes are shifting and marketers rate pull marketing methods as more effective for generating leads and building awareness.
As this trend continues, we will see a larger portion of the marketing budget allocated towards pull marketing methods like social engagement, owned websites and earned media. But, in order to make a real impact, communications professionals need continuous, targeted, segmented communications programs that can demonstrate and quantify revenue impact. This is true whether it's paid, owned or earned media.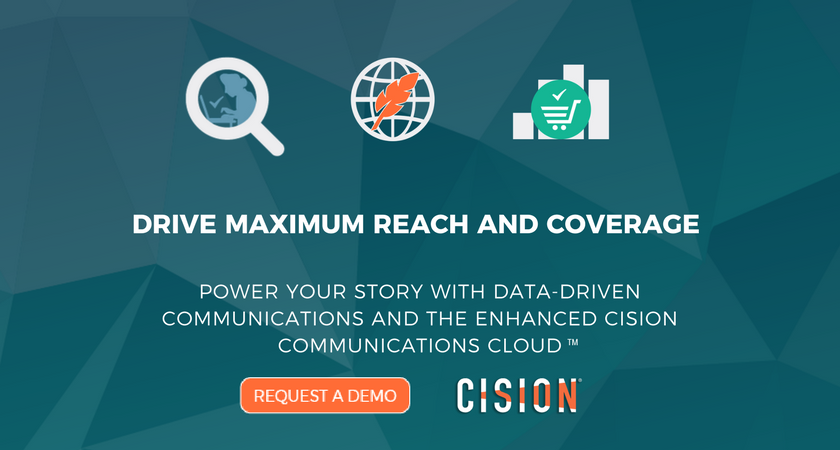 Anthony Hardman is a senior content editor for Cision. He has more than 10 years of combined experience in broadcast news, public relations, inbound and content marketing. Connect with him on Twitter: @ahardman or LinkedIn.