In a recent interview, Steve Barrett, Editor-in-Chief of PRWeek sat down with Cision CEO, Kevin Akeroyd to talk about the future of PR, communications and the technology that will move the industry forward. The interview covers topics that include:
What metrics should be measured in PR to convince the C-suite?
How to go about gathering the data needed to measure.
Why a suite of communications technology services is better than platform solutions.
What to expect from Cision in the next 12 months.
View the video or read the full transcript below for the story.
Barrett: PR has often been accused of not having the measurement to go with the fantastic work that PR pros do. I think we in the industry know the benefit but convincing the C-suite has been a little bit harder. Where do you think we're at, at the moment, in that process? Is the C-suite more convinced about what PR and communications can bring to the table? #00:00:46-8#
Akeroyd: Good question to kick off this discussion because I'm not sure there's one that's more important. In my opinion Steve, no we're not there. We can't constrain ourselves to PR metrics anymore. We need to actually go deliver the data, the metrics, and the coin of the realm that the CEO, the CFO and the CMO have already acknowledged and anointed. And that has to do with real reach, real engagement, audience data, conversion metrics and actual attribution and conversion to revenue. #00:01:15-1#
Barrett: How do you measure that though? Because they're very specific things and often there's a bit of cynicism about content and what it actually brings. How do you measure those sort of things? #00:01:27-7#
Akeroyd: So, how do we actually curate and own relationships with hundreds of millions of digital and social influencers the way we do with millions of media influencers; one? How do we craft stories, campaigns, and content, and video to YouTubers, and pictures to Instagrammers and traditional PR to traditional media? And how do we actually go more effectively measure and more effectively attribute value? I think we just gotta say "hey, that's not really different it's just a dramatic expansion." #00:01:52-7#
Barrett: So, this isn't your first rodeo. You brought a suite of services together in other areas, in marketing, in technology areas. Now, you're bringing together a suite of tools and services for PR pros. Talk to me about the philosophy behind that and why a suite of services is important, and can people buy into one part of it if they want to? If they don't want the whole thing or don't need the whole thing? #00:02:12-7#
Akeroyd: Yeah, I'll answer the second part first Steve. Of course, they will never be forced to buy the whole thing. They can buy the pieces, the parts, or the modules into perpetuity. It was not that long ago where we had to carry a watch, an alarm clock, a pager, a phone, a camera, a flashlight and a browsing device. Seven different consumer devices. Now, we carry one, you know Samsung Galaxy — less technology, better integrated that does a lot more. The communications line of business is kind of the last one to go through that consolidation and get the actual benefits of that consolidation. But, for the exact same reasons every other line of business in the enterprise has done that adoption, you will see communications do it too. And one of the big examples that we like to use is the Dove "Real Beauty" campaign that we partnered with Edelman on and they've done it on the back of earned. Right, they didn't do paid model spokespeople, they didn't buy ads, they literally got first influencers and then millions of real people to do this amazingly effective campaign that gets measured, tweaked and optimized with help of technologies like Cision — to run what I think is one of the most successful earned media campaigns in a huge industry, that is paid dominant, that we've seen in a long time. #00:03:23-0#
Barrett: Really iconic and long lasting. #00:03:26-3#
Akeroyd: And it keeps going. The ad budget to keep this going the way it's going, imagine the ad spend you would have to do to even approach that. Right, it'd be approaching a hundred million dollars. #00:03:34-6#
Barrett: What happens now? Are you taking stock, and are there more acquisitions on the way? You've got some funding, you've got the basis of some investment there. What are we gonna see out of the next six to 12 months? #00:03:45-6#
Akeroyd: Yeah, I think the core acquisition set has been done. We don't need to do any more acquisitions to kind of fulfill this vision of one, put it all together so there's one integrated platform the way marketing and sales and finance have, which is this communications cloud. Two, launch our Cision ID and Influencer Graph, which is that closed loop reporting. So, instead of the communications person just showing up with coverage, and share of voice, and sentiment they literally can show up with verifiable reach, engagement, web conversion, shopping cart conversion and hard dollars. #00:04:22-6#
Barrett: Great, well we look forward to tracking the progress and thanks for coming in. Really great to chat and find out more about what you're doing. #00:04:28-0#
Akeroyd: Likewise Steve, thank you. #00:04:28-0#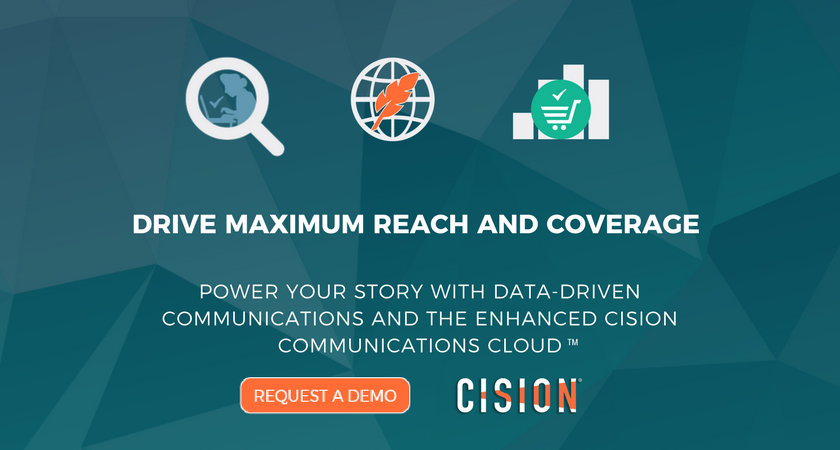 Anthony Hardman is a senior content editor for Cision. He has more than 10 years of combined experience in broadcast news, public relations, inbound and content marketing. Connect with him on Twitter: @ahardman or LinkedIn.