At some point in your life, you may have had to "define the relationship" with someone. It's that critical, yet sometimes awkward, point in the relationship where two people sit down and ask, "What are we?"
Chances are, you haven't given this a second thought when it comes to your newswire provider. If you have, you've probably defined the relationship as strictly business. "I pay them to distribute my press release and they do it. It's nothing more than a transaction," you may say.
I'll be honest. If that's the case, that stings a little.
But listen, I get it. Sometimes our phone calls are a little monotonous. It may seem as if we're just going through the motions. But trust me when I say that we are very interested in you and your release.
Behind the scenes, we are treating your piece of content with the utmost attention and care. We really want to see your release succeed when it leaves our desk, with the hopes of making this a long-term (dare I say … exclusive?) relationship.
What Does a Press Release Provider Bring to The Relationship?
A desire to make you look good  
Our claim to fame has always been our ability to find mistakes. Perhaps we've caught an error in one of your releases and saved you some level of embarrassment. (Think: someone finding that price tag on your new jeans before you leave the house). We love those moments — not because we enjoy a chuckle at your misfortunes, but because we want everyone to see the best you.
The ability to showcase you to a wider audience  
There's a lesser-known side to what we do. It's the discoverability aspect of the relationship.
Cision Distribution by PR Newswire's Customer Content Services team is trained to effectively maximize the distribution of your content. It's a point of emphasis for our new hires and a continual point of training for even our most tenured staff. The idea is this: you might only be sending your release to Florida, but there are lots of great websites outside of Florida that want your news. Our job is to make sure those sites aren't missing out.
Cision Distribution by PR Newswire uses a plethora of targets to maximize your distribution; the main ones being:
Geography
Industry
Subject
We currently have more than 4,000 websites and online destinations receiving our U.S. content.  The majority of sites that receive and post our content are receiving a customized feed. While we're reading your release, we're also examining the content to determine how we can best maximize your reach.
What do You Bring to The Relationship?
Input (Tell us about yourself and what you do for a living)
You play a role with discoverability as well. We welcome your targeting suggestions. After all, who knows you better than you? We use those suggestions as a starting point. But keep in mind, while we would love to give your release every industry and subject category under the sun, it actually isn't what's best for you or your release.
Part of that is because of our other relationship — with our downstream partners. Many of those partners have specific guidelines on the types of releases they're looking for. Sending them irrelevant content jeopardizes that relationship. So, while you view your company as a jack-of-all-trades that dabbles in 30 different industries, you risk coming across as a master of none.
I'll give an example. Say you're browsing your favorite website (ahem, http://www.prnewswire.com/search/advanced/). You're interested in releases about healthcare and the first release you see is about Dr. Dre. A couple of thoughts may be going through your mind:
1. You might want to go somewhere else for news.
2. Your trust in that provider may be eroded.
3. You might not know who Dr. Dre is and are therefore completely confused by this example.
Our goal is always to provide your release to the influencers you want to reach, while also protecting the influencers you don't need to reach.
One last thought on discoverability — there are many sites that receive our content based on a specific keyword or keywords in the release. If you want to get discovered, make sure you're building relevant keywords into the release. In other words, use plain language that the average reader searches for and can understand. Boilerplates, or "About Us" sections, are great for this. Don't leave readers guessing who you are and what you do. Establish yourself as the authority early in the release and then flesh it out with an "About Us" section at the end.
Pictures  
Don't just tell us about yourself, show us too! You might be tired of hearing this, but multimedia is critical to your release's success. In 2015, releases sent via PR Newswire that included images received an average of 1.4 times more views than text-only releases. According to Cision's "2017 State of the Media Report," when more than 1.550 journalists were asked how often they use multimedia, 71 percent of them said they always or often use it.
What else is critical?
Communication and trust  
Two keys to any successful relationship are good communication and trust. Let's start with communication.
I'll admit we're not always the best communicators. Most of the time it's because we're focused on getting your release out the door as quickly as possible (if that's what you've requested). That means we don't always take as much time as we should to understand your expectations or to outline the process for you. For that, I'm sorry. (Apologizing is also important!)
Regarding communication, I'll also make a request of you (it's a two-way street, you know?). Be upfront with your expectations. If you need a release out in the next 20 minutes, make sure we know that. If you're confused about pricing, ask us for a price quote.
Now on to trust. We know we may have to earn your trust. We'd like to think after 150 years in the industry, we've done that. While our track record speaks for itself, it doesn't mean we're perfect. Hopefully, when something goes wrong, for whatever reason, we can take the necessary steps to rectify the situation in a way that pleases you.
If you haven't given your heart to Cision Distribution by PR Newswire yet, consider giving us a shot. We'll always be there for you, 24/7/365. You can take the first step here.
Thank you for your role in this relationship. I'm sure we don't say it enough, but it means the world to us. We would be nothing without you.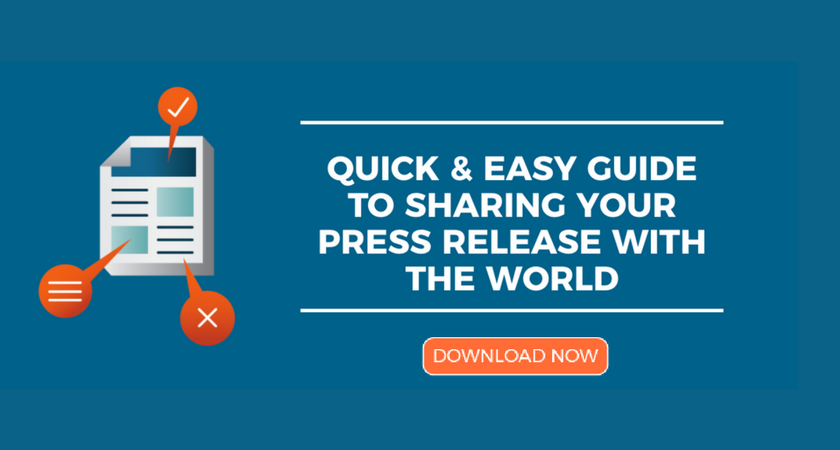 Subscribe to the Cision Blog
Joe Murphy is a Senior Customer Content Specialist at PR Newswire, where he can be found counseling clients on press release best practices. He also curates for @PRNtertainment. Away from work, he spends most of his time watching Cleveland sports and hanging out with his wife and two kids. Connect with him on LinkedIn.