Cision recently published the 2017 Global Social Journalism Study, which introduced a spectrum of Social Archetypes for journalists. These archetypes group journalists by their common behaviors and beliefs about social media. This information may help you segment journalists by behavior, but journalist's attitudes towards PR professionals are a bit more counterintuitive when it comes to the social media spectrum.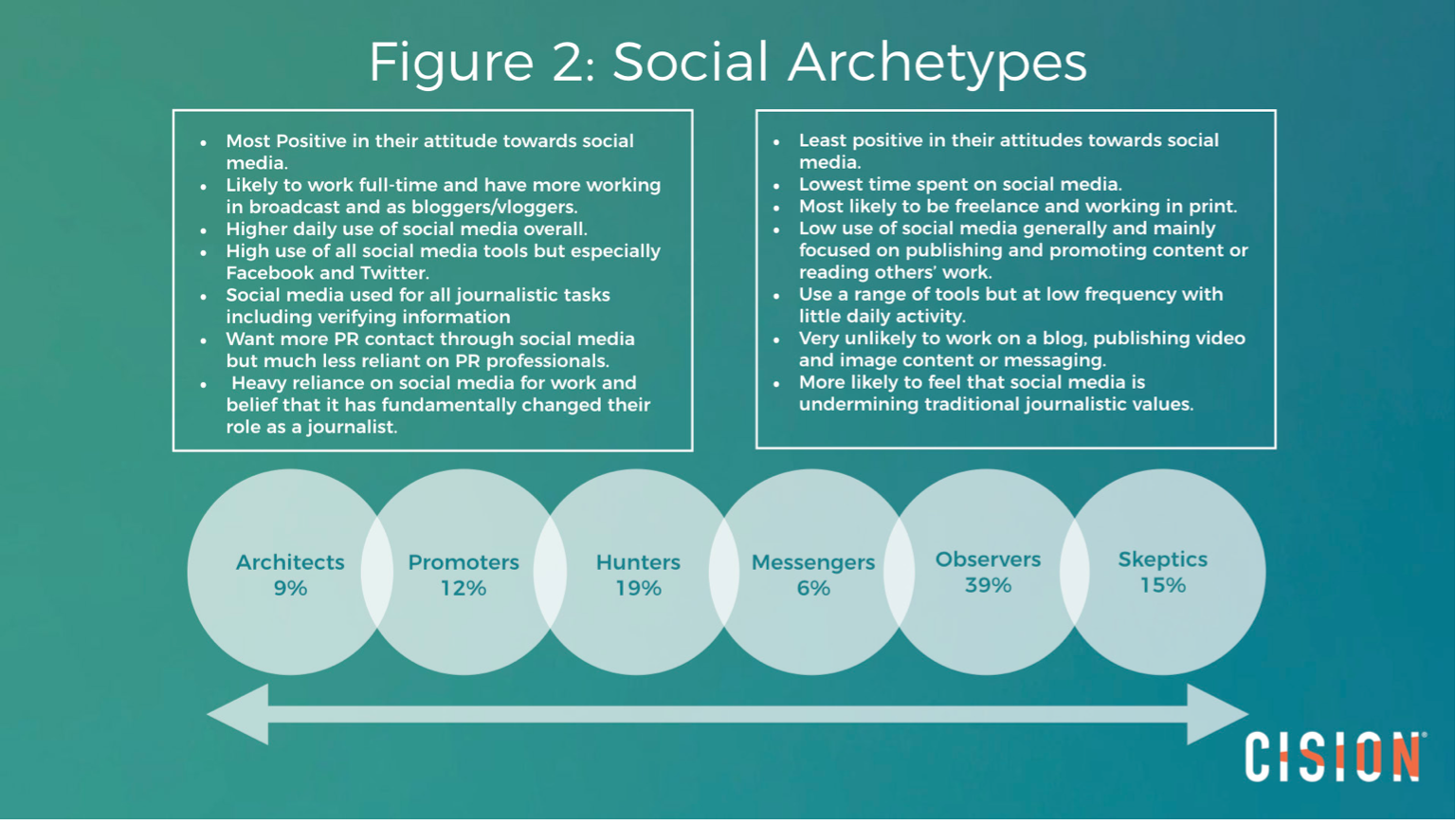 At one end of the spectrum are social media superuser journalists, dubbed "Architects" by the study. These journalists are bullish about social media, using social platforms for at least five hours per day. They are likely to use social media for outreach, sourcing, publishing, and promotion and believe that social media is essential to their work.
At the other end of the spectrum are social media laggards, dubbed, "Skeptics," by the study. These journalists are bearish about social media. Many journalists in this category believe that social undermined journalism and express concern about copyright infringement issues related to using social platforms. These journalists may infrequently use social media, perhaps going days without logging in.
In the middle of the social media continuum for journalists are a group dubbed, "Hunters." These journalists are characterized by disproportionately consuming and searching social media, rather than posting original content. They may be on social media as much as five hours per day, perhaps Facebook and Twitter exclusively.
While it may not seem that these three groups of journalists have anything in common, they do. These journalists tend to have the most favorable view of PR professionals. What I want to do in this post is focus on the details of each of these journalist archetypes and on what the Global Social Journalism Study says about their habits and perception of PR.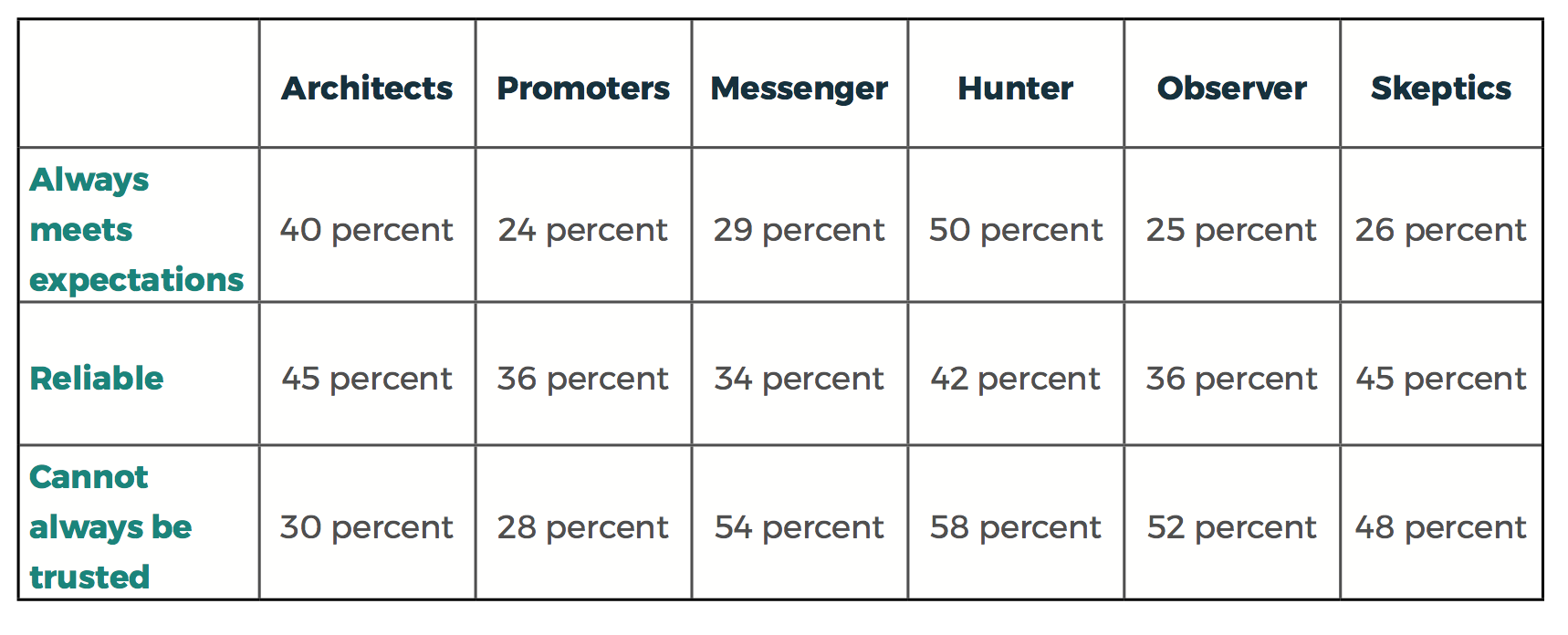 Source: Social Journalism Study, Table 9, "percentage of respondents in each cluster who agreed/strongly agreed with the following views about their relationship with PR professionals."
Meet the Architects
Architects make up nine percent of the total population of journalists and are the most enthusiastic users of social media for all purposes. All journalists that fall within this category may use social media for more than five hours a day, with one-third using social media for more than eight hours per day. Journalists falling within the social archetype are likely the most involved in creating and publishing digital content to include blogs. These journalists believe social media to be essential to their work and are likely to use multiple platforms to post content, promote content, interact with their audience and to source content on social platforms.
Of all social archetypes, Architects most prefer social PR pitches (40 percent of respondents). 45 percent of Architects say that PR professionals are reliable and 40 percent say that they "meet expectations." 70 percent of Architects consider PR professionals not untrustworthy, a double negative that in the context of general journalistic ambivalence indicates a higher level of openness than with many of the other archetypes.
Perhaps the most critical observations about the Architect archetype are:
They are digitally immersed: giving these journalists resources that are digital ready may be preferred.
Architects engage themselves heavily in social media: this tends to bring a lot of scrutiny, so giving precise and accurate data to these journalists may be preferred.
All of these journalists engage on social and many like social pitches: these may be the best targets for social pitches of any journalist segment.
The architect social archetype journalist is the most digitally immersed journalist there is. They engage with and want resources from you that is commensurate with their broad involvement in social media. Relative to other journalists, these are some of your greatest advocates in the journalistic field. Remember that in many cases they are spending most of their day on social media, they may need to meet them where they are.
Meet the Hunters
The journalist archetype, "Hunter," is the only archetype whose population has grown in the three years since the 2014 Global Social Journalism Study. Hunters number about 19 percent of all journalists and represent the middle of the spectrum between Architects and Skeptics. Half of all Hunters spend between five and eight hours per day on social, while the rest spend less than five. They are not defined by how much time they are spending on social media but by what they are doing while they are on these platforms.
Hunters do use social media for publishing and promoting, and even for interacting with their audience, but their primary activity on social media is consumption. Hunters read a lot of posts and monitor a lot of discussions. They are not entirely passive but are nowhere near as prolific on social media as other social archetypes further towards Architects in the spectrum. "Social media" to Hunters primarily means Facebook and Twitter.
Hunters attitudes towards PR professionals are positive relative to other archetypes, but different than an Architect. Perhaps the most significant difference is that Hunters are less open to social PR pitches (20 percent of respondents). 42 percent of Hunters say that PR professionals are reliable and 50 percent say that they "meet expectations." 58 percent of Architects consider PR professionals not untrustworthy, so these journalists are likely to be more critical of information that you share than would Architects. They are also more liable to have had positive experiences with PR pros than other archetypes.
Perhaps the most critical observations about the Hunter archetype are:
Digitally immersion is typical for Hunters, but they are not publishing as often: giving these journalists resources that are digital ready may be helpful, but they may also be open to resources that are not digital ready.
These journalists are consuming much more social media than they are publishing: this may not be the ideal group for a social pitch.
These journalists are likely to have goodwill towards PR pros, but are also more critical than Architects: building trust is a huge component of your relationship with this segment of journalists.
Meet the Skeptics
Skeptics make up 15 percent of the population of journalists; the study characterizes them having generalized cynicism about social media. About a quarter of Skeptics cite copyright concern as their reason for avoiding social media, while the majority state that social media has not had a positive impact on journalism.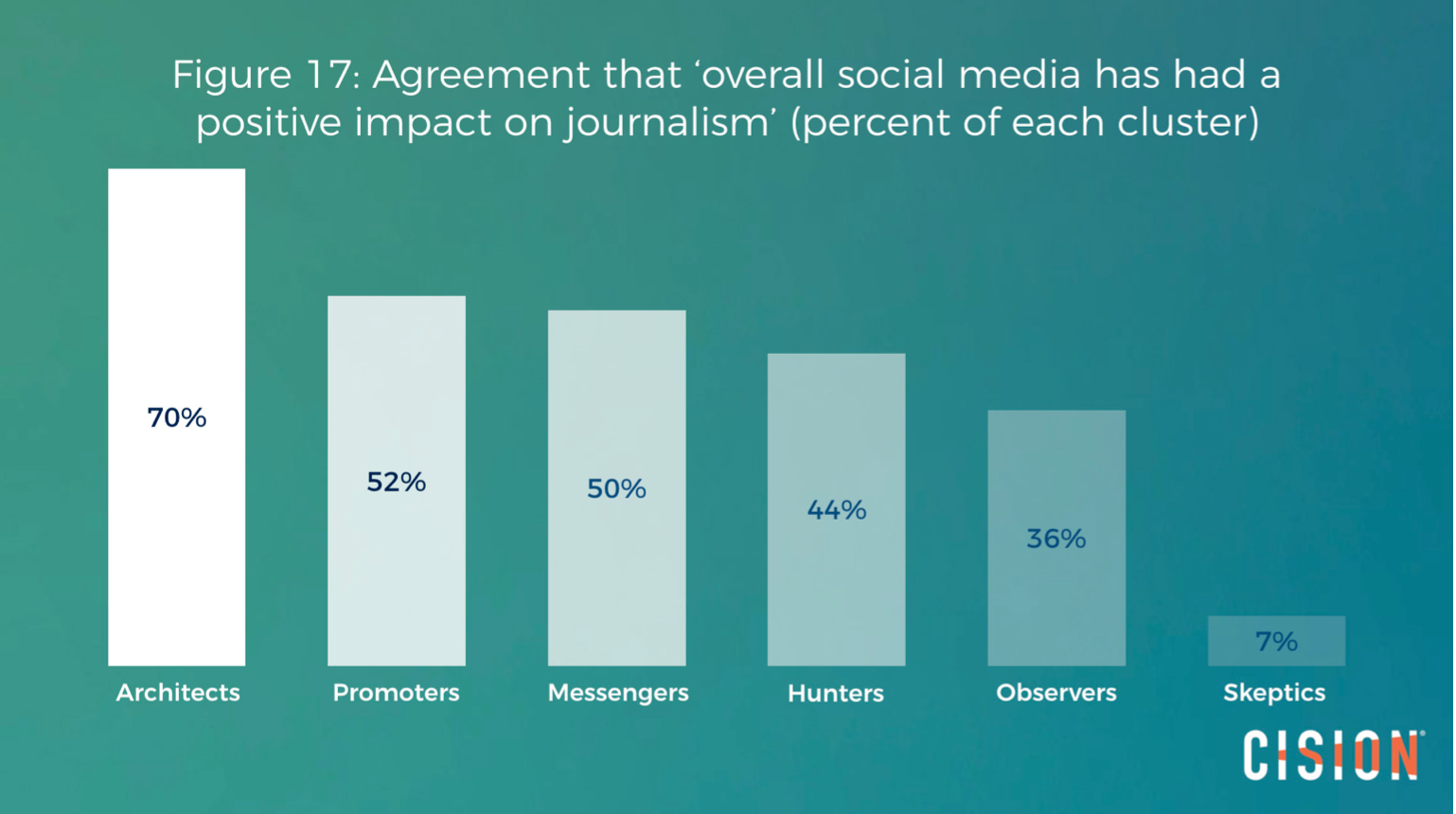 The skeptic archetype hates pitches on social, and you probably wouldn't even catch them if you tried. Skeptics may use social media erratically throughout the month. A proportion of skeptics use social media once a day, generally Facebook or Twitter. This journalist archetype is creating very little digital content — only three percent of respondents in this category. One critical insight about Skeptics is that their preferred means of contact is email (94 percent of respondents said this).
When it comes to PR professionals, Skeptics are well … skeptical. Only one-fourth of Skeptics stated that PR professionals always meet their expectations. However, 45 percent of Skeptic respondents indicated that PR professionals are reliable, similar to the perception of Architects. And when it comes to the double negative question of whether PR professionals are not untrustworthy, 52 percent say that PR pros are trustworthy to some extent. This is a higher proportion than Hunters.
The most critical observations about the Skeptic archetype are:
Do not pitch a Skeptic on social media. Period.
These journalists are not posting a lot of digital content, so tailoring content to their specific needs may go a long way towards earning their trust. Also, be reliable.
These journalists like contact by email.
Looking at the Skeptic archetype, it is evident that despite some similarities between the three archetypes, PR pros must handle interactions with each very differently. Trying to treat a Skeptic like an Architect is a recipe for disaster.
Conclusion
Architects, Hunters, Skeptics — three segments along the continuum of social journalists that have very little in common except that they are more open to interactions with PR professionals than their peers. Perhaps this gives context to journalists that express frustration about generic or irrelevant pitches. For any PR pro to attempt to pitch any of these Archetypes similarly would be a mistake. You can't meet the needs of the digital immersive and the digital laggard in the same way.
The big takeaway from the Cision 2017 Global Social Journalism Study is one of segmentation and customization. It's not enough to understand industries and verticals, but also to understand the proclivities and preferences of the journalists themselves. This is hardly a new idea, but by identifying Social Archetypes, we have more context and information to be the best resource that we can be for journalists, no matter where they fall on the spectrum of social use.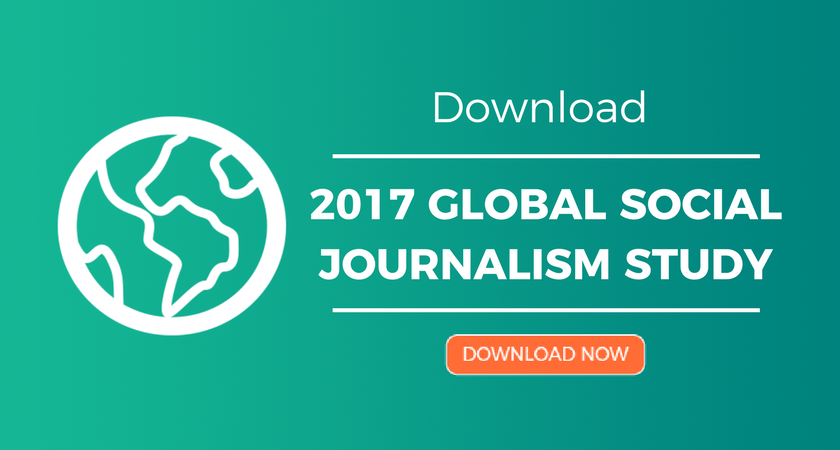 Anthony Hardman is a senior content editor for Cision. He has more than 10 years of combined experience in broadcast news, public relations, inbound and content marketing. Connect with him on Twitter: @ahardman or LinkedIn.