Since a caveman sent out the first press release announcing a fresh supply of stone spear points, we've spent every day since focused — at least partially — on "reach" as an earned media success metric. 
"How many people saw our news?" Or, "How many people had the potential to see our news?" These are questions that enterprise marketers and their communications agencies have been asking for generations. 
But is that because reach and potential reach are inherently useful metrics, or is it instead because those were the metrics that — in the pre-internet days — could reasonably be calculated with a hard copy of Bacon's, and some intern labor? 
It's as if earned media is a shiny new toy. The caveman example may be a bit of a stretch, but we can all agree that trying to get coverage for our news has been a business staple for at least a century.
And yet, despite the fact that we've invented commercial aviation, CDs, interplanetary satellites, Netflix, Brittney Spears, and a LOT more in those 100 years, 63 percent of communications professionals STILL cite an inability to measure impact of their work as one of their top three challenges, according to the Cision/PRWeek Global Comms Report in 2017. 
We can order a vehicle to pick us up with one click, yet we can't know for certain if our PR is working right? Something is very, very wrong with this picture.
A Fundamental Flaw
Part of the problem is that the communications industry has for too long been part of a mutual shoulder shrug society, where everybody decided that since the metrics weren't great, let's all just use the same numbers, fundamentally flawed though they may be. This is like price fixing, but with data. 
"If we ALL use reach, and advertising value equivalency in our reports, nobody will get asked the hard question about whether that actually matters!" 
This plan worked, for a long time. 
But today, consumers don't think and move in packs any longer. There are 500+ scripted television programs, millions of potential "news" sources and almost every song ever written can be conjured by asking a speaker/jukebox to play it.
There is no consumer mob these days. Instead, attention is fractured and fleeting, and everyone is curating his or her own information sources, online and offline. In an environment like that, what does "reach" tell you?
The Who Matters
The saying is, "if a tree falls in the forest, and no one is around to hear it, does it really make a sound?" 
The communications version of that question today is, "if a bunch of people who aren't at all interested in what you sell have the option to momentarily glance at your information, did they actually notice it, and will that improve your business."
It's not about reach now. It's about the right reach. 
It's not about how many. It's about who.
And there is widespread agreement on this point. Seventy-five percent of communications professionals believe the industry must do a better job of measuring impact and proving value. 
It's not just the earned media specialists that think this. It's downright scary that a majority of senior executives do not know whether there was any real-world behavior created by content marketing and earned media.
Yikes. The people doing the measurement say it needs to get better. And the people writing the checks aren't sure whether the things they are funding are actually working. 
To me, that looks like an existential issue. It's not that communications SHOULD measure better, it's that it MUST measure better if it's going to continue as part of the overall marketing mix. 
Enter Impact
What's amazing about Cision's latest innovation, Cision Impact is that it solves the big issue that has been standing in the way of better measurement: attribution. The progress of news from company to media/influencer to consumer to goal (purchase, perhaps) is non-linear today in ways that would have been unthinkable even five years ago.
Further, the dramatic rise in the number of sources of information makes attribution geometrically more difficult. Deriving ROI from coverage in a handful of TV outlets and a few hundred print publications is one thing. In an age when citizen influencers, who number in the tens of millions, drive a great deal of word of mouth and subsequent business impact, measuring that end-to-end is daunting.
But it is doable. And it's doable today. Yes, Cision Impact tells you how many people potentially saw your news, but who cares.  It also tells you what matters. 
Impact tells you the demographic and firmographic characteristics of the people who saw your news and actually consumed it. It also showcases from what dispersed sources did that consumption occur. And most importantly, it reports on what happened NEXT. Did they read more? Did they fill out a form? Did they buy? And they can even track if the customer takes a non-linear path. They read a press release article one day, visited a bunch of other websites and then weeks later landed on your website – Cision Impact can track this.
Seventy percent of marketing and communication professionals say they would use earned media more often if they could calculate financial impact and ROI. Well, now they can.
And given that organic social media and content marketing are working less well without significant amplification from paid campaigns and/or influencer mentions, this may very well be the time when earned media becomes massively more important inside every company. 
We don't have to rely solely on reach any longer. We're better than that.  Let's focus now on the metrics that matter: did earned media reach the right people, and did those people engage in the desired behaviors.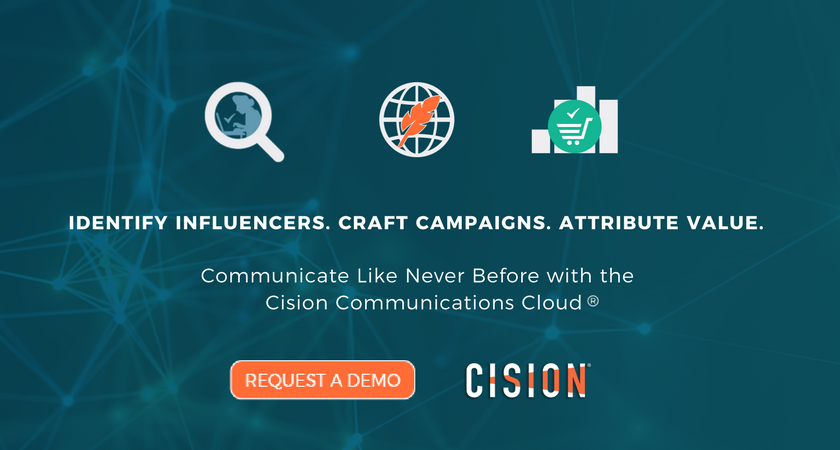 Jay Baer is the founder of Convince & Convert, a New York Times best-selling author and digital business celebrity.