When crafting campaigns, brands often have reaching various language groups on their radar. Communications professionals are aware of the importance of targeting, for example, the considerable number of Hispanics who prefer to consume media in Spanish. But what about African Americans? Is there a reason to specifically target this community? The fact is companies that ignore African Americans risk missing out on an increasingly affluent, well-educated and well-connected group of consumers.
A Young, Growing Population
African Americans make up roughly 12 percent of the U.S. population and like many other ethnic groups have experienced population growth recently. Last year, the U.S. Census Bureau reported that between 2015 and 2016, the African-American population grew by 1.2 percent to reach 46.8 million. While this represents slower growth than Hispanic and Asian Americans, it is more than double that of white Americans. In fact, the Census Bureau projects that by 2060, the African-American population will reach 59.7 million or 14.3 percent of the U.S. total. 
In addition, according to a Pew Research Center report, while some segments of the U.S. population are aging, ethnic minority groups including African Americans are younger on average. The median age for the U.S. population as a whole was 37 and 43 for white Americans; however, among African Americans median age was 33 and over half are Millennials or younger.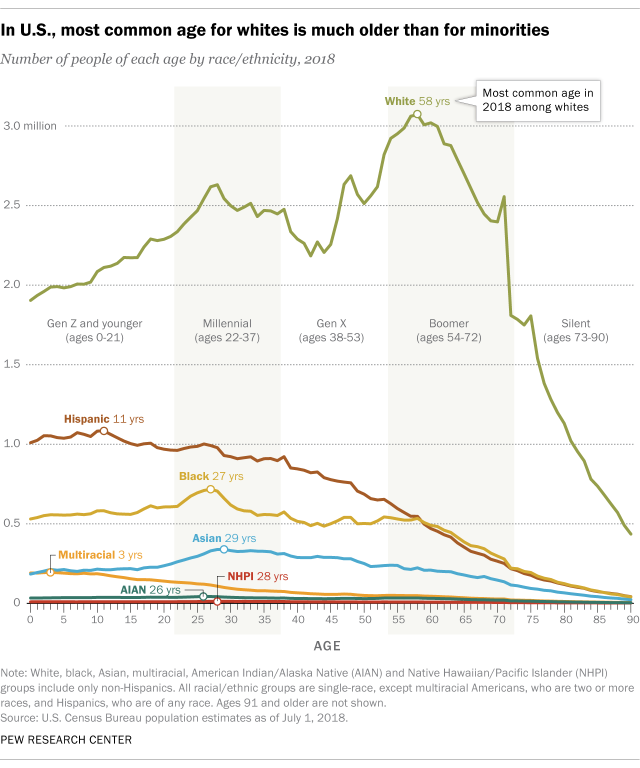 If communications professionals are looking to reach younger audiences, targeting ethnic minority groups including African Americans is a requirement.
A Vibrant, Growing Economy
Oftentimes, the economic story told about African Americans surrounds the wealth gap or even starker images, but relying on this picture obscures the true power of the African-American economy.
African-American buying power, that is disposable income after taxes, reached $1.2 trillion in 2017 and is predicted to increase to $1.4 trillion by 2020. African Americans also spend over $600 billion a year.
In fact, according to a Nielsen report, African Americans have seen recent gains in wealth and education. Economically, African-American households saw their median income increase more than any other group over the last decade, particularly in the higher brackets. Above $60,000, income for African-American households grew at a faster rate than for their white counterparts, and the median income for African Americans making over $200,000 increased at almost twice the clip of white Americans of the same income level. 
Alongside positive economic news, African Americans have also seen gains in education. 2015 marked a dramatic increase in the number of African American high school graduates attending college at 70.9 percent, up from 59.3 percent in 2013 and exceeding the numbers for both whites and Hispanics.
These statistics paint a picture of an educated and economically vibrant community that has earned the respect and attention of companies and communications professionals.
A Connected And Engaged Community
African Americans are more connected than the general U.S. population, spending more time with television, magazines and radio. The traditional media remains highly relevant in reaching African Americans. In fact, 52 percent read magazines and 59 percent have favorable views of advertisers in African-American newspapers.
Total internet and mobile phone usage are similar for African Americans compared with other groups. Eighty-seven percent use the internet (versus 89 percent of white Americans and 88 percent of Hispanic Americans), and 91 percent of African Americans own smartphones. 
African American participation in social media has been spotlighted in recent years. For example, the highly influential community known as Black Twitter has driven many social and cultural issues and become a national political force. Sixty-three percent of African Americans use at least one social media site, which is slightly lower than other groups; however, there are marked differences in which sites people of different ethnicities prefer to spend their time on. Notably, Instagram and Twitter are more popular with African Americans than with the general population. LinkedIn is as popular, and Facebook and Pinterest are less popular.
With social media, a powerful African American audience is creating, critiquing, and leading popular artistic, cultural and political discourse. The social capital of these influencers is impossible to overlook.
Authenticity
While continuing to be socially and politically engaged and leveraging new communications platforms to make their voices heard, African-American consumers expect brands to be equally engaged in social and political causes. Nielsen reports that 39 percent prefer that the brands they buy support social causes. Brands often fear the fallout if they get it wrong. Many examples over the last few years from Pepsi to Dove to Shea Moisture have made headlines. These blunders have affected the images of the involved brands with consumers across all segments of the U.S. But the way to assuage the fears of negative fallout is not to ignore the African-American audience completely, but instead to engage in meaningful and authentic ways.
Beyond February
Of course, many companies make special efforts to commemorate Black History Month, but African Americans are a valuable community year-round. The days when companies relied upon their general communications campaigns to also pull in African Americans without any additional effort should be long gone. Brands can no longer afford to ignore African American consumers but instead should attempt to reach the community through any of the many channels of communication. Whether that be through television shows that are currently breaking new ground in intelligent and nuanced portrayals of African Americans, on social media where African Americans have built modern digital communities that influence both culture and politics or through the still-popular traditional media, the African American community is a vital part of U.S. society that deserves attention.
Nicole Howard is a product manager at Cision. She has a passion for multicultural distribution, as well as writing and editing.