As all PR pros know, monitoring media coverage is important. When we think of traditional media monitoring, we often think of tracking metrics like the number of media hits your mentioned in, the estimated audience for the publication in which you were featured, or even the number of times an article was shared across social media.
Tracking this coverage helps reveal how your brand is perceived by the media and the public. This enables you to respond quickly to any controversial stories and helps you track your overall earned media coverage. But, it's only the tip of the iceberg.
To truly get a comprehensive understanding of how your brand fits into the media landscape, and figure out new ways your client can be included in future coverage, you need to think a step beyond traditional media monitoring. Here are three other areas where you should be paying close attention to.
Follow Your Competitor's Coverage
Scan the media coverage of your client's competitors to give you an idea of how the media perceives them, and more importantly, how they insert their brand into stories. By setting up competitor searches on a platform like Google Alerts, you can better understand how other companies in the same industry are mentioned. On more advanced platforms like Cision Communications Cloud®, you can set up regular email alerts for your searches and create informative analytic reports for your clients.
When you follow competitor coverage regularly, you can position your brand in similar stories after you've determined what the stories are focused on and how those companies are being mentioned. Are they getting detailed features or just brief mentions? Asking these types of questions and understanding what outlets typically publish will give you more direction when you craft pitches.
Competitor coverage also reveals how your competitors talk about themselves, whether it be in a press release announcing a new update or in a contributed piece in one of your target outlets. This will help establish comparison points. Are they doing something that you can be doing? How are you framing yourself differently? When reviewing contributor pieces or releases from other organizations, ask yourself these questions to better determine what the outlet is looking for.
Monitoring competitors also introduce you to new outlets and reporters that are following your competitors, the industry and, potentially your brand.
Prioritize Your Target Outlets and Reporters
What audiences are important to your brand and what influencers do they want to reach?
Understanding your target outlets and the reporters you need to pitch to is one of the first steps in successful media relations. Following these media outlets regularly will help you determine whether your news is the right fit for their coverage — and when might be an optimal time to pitch it. If this seems like a daunting process, try organizing your target outlets by tiers based on your outreach priorities.
If getting placements in trade publications or blogs comes before national outlets, focus your monitoring efforts on those niche publications and occasionally scan national outlets.
You can start by following your target outlets and their verticals on social media. Create Twitter and Facebook lists to organize and focus your feeds. Another way to monitor target outlets is to subscribe to their appropriate newsletters. This gives you an idea of the coverage the outlets are pushing out to their readers, and for PR pros, the kind of coverage where your client could potentially be featured. Following a hashtag for a hot topic relating to your brand on social media will also reveal who is talking about it in real-time so you can quickly respond.
Similar to regularly following priority outlets, monitoring targeted reporters gives you a comprehensive idea of:
what their beat is
how their beat evolves
what they have already covered 
what they could cover next
This will help you determine the best reporters for your news. Time and again, PR pros are reminded to research reporters before hitting send on a pitch. Incorporating reporter monitoring into your routine will help you in the long run, not only saving you time when you are putting together a media list, but also helping you build sustainable relationships with reporters.
Monitor reporters on social media in the same manner as you would monitor outlets. Try following them on Twitter and create specific Twitter lists to help organize your feed. Using Cision's "talking about" search feature, which pulls reporters that have recently mentioned selected keywords on Twitter or in their reporting, is a great way to start your list, and you can follow the reporters right from the Communications Cloud platform.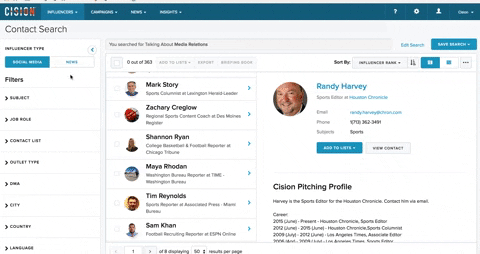 Beyond social media, you can set up RSS feeds to get email updates of their coverage to stay on top of all their recent articles.
While discovering which outlets and reporters to pitch through media monitoring is advantageous, an arguably more important reason is to find out who not to pitch. "Relations" is the key word in this profession, and by understanding the outlet and the reporter you are trying to pitch, you are building relationships as opposed to tarnishing future relationships (and future pitch opportunities).
Track Keywords and Mentions on Social Media
Understanding how your industry is covered in the media better situates you to anticipate opportunities in the news cycle. You'll discover what is being talked about, and more importantly, what isn't being talked about so you can find creative ways to insert your organization into the conversation.
Monitoring keywords through platforms like Google Alerts and Cision can also introduce you to new niche trade outlets, blogs, and reporters covering the topics your company is an expert in. Better yet, when it is time to craft your pitches and compelling subject lines, you'll already know what appeals to the reporter. Setting up your keyword search may take honing, so make sure to limit yourself to a few specific keywords that are relevant to your client and industry.
Monitoring social media for mentions of your brand or specific topics that pertain to them is another way to gauge the conversation and find new media opportunities. Tracking social media can boost your online presence because it provides you with content to engage with and respond to. Following social conversations about competitors is another step you can take to go beyond standard client media monitoring. Using social media monitoring tools to set up searches for hashtags and keywords makes the process more efficient and manageable, too.   
Conclusion
There are many things you can, and should, monitor beyond your own coverage, but at the same time, you need to recognize that there are only so many hours in the day. We live in an era where there's an abundance of information at our fingertips at any given time, making it impossible to track everything.
Testing out these different tactics and using tools like Cision, Twitter lists and RSS feeds can help streamline your monitoring process and give you a comprehensive sense of your client in the media. Once you figure out what media monitoring tactics are most beneficial, you'll be able to expertly navigate the media landscape and find new opportunities to leverage.
About Elizabeth Harmon
Elizabeth Harmon (@elizabethegypt) is a coordinator at Scott Circle Communications (@ScottCircle), a public relations firm working with mission-driven clients.