In just the sixty seconds it will take you to read the first couple of paragraphs of this post, an incredible amount of new content will be made available online, including three million Facebook posts, 1500 articles on WordPress, 500 hours of video on YouTube, and four million Google searches.
With so much data being created every single second, it is remarkable that PR content gets any traction at all. To stand out from the increasing noise and chaos online, each piece of content must be strategically put together in order to reach the right people at the right time.
Let's break down how to do that a few simple steps. 
1. Do Your Research First
Obviously, your team is (hopefully) already doing their due diligence in terms of verifying facts and exploring topics that are trending in your company's niche. But in order to really stake a claim in today's overwhelming media pool, research must go a step beyond just following the hottest story of the day.
With the thousands upon thousands of content pieces being released every day, the words used in a piece's title, the meta descriptions, and article body have to be crafted with search intent in mind to gain traction. Incorporating proper keywords is going to drive more traffic and help with rankings, something that is especially true when it comes to long tail keywords (phrases or terms with three to five words, or longer). Studies have found that content that shows up on Google for long tail keywords has a 2.5x higher conversion rate, and is ranked up to eleven positions higher.
Before a piece is finalized and thrown into the editorial machine for publication, PR content writers must dive head first into keyword research and strategy. Tools like Ubersuggest make it easy to see exactly which terms are driving in traffic while measuring important factors like competition and cost per click (CPC). Additionally, the system shows you which keywords your competition is targeting and suggests alternative and related phrases for improved rankings, and ultimately, more engagement.
PR pros are adept at uncovering the latest trending topics, but in order for a piece to be noticed by a bigger audience, it has to be written in such a manner that the average reader wouldn't have to dig too deep. By researching the right keywords and long tail phrases, your team can be more confident that your content will have better reach and visibility.
2. Back Decisions with Data
PR is a very data-focused industry these days. In addition to the content being strategically created on the back of topic-focused keyword research, the process of pitching your pieces must be data-driven, if it is to have a shot at making a mark in the media. Remember, journalists and media outlets are receiving all kinds of pitches every day, especially if a big story is breaking. In order to stand out and improve your chances of getting a response, your PR team's content needs to offer something special.
According to Cision's report on the State of the Media, journalists' priorities in a story are changing and so is the technology they use. They would much rather see content that shares information based on previous work and experience, or based on a brand's specialized and focused capabilities within a less-understood niche. They also value relationships with clients and loyalty with content outlets. Therefore, maintaining better relationships while understanding what exactly publications are looking for will increase the likelihood that your story will be picked up.
PR teams can actually use data to help make their pitching strategies more appealing to target publications. Cision's "talking about" search will surface unique contacts based on data from social media platforms. This technology helps PR pros discover contacts who are authorities on any given topic.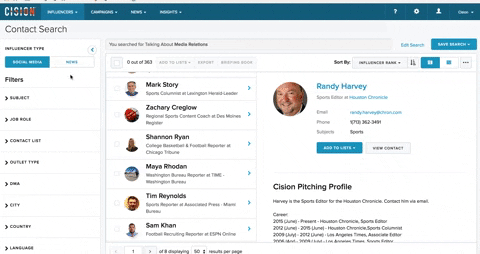 Using data to know exactly whom to pitch to, and determining which journalists are most likely to engage, will help you get your content into the right hands more efficiently. Make sure that your team knows how to access the tools and data they need to stick to any data-driven process you've developed in-house.
3. Connect With The Right Influencers, Not Just The Obvious Ones
Influencer marketing is huge in today's crazy media cycle, and it is certainly a fantastic way to get your content noticed. However, it is not necessarily the biggest names and accounts that will bring the best results. This problem is worsened by the fact that most marketers are in the dark when it comes to measuring the effectiveness of their influencer marketing campaigns. 38 percent of marketing teams admit that they have no idea how to actually determine whether or not their influencers made any positive difference in their campaigns.
Check out Cision's guide on How to Succeed With Influencer Marketing
Of course, working with big names in the industry will boost your story's reach and engagement. However, the larger an influencer's audience is, the less focused their demographic tends to be. If the brand you're promoting is focused on more niche markets, or simply wants to connect with a small segment, collaborating with the "obvious" picks may not be the best way.
The solution? Work with micro-influencers (averaging less than 30,000 followers or active blog readers) – a HelloSociety study found that they tend to have 60 percent higher engagement levels than influencers with massive followings. This is often due to the fact that their content is more focused on specific genres and topics, providing your brand with the opportunity to reach an intensely engaged and interested audience.
Which brings us full circle — your PR team must understand the specific audience or segment that you're targeting before they attempt to identify the influencers who will best connect to that group. A tool like Cision Communications Cloud® is great for finding the perfect influencers, as is the largest in the world and each contact profile includes unique demographic insights into their audience.
It also helps your team craft better pitches by providing pitching profiles that contain a contact's preferences for media pitches.
Finding the best influencers to work with can be just what the doctor – uh, marketer – ordered for your content. Standing out in this space requires a constantly evolving strategy; so by connecting with micro-influencers who already have a respected voice in your target market, you'll be in a better position to promote your content to the right audience — and get some ROI in the process.
4. Encourage Authentic Sharing from Within
Authenticity is not usually the first word that pops into people's minds when they think of the media. In fact, public trust in the media is at an all-time low, especially with the influx of fake news that is circulating online. In order to make the strongest impact, PR teams must find a way to ensure that their content is perceived as trustworthy.
In order to do this, authentic sharing must become a priority. The Nielsen Global Survey of Trust in Advertising confirmed what pretty much everyone intuitively knows: people tend to trust people more than they trust brands. Therefore, when someone you know (personally or otherwise) shares a story or statement, you assign it a far greater trust value than an ad or sponsored story.
In many cases, employee advocacy can be even more powerful for this propagating trust. So, rather than relying on just PR and advertising, brands can take matters into their own hands by encouraging first-hand shares from within their own organization.
When employees share content or their own personal insight from an insider's perspective, people tend to listen. In fact, brand messages reach 561 percent more people when they are shared by a member of the team, rather than when it is shared through the company's own channels. These posts can also help to build positive branding and increase web traffic, causing firms that actively integrate employee advocacy programs to grow faster than those that do not.
So, rather than relying on just organic shares, brands can take matters into their own hands by seeding shares from within their own organization. For this to happen spontaneously, internal company cultures should spawn shared pools of industry knowledge, in which the people involved can constantly discover new content and add their own insights.
Systems like Smarp make it easy for marketers to aggregate corporate and industry information, and share it with employees so they can share these media assets with their personal followings. Companies can upload branded content to generate purposeful conversations and keep the organization connected on important topics. This makes the prospect of encouraging advocacy and organic sharing much more meaningful. It also tracks engagement levels to show which employees are actively consuming content and how they are interacting with it.
The key to creating a successful employee advocacy program is to ensure that shares are truly authentic, not forced. To do this, brands must understand their employees' and partners' motivations behind sharing.
Make sure that your team understands how each piece directly benefits the organization as a whole, and provide them high-quality, informational, and useful content they'd be proud to share.
In Conclusion
Staying relevant and getting noticed in the hubbub of today's media cycle requires PR teams to be exceptionally strategic and efficient in their approach to content – not only in the ways it is created, but also in how it is distributed. By taking the time to research keywords, media outlets, influencers and their own teammates, the entire process turns into a data-driven strategy that is sure to bring results.
Rohan Ayyar spearheads creative content campaigns for tech, retail and service-based startups at E2M, a full service digital marketing agency. Rohan is an avid business blogger, with opinion pieces featured on publications such as Fast Company, Business Insider and Fortune. Follow him on Twitter at @searchrook.