Small PR firms work with diverse clientele and limited budgets, so it's imperative for them to use multi-functional resources that allow them to tackle multiple client tasks at once.
Whether your needs are related to earned media, content management, or sales tracking, what should a small PR firm be looking for when searching for a centralized communications platform that can serve its diverse clients' needs? Cision's new case study, "How Cision Helped One Agency Deliver Results at Each Step of the Customer Journey" showcases how Winstanley Partners tackled that issue and delivered stellar results for its clients using Cision Communications Cloud.
Ask these five questions to identify the right platform for your needs.
Is it efficient?
For small businesses, efficiency is the name of the game. When looking for a centralized earned media platform, Jaclyn Stevenson, Director of Communications at Winstanley Partners needed something that would save the firm time and get results quickly.
"Screenshots from the platform go directly into our reports, because the data not only looks nice, but is easy for clients to understand," said Stevenson.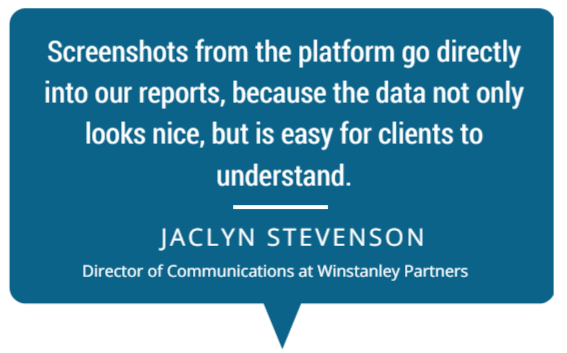 Is it easy to use?
An intuitive platform is essential for small PR firms looking to accomplish all its tasks without interruption. In small firms, the workload is often shared across departments as people often wear multiple hats. It is important for your new platform to be easy to use across functions and departments.
"Many of our team members, who aren't on the public relations side of the business, are trained on Cision platforms because it plays such a big role in our day-to-day operations," said Stevenson.
Is it customizable?
A boutique agency often has to serve the needs of a very diverse client base. It's crucial that these teams are able to customize data, style it directly in the platform so that it can be easily exported and shared with the client.
"Having data that's both aesthetically appealing and easily digestible right at my fingertips is so important," said Stevenson.
Does it allow you to address the needs of your client at every stage of the customer's journey?
A platform that can be used to accompany the client through its customer lifecycle is important, as it can house all client work in one centralized location, which again maximizes efficiency. A quick onboarding process and fast results can help PR teams demonstrate ROI to prospective clients and can be the difference in winning or losing new business.
Winstanley Partners used Cision's full analytics suite to build new business proposals, create client case studies, and build ROI reports for campaigns.
Can you demonstrate ROI for you and your client?
Any platform investment needs to be able to showcase tangible ROI for your firm. Data showcasing new business wins, business retention along with clear ROI attribution for your clients is key.
"We were able to demonstrate ROI with a limited budget and unique campaign ideas," said Stevenson.
To get the full story, check out the case study here.

Lucie Vietti-Curtis is the former Director of Content & Comms at Cision. An "analytically creative" marketer, Lucie creates data-driven content strategies that engage and inspire audiences. She holds an M.B.A in Operations Management and has more than 10 years of experience in content marketing, customer marketing and marketing strategy. A citizen of two countries, she loves to explore different perspectives, culture and flavors, either in her content or in her recipes.