While the Cision® brand is most often associated with the PR industry's leading software platform, Cision's Government Relations & PAC Software leads the PAC industry as the most used PAC software by corporations, member associations and labor unions for the seventh year in a row based on research of publicly available records from the Federal Election Commission (FEC).
Cision is the Industry Leader for the Seventh Year in a Row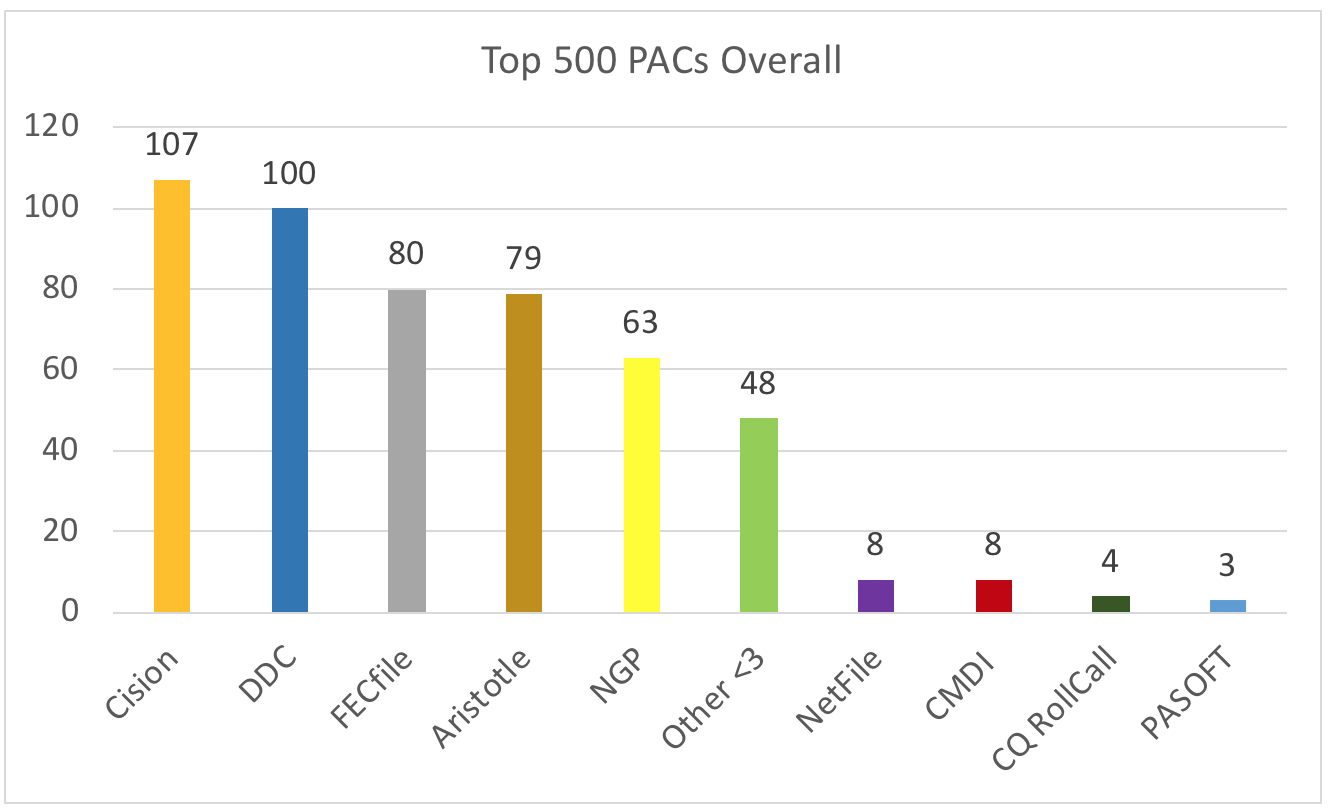 Notes: FECfile is the free upload software provided by the FEC.  It is generally used by PACs that prepare their compliance filings in-house using spreadsheets or use a law firm or agency to file for them.  The "Other <3" represents software packages that had less than three clients use their software in the Top 500.
The results of this research shown in the graph above (and more below) that Cision PAC Software is the most trusted PAC software to file reports with the FEC for the:
Top 500 PACs overall
Top 1000 PACs overall
Top 500 corporate PACs
Top 100 membership organizations
Top 50 labor unions who filed year-end reports in 2018 
In short, Cision is unique as a vendor in the PAC software industry, as most other vendors have only one or two segments in which they focus and tend to serve either large or small PACs, whereas Cision leads in almost every category, and has clients in large numbers on both the Top 500 and the Top 1000 overall PACs.
Cision Leads in Almost Every Industry Segment And PAC Size
While Cision leads the competition in the top 500 largest PACs overall, Cision isn't just the software preferred by the biggest PACs in Washington.  While the graph below shows that when the sample size is doubled to the top 1000 PACs overall FECfile became the most common compliance report filing tool, Cision still led all other software vendors. The reasons why smaller PACs are less likely to rely on vendor software packages are a combination of cost and outsourcing the PAC administrative function to a third party.  In other words, smaller PACs tend to either make-do with spreadsheets or a homegrown solution that uses the FEC's free FECfile tool to report their compliance reports, or they use an outside agency or law firm that also contains costs by using free or "homegrown" software solutions to file.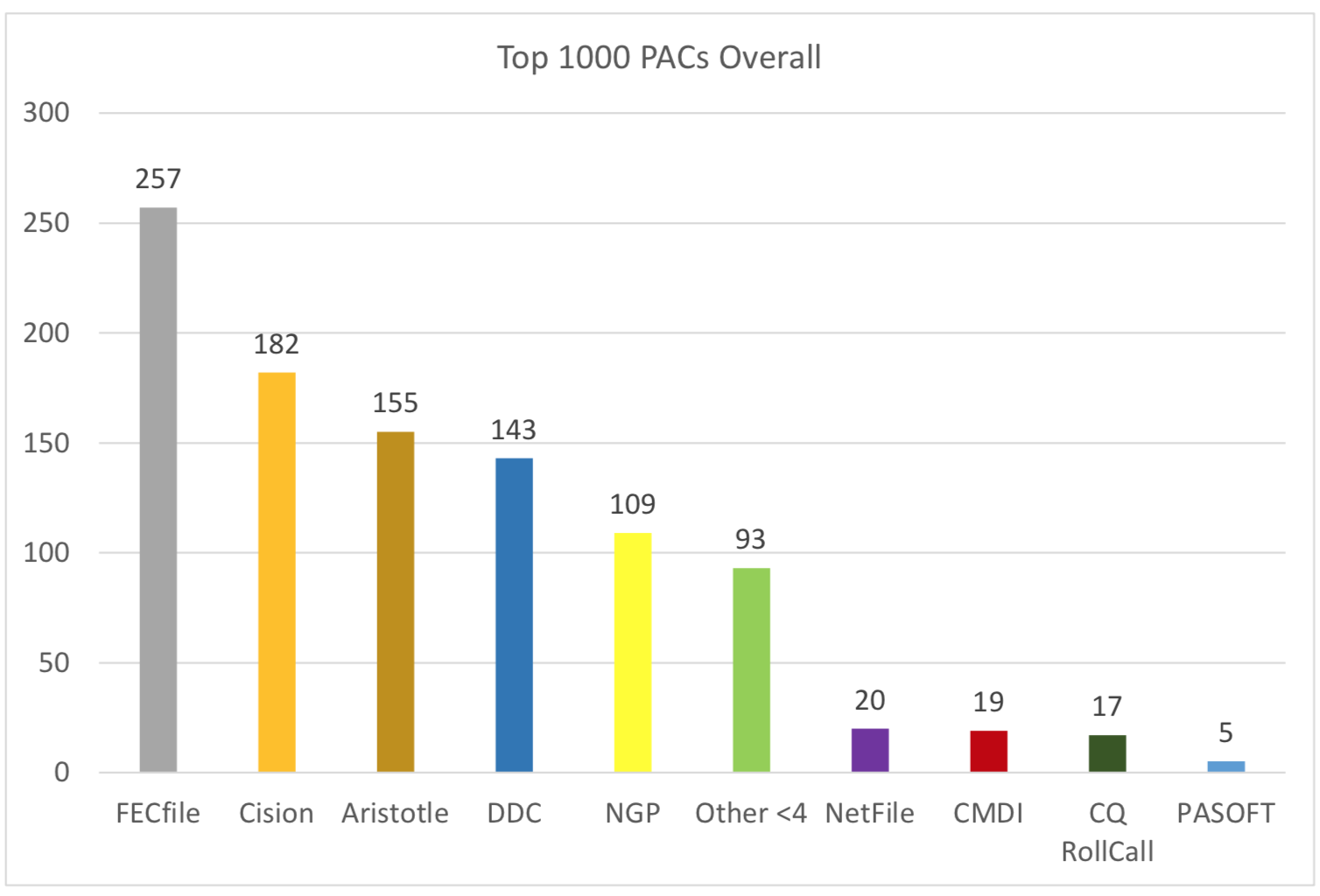 For the top 1000 PACs raised a high of $25,577,000 to $106,000 in contributions in 2017. 
Another interesting trend in 2017 was that while Aristotle still lags behind DDC in the top 500 overall, Aristotle has moved ahead of DDC as the second-place vendor in the market for the top 1000 PACs. In addition, NGP has made large gains in providing its PAC software to primarily left-leaning PACs, growing from less than 50 in 2016 to over 100 of the Top 1000 PACs in 2017.
Cision #1 with Corporate PACs
Cision is the leading PAC software for corporations who filed their year-end compliance report with the FEC — with DDC a close second. Cision and DDC makeup a little more than half of the top 500 corporate PACs with 25.4 percent and 23.6 percent of the market share respectively. While FECfile is at 17.6 percent and Aristotle owning 14 percent of the market. 
The remaining 19.4 percent (which comprises 97 corporate PACs) is divided among 74 different vendors. Reading between the lines, the "Other <4" category is most likely made up of at least 50 PASS clients, who use their own PAC name as the value provided to the FEC for the software that filed their year-end report.  While it would be wrong to assume that the "Other" category is always mostly PASS clients, it's often the case that 50 percent of the other category is indeed PASS clients filings for all the graphs in this research.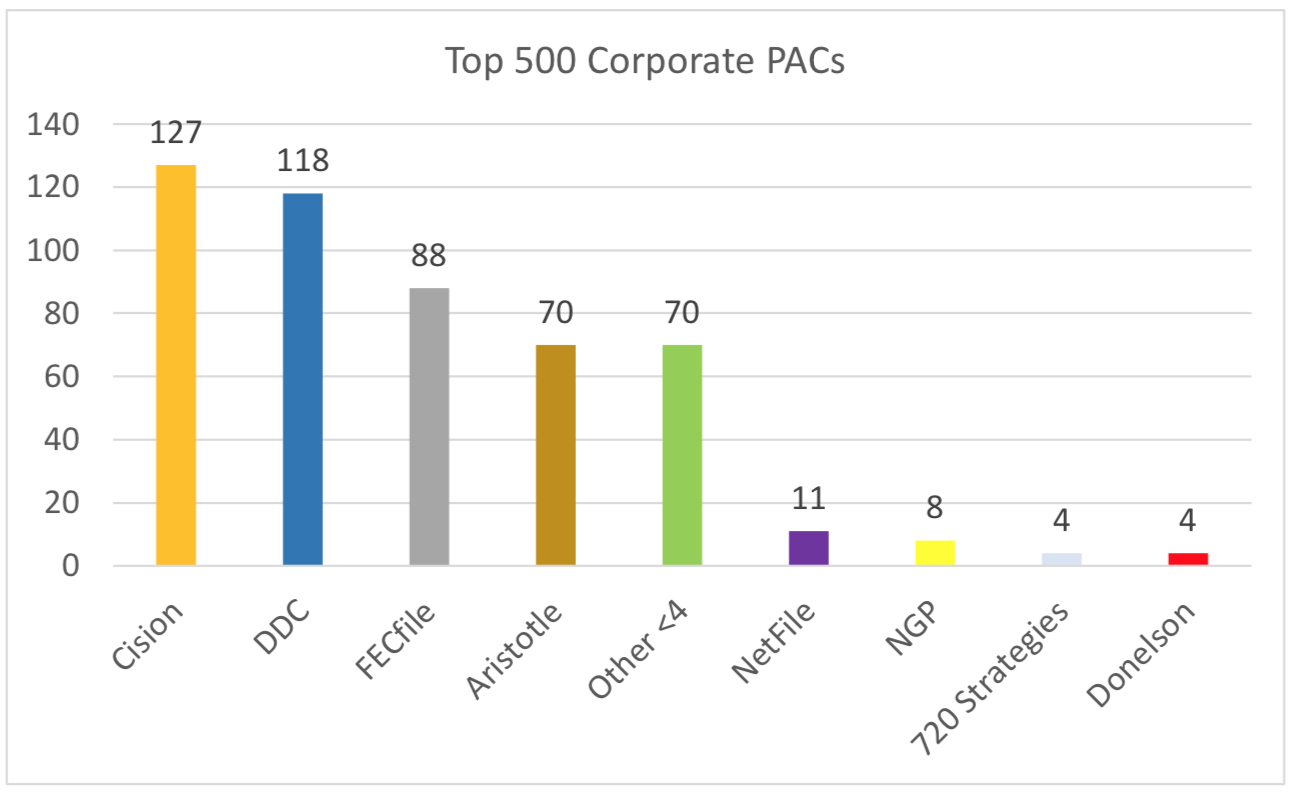 Membership Associations
For Membership Associations, Cision looked at the top 100 membership associations, which ranged in dollars raised from $18 Million (Emily's List) to just over $100,000. 
Unlike Corporations, a larger percentage (33 percent) of membership associations used the free FECfile tool. Of those using a vendor software, Cision leads with 19, with Aristotle and DDC close behind at 15 and 14 respectively to round out the top three vendors in the industry. The remaining 19 was split between eight different vendors.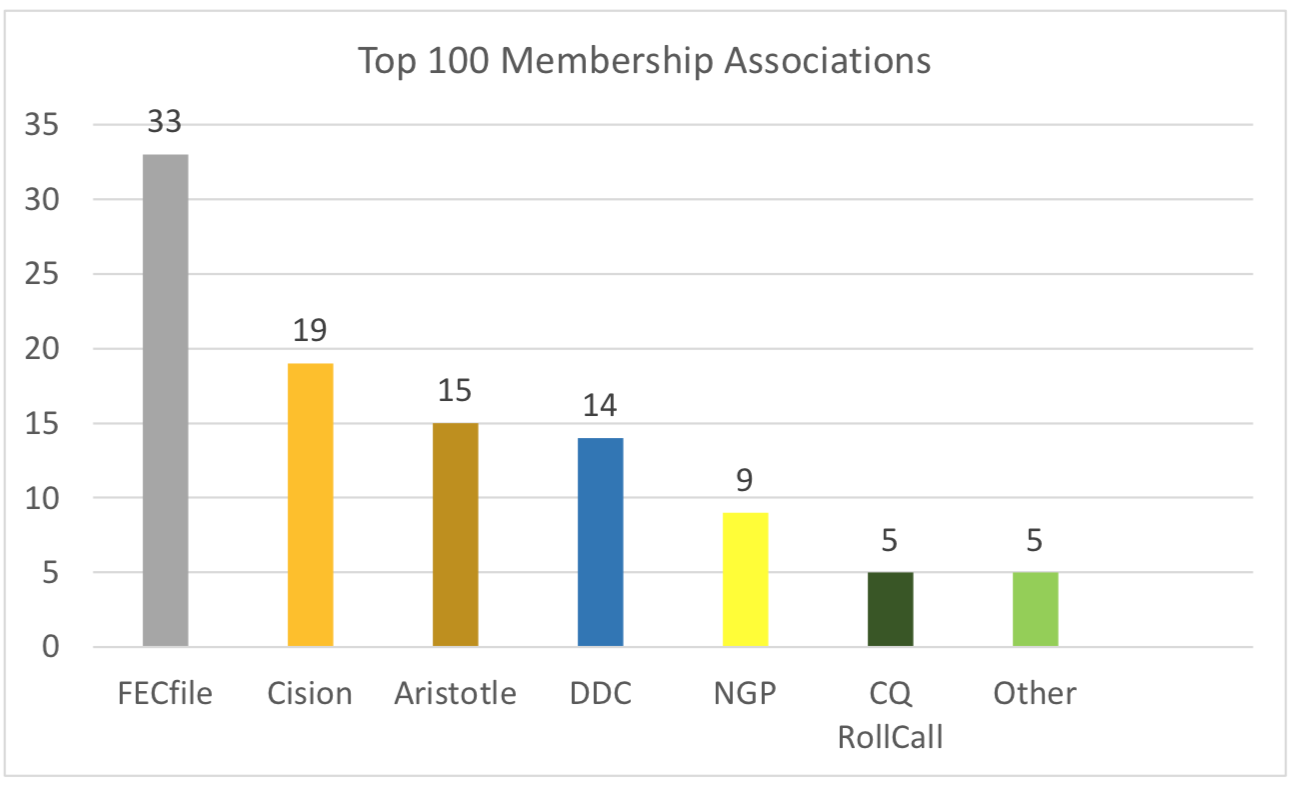 Trade Associations
For the first year since 2011, Cision did not lead this category, coming in second behind Aristotle. Aristotle led with 30 of the top 100 trade associations, with Cision a close second at 27 and DDC rounding out the top three vendors with 19.
Interestingly, trade associations tended not to use FECfile as their PAC filing tool with 84 percent of the top 100 using vendor software package.  This is in-line with the behavior of corporations, who also tended toward using vendor packages over FECfile. This is likely a function of the back and forth of staff between corporations and their related trade association and their familiarity, (and preference) for vendor software over the FECfile tool.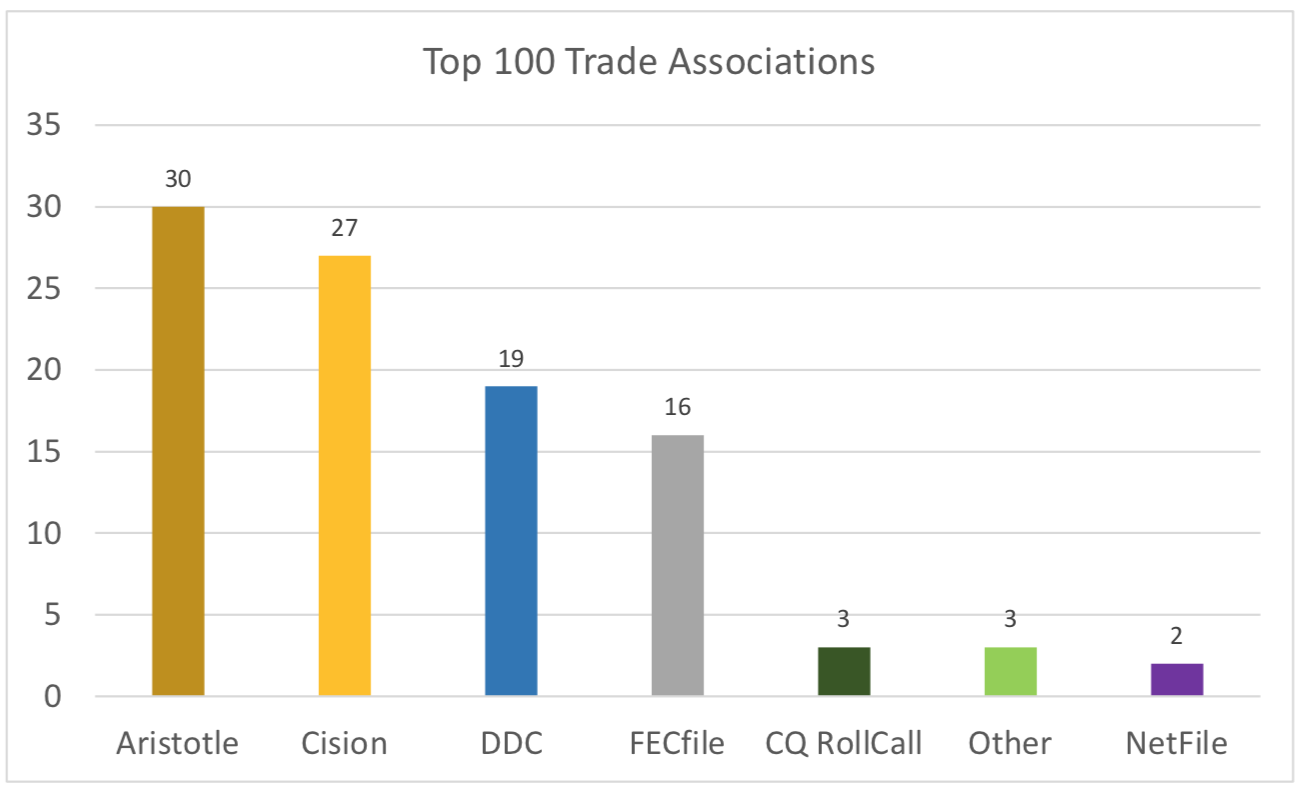 Labor Unions
Cision also led all vendors in the labor union segment, demonstrating that its package is appealing to all segments of the PAC world, from business to associations to labor. It should be noted that DDC had no unions in the top 50 and that Aristotle had only two labor unions in the Top 50. Perhaps most surprising is that NGP had only nine of the top 50 labor unions given its focus on marketing to left-leaning organizations as its marketing brand identity. Cision remains politically agnostic in the marketplace providing its PAC software to any and all of the leading PACs.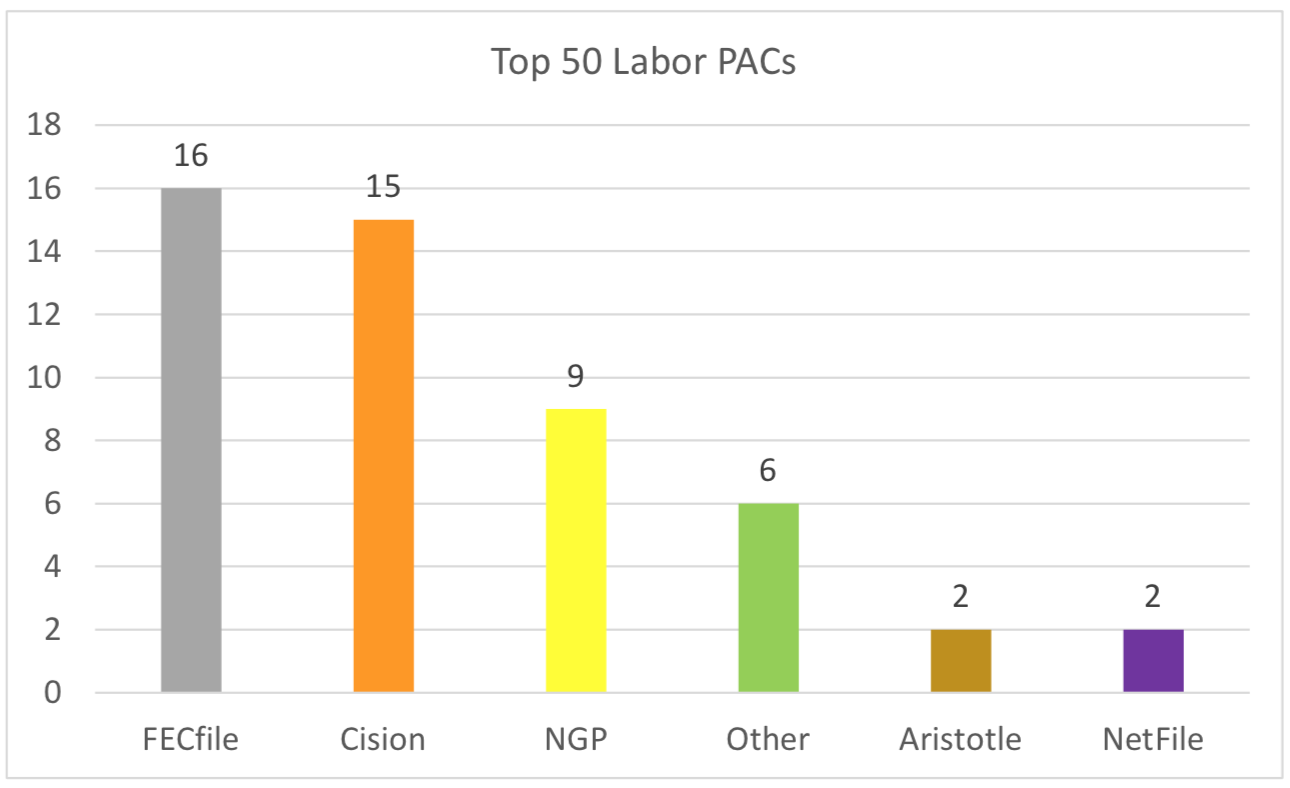 Why Cision PAC Software?
Numbers don't lie and this isn't "fake news." Cision PAC Software leads in every segment of the PAC industry, except trade associations where it was a close second. Cision PAC Software's appeal is evident by the fact that it is used by such a large cross-section of every kind of PAC that files with the FEC from corporations to associations to unions and to PACs all of sizes — both large and small.  
Our clients have consistently told us there are two simple reasons why we continue to lead the market:
Comprehensive Scalable Solution: Our software is used by so many different kinds of PACs because it provides a truly comprehensive solution that scales with your PAC as its needs grow and change over time.
Outstanding Support:  Cision's support team is responsive, knowledgeable and experienced with our staff averaging 8.5 years of experience working at Cision. Our clients consistently tell us that support team is "the best in the business."
If your organization isn't using Cision PAC Management software maybe it's time to take a look at the software that's led the PAC industry for the last seven years.
Let us know when you are ready to talk. 
Notes on Methodology:
Every year since 2011, the team at Cision Government Relations have researched publicly available records provided by the FEC to determine which vendor software package was used by Political Action Committees (PACs) filing their year-end compliance reports. To make this research possible, the FEC requires that PACs disclose which software (vendor or free FECfile upload tool) they use to file their reports. The FEC also requires organizations to categorize themselves into industry segments or none (blank if they are political in nature). The industry segments are:
Corporations
Corporations without capital stock
Membership organizations
Trade associations
Cooperatives
Labor unions
For purposes of this research, Cision combined "corporations" and "corporations without capital stock" into one group and did not analyze "cooperatives" as no vendor had more than one cooperative PAC using their software to file with the FEC. In addition, it should be noted that organizations that have no segment are typically political organizations (e.g. Emily's List, Citizens United, leadership PACs, etc.) and these organizations are not included in the segment-specific graphs.
Cision downloaded the year-end report filers for 2018 (covering 2017) and checked the vendor software used for their year-end report. Cision sorted PACs by the number of receipts (Total Contributions "tot_con") in descending order and the FEC field "org_tp" to define the "Top PACs" for the corporate, trade association, labor and membership association segments as defined by the FEC. Only Political Action Committees (PACs) as defined by the FEC were used in this research. Candidate Committees, Party PACs, Super PACs and other "non-Qualified PACs" were not included in this research. For more information or to request the background data please contact Mark Reilly, Vice President Cision Government Relations at mark.reilly@cision.com
About Mark Reilly
Mark Reilly is vice president of Cision Government Relations. Since 1995 Mark has worked at the intersection of public affairs and technology. Providing strategic counsel for PACs, associations, candidates, corporations and issue advocacy campaigns on how to best leverage online technology to reach their goals. Before the internet, Mark worked as radio scriptwriter, a New York City public high school teacher and as a community organizer in Costa Rica. An Ann Arbor native, he now lives in Bethesda, Maryland. Find him @CisionGRPAC
Cision's research staff makes over 20,000 media updates to Cision's Media Database each day! For more updates and other thought leadership in the industry, follow @Media_Moves.